San Leandro, CA Economic Overview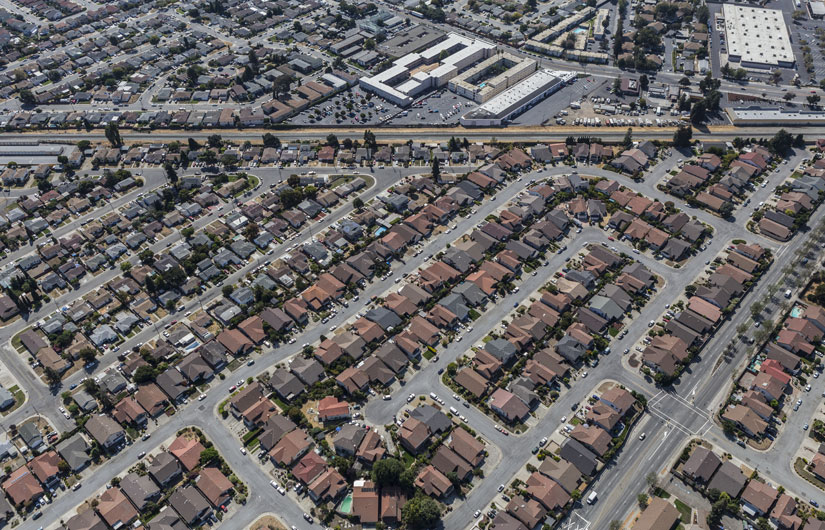 San Leandro is located in Alameda County, on the eastern shore of San Francisco East Bay, 12 miles from Oakland and 20 miles from San Francisco. Immediately adjacent to the Oakland International Airport, this small 15 square mile city is home to over 88,000 residents. The commercial real estate market in San Leandro is driven by its proximity to two major metro areas and its miles of shoreline along the East Bay.
While the City of San Leandro is small, its location places it at the center of a major business and transportation hub. With a population of over 2.5 million people, the area is the most populous sub-region in the Bay Area.
With a median household income of nearly $63,000/year and an unemployment rate right at the national average of 5.1%, the economy of San Leandro continues to grow year after year. Over the past 12 months alone, household income has remained steady while the number of employees in San Leandro has increased by nearly 2.5% to over 44,500 workers.
San Leandro, CA Commercial Real Estate Market
San Leandro's commercial real estate benefits from the city's central location in the rich regional job market, meaning that residents can live and work in different areas and business in San Leandro can hire workers from all parts of the Bay Area.
One of the defining characteristics of San Leandro is the breadth of its economic base, and the benefit the commercial market receives from being part of the East Bay region. The diverse set of economic industries all contribute to job creation, research and development, local investment, and business growth, all of which sustain the healthy San Leandro office market.
Industrial and warehouse space in San Leandro makes up a major portion of the commercial real estate market here, with demand high and inventory currently low. With about 16.5 million square feet of industrial space in San Leandro, vacancy rates are running at just 1% while rents have increased nearly 50% over the past few years.
Manufacturing space in San Leandro is another major facet of the commercial real estate market. With less than 4 million square feet of manufacturing inventory, vacancy rates are running at about 2%, and rents have increased nearly 60% over the past few years.
Retail inventory in San Leandro continues to draw tenants. With about 6 million square feet of space in the market, retail vacancy rates in San Leandro are hovering at about 2%, while rents have increased nearly 13% over the past few years. Notably, rents in Downtown San Leandro for new commercial space are currently higher than they were at their peak in 2006.
Because of the city's central location in the East Bay Region, business and industry in San Leandro are able to capture sales from surrounding communities. Sales in auto parts and repair, auto sales, department stores, wholesale and retail building materials, apparel, service stations, and drug and liquor stores all exceed local demand, so that local businesses in the city benefit significantly from sales to residents in the surrounding cities.
San Leandro, CA Commercial Inventory Breakdown
Office Spaces
Total: 1,251,650 SF
By square footage range:
50k to 100k SF: 362,946 SF / 29% of total office
100k to 500k SF: 888,704 SF / 71% of total office
By class:
Class A: 492,293 SF / 39.33% of total office
Class B: 199,600 SF / 15.95% of total office
Employment in San Leandro, CA
Job growth in San Leandro has increased by nearly 2.5%, with over 6,500 jobs alone added in the last few years, including 3,500 in the healthcare and social assistance categories. Nearly 46% of the labor force in San Leandro works in management, administration, sales, production, and transportation.
Major employers in San Leandro include Acco Engineering, Alameda County Industries, City of San Leandro, Coca-Cola, Costco, Enterprise Rent-a-Car, Ghirardelli Chocolates, Kaiser Hospital, Kindred Hospital, MV Public Transportation, OSIsoft, Paramedics Plus, San Leandro School District, San Leandro Hospital, Splay Green Toys, St. Francis Electric, Target, ThredUp online consignment, Walmart, and Wells Fargo.
Education in San Leandro, CA
Public schools in San Leandro are operated by both the San Leandro Unified School District and the San Lorenzo Unified School District. There are eight elementary schools in San Leandro, two middle schools, and one comprehensive high school.
Because of its proximity to the metropolitan areas of Oakland and San Francisco, students in San Leandro have great access to the universities and colleges of the entire Bay Area, including ITT Technical Institute in Oakland, Heald College in Hayward, California State University East Bay, Mills College, Holy Names University, California College of the Arts, University of California at Berkeley, and Academy of Art University in San Francisco.
Commuting Time in San Leandro, CA
The average commuting time in San Leandro is over 29 minutes, about 20% longer than the average for the U.S. Over 3% of the workforce has a super commute of 90 minutes or more, while over 12% use some form of public mass transit and 10% choose to carpool.
The I-880, I-580, and I-283 freeways all connect San Leandro to other parts of the Bay Area.;
East 14th Street in San Leandro is a major thoroughfare that continues into East Oakland and Hayward.;
BART, the Bay Area Rapid Transit system, has stations in San Leandro and Bayfair.;
Bus shuttle service to the BART stations is provided by San Leandro LINKS, while AC Transit provides public bus service within the city.;
Commercial airports serving San Leandro are the Oakland International Airport and the San Francisco International Airport.
San Leandro Demographics
Population
Total Population88,329
Male Population(49.3 %) 43,579
Female Population(50.7 %) 44,750
Median Age40.50
Income/Financial
Average Household Income$79,966
Median Household Income$62,761
Median Income Under 25$39,491
Median Income 25-44$65,060
Median Income 45-64$74,168
Median Income Over 65$42,366
News
Top 100 US Property Taxes in 2017
May 29, 2018
With the 2018 tax filing season now behind us, we decided to follow up on our previous list of top 100 property taxes in the U.S. We once again turned to public record sources, aiming to see if any year-over-year difference in taxes tipped the scales for some of the properties included in our pr...
California Q1 2018 Office Sales: Smaller Markets Pick Up the Slack for LA, San Francisco
April 18, 2018
In terms of office sales, Los Angeles was the most active California market we analyzed, wrapping up Q1 with a $1.3 billion total. Bay Area office sales raked in $800 million in 13 transactions, which encompassed over 2 million square feet of inventory. Even though Sacramento came in third, this...
SendGrid Triples Orange County Office Footprint
March 30, 2018
Digital communication platform SendGrid is set to triple its footprint in Orange County, Calif., by relocating its local offices to the heart of the region's fast-growing technology hub at 400 Spectrum Center Drive in Irvine, Calif.
CommercialCafé is your first and only stop when it comes to commercial real estate leasings in San Leandro, CA. Search through our extensive selection of commercial properties for lease with current space availability in the area ranging between 49979 square feet and 135000 square feet. Discover the right property from our 499 listings by using our advanced search function, which includes search by property type, space availability, management company, lease rates, and more.