Alhambra, CA Economic Overview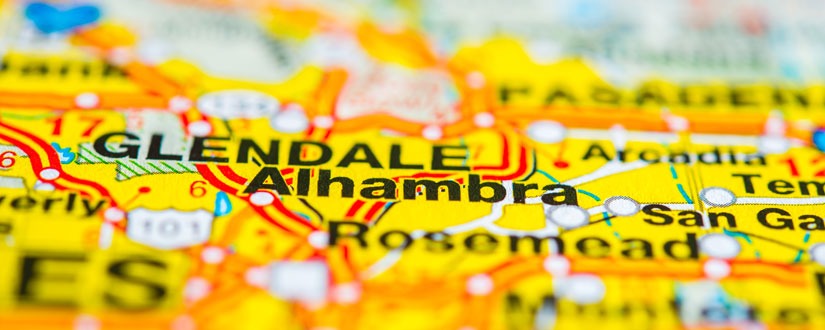 Alhambra is part of the Los Angeles County area and is just eight miles from Downtown Los Angeles. Home to over 80,000 residents, this 7.6 square mile San Gabriel Valley city is bordered by South Pasadena, San Marino, San Gabriel, Monterey Park, Monterey Hills, and El Sereno. The commercial real estate market in Alhambra is driven by the city's proximity to Los Angeles, its easy freeway access, and the comprehensive pro-business agenda.
The economy in Alhambra is driven in large part by its centralized location in Los Angeles County. The area is a huge consumer market with 10 million people, the County conducts more than $400 billion in annual two-way trade, and Alhambra has easy access to the Ports of Long Beach and Los Angeles, the Alameda Corridor rail system, and Los Angeles International Airport, the country's third most active international cargo airport.
With a median household income of over $52,500/year and a growing job base of over 42,000 employees, the economy in Alhambra remains strong. Income growth in Alhambra is consistent, as industry is attracted by the city's comprehensive business planning and its strategic development of five distinct business corridors.
Alhambra, CA Commercial Real Estate Market
The success of the Alhambra commercial real estate market is due in no small part to the city's five business corridors: Fremont Corridor, Garfield Avenue Corridor, Main Street Corridor, Mission Palm Corridor, and Valley Boulevard Corridor.
Each of the business districts in Alhambra serve specific industry sectors, creating vibrant commercial growth and development throughout the city.
The Fremont Corridor in Alhambra is an expanding business district, home to many of the city's top employers, including the 45 acre Alhambra Complex, The Fremont Plaza, the 17,755 square foot Shops at the Alhambra, and the L.A. County Department of Public Works.
The Garfield Avenue Corridor exemplifies the growing number of medical facilities, and is home to one of the most highly visible medical office buildings along the Garfield Avenue Corridor, namely the Pacific Orthopedic & Medical Center, a major focus point in the Alhambra office market.
Main Street Corridor in Alhambra has recently gone through an intensive revitalization program and is home to a wide variety of dining, retail, entertainment, mixed-use projects, along with the many auto dealerships that the city is well known for.
The Mission Palm Industrial Corridor in Alhambra includes a variety of small- to medium-size companies involved in light manufacturing, distribution, and industrial service work, while the Valley Boulevard Corridor in Alhambra is a dynamic, emerging business district that caters to the city's large and growing Asian population.
Alhambra, CA Office Sales Volume
Data provided by Yardi Matrix, for properties larger than 50K SF, which sold at over $5M.
Alhambra, CA Office Transactions
Data provided by Yardi Matrix, for properties larger than 50K SF, which sold at over $5M.
Alhambra, CA Commercial Inventory Breakdown
Office Spaces
Total: 1,385,612 SF
By square footage range:
50k to 100k SF: 262,581 SF / 18.95% of total office
100k to 500k SF: 222,265 SF / 16.04% of total office
500k to 1M SF: 900,766 SF / 65.01% of total office
By class:
Class A: 118,265 SF / 8.54% of total office
Class B: 1,267,347 SF / 91.46% of total office
Industrial
Total: 319,315 SF
Data provided by Yardi Matrix, properties over 50k SF
By square footage range:
50k to 100k SF: 98,280 SF / 30.78% of total industrial
100k to 500k SF: 221,035 SF / 69.22% of total industrial
By class:
Class B: 319,315 SF / 100% of total industrial
Employment in Alhambra, CA
Job growth in Alhambra has increased nearly 1%, with an unemployment rate of just 3.3%, 200 basis points less than the national average. Nearly 55% of the labor force works in management, administration, sales, production, food & service, and personal care. Major employers in Alhambra include:
The Los Angeles County Department of Public Works with 3,600 employees;
Alhambra Unified School District with over 2,100 workers;
County of Los Angeles with 1,500 workers;
Southern California Edison with 800 people;
The City of Alhambra with 650 employees;
Alhambra Hospital with 600 employees;
Empire Building Maintenance with over 400 workers.
The auto dealerships located along the Main Street Business Corridor are one of the largest contributors to the local economy, with all of the major auto manufacturers represented including Acura, BMW, Nissan, Ford, Volkswagen, Dodge, Jeep, and Chrysler.
Education in Alhambra, CA
The Alhambra Unified School District operates the public primary, middle, and secondary schools in Alhambra. Private schools in the city include Ramona Convent Secondary School, St. Theresa, St. Thomas More, and Emmaus Lutheran. Non-sectarian private schools include Oneonta Montessori School and Leeway School.
The Los Angeles campus of Platt College is in Alhambra, along with a local branch of Everest College, and the Los Angeles campus of Alliant International University. The University of Southern California's Health Sciences campus is in Alhambra as well.
Commuting Time in Alhambra, CA
The commute time in Alhambra is just under 29 minutes, with nearly 1.5% of the workforce having a super commute of 90 minutes or more. Nearly 10% of the work day commuters carpool and nearly 4% are able to save driving time by working at home.
Access to the integrated transportation systems of Los Angeles County are a boon to both residents and business alike in Alhambra.
The San Bernardino Freeway runs through the southern part of Alhambra, while the Long Beach Freeway has its northern terminus in the southwestern part of the city.;
Public bus transit in Alhambra is provided by both the Los Angeles Country Metropolitan Transport Authority and Alhambra Community Transit.;
The California High-Speed Rail Authority is reviewing proposals to construct a high-speed rail network along the southern end of the city.;
Alhambra is directly north of the major shipping ports of Los Angeles and Long Beach.;
Los Angeles International Airport is 30 miles from Alhambra, while Bob Hope Airport near Burbank and Ontario International Airport are also nearby.
Alhambra Demographics
Population
Total Population84,441
Male Population(48.9 %) 41,273
Female Population(51.1 %) 43,168
Median Age41.00
Income/Financial
Average Household Income$70,715
Median Household Income$54,360
Median Income Under 25$39,139
Median Income 25-44$66,514
Median Income 45-64$56,715
Median Income Over 65$31,442
News
LA Office Sales Volume Drops 36% in Q1 2017
April 19, 2017
Following its most active year in a decade, the Los Angeles office market recorded a rather slow first quarter in 2017, in terms of both sales volume and average price per square foot. However, with an unemployment rate of 4.8% as of February and solid job gains driving demand across all asset c...
CommercialCafé is your first and only stop when it comes to commercial real estate leasings in Alhambra, CA. Search through our extensive selection of commercial properties for lease with current space availability in the area ranging between 4194 square feet and 214379 square feet. Discover the right property from our 206 listings by using our advanced search function, which includes search by property type, space availability, management company, lease rates, and more.