Arcadia, CA Economic Overview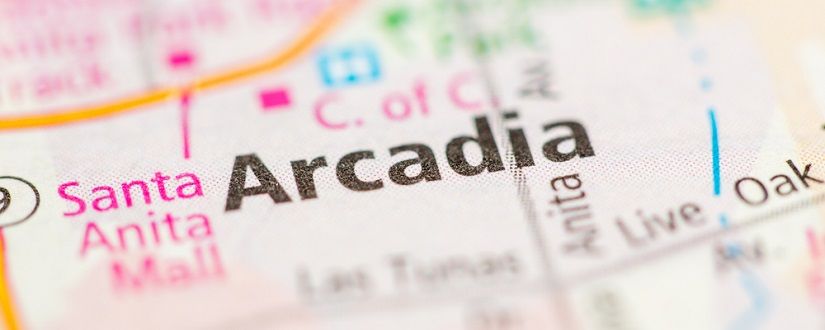 Arcadia is a city in Los Angeles County, located about 13 miles northeast of downtown Los Angeles in the San Gabriel Valley, at the base of the San Gabriel Mountains. Arcadia is famously known for its Santa Anita Park Racetrack and the Los Angeles County Arboretum and Botanic Garden. Arcadia is also referred to as the "Community of Homes," with over 57,000 residents that live amongst its beautiful neighborhoods and warm character.
Arcadia maintains a good balance between quality economic development and its primarily residential nature. Arcadia is a proud two times winner of "Best California City to Raise Children" by Business Week magazine.
Arcadia, CA Commercial Real Estate Market
In recent years, a blend of steady growth in the labor market, low interest rates, and minimal inflation have stimulated household spending and encouraged business investment throughout the region. Revenue from the Santa Anita Racetrack has long supported capital improvements for the City of Arcadia, resulting in the City having very little bonded indebtedness. Arcadia's economy is driven by wholesale trade, retail trade, manufacturing, health care and social assistance, arts, entertainment, and recreation.
The City of Arcadia has a thriving and successful regional shopping center in Westfield Santa Anita, and is lucky to have a diverse local economy with a mix of commercial, retail, office, service, and industrial properties. Add in world-famous Santa Anita Park Racetrack, a booming medical office sector with properties like the 612 Medical Center and Santa Anita Medical Plaza, and a Gold Line Light Rail connection to Pasadena and Downtown Los Angeles, and the City has an outstanding economic development platform with a great deal of room for growth.
Live Oak District presents a classic commercial corridor where older, established uses have mixed with new residential and commercial in-fill development as the area continues to evolve. The Arcadia Live Oak office submarket stretches along the southern border of the City and caters to commuters traveling along major thoroughfares Live Oak and Santa Anita Avenues.
Duarte Road and Foothill Boulevard are "fine grained" commercial districts with more of a residential feel, and effective and thriving service corridors. This corridor is located just north of the I-210 Freeway and along the major East-West thoroughfare of Foothill Boulevard. The charming commercial district abuts the beautiful hillside residential communities nestled against the San Gabriel Mountains.
Downtown District is Arcadia's original heart of the city, with buildings dating back to the early- to-mid 20 th century. The Downtown Arcadia office space caters mainly to medical offices.
Arcadia, CA Commercial Inventory Breakdown
Office Spaces
Total: 990,604 SF
By square footage range:
50k to 100k SF: 435,923 SF / 44.01% of total office
100k to 500k SF: 554,681 SF / 55.99% of total office
By class:
Class B: 888,391 SF / 89.68% of total office
Class C: 102,213 SF / 10.32% of total office
Industrial
Total: 1,046,953 SF
Data provided by Yardi Matrix, properties over 50k SF
By square footage range:
100k to 500k SF: 1,046,953 SF / 100% of total industrial
By class:
Class A: 1,046,953 SF / 100% of total industrial
Employment in Arcadia, CA
The city is home to a wide range of businesses, with the largest employers including Vons Companies, Inc., Macy's West, Nordstrom, Inc., Worley Parsons Group, Inc., and California Medical Business Services.
Arcadia boasts a highly-skilled labor market of over 25,000 employees, in a community of which over 50% of adults possess a Bachelor degree or higher. The most common employment occupations found in the City include Administrative (15.1%), Management (14.5%), and Sales (13.9%). The City has sustained a low unemployment rate of 2.4% in recent months, compared to the state average of 4.8%.
According to the Bureau of Labor Statistics, the industries in the Los Angeles-Long Beach- Glendale, CA area with the highest employment numbers include:
Trade, Transportation, and Utilities—currently employs 820,900, growing at 0.2% per year
Education and Health Service—currently employs 781,000, growing at 2.6% per year
Professional and Business Services—currently employs 615,900, growing at 3.1% per year
Education in Arcadia, CA
For primary and secondary education, the city is served by the Arcadia Unified School District, which has one highly ranked and prestigious high school, Arcadia High School. It is among the few public high schools in California to receive a distinguished GreatSchools Rating of 10 out of 10. There are three middle schools, and six elementary schools, two of which are winners in the United States Department of Education's Blue Ribbon Schools program.
For higher education, there are 138 colleges within 50 miles of Arcadia. The nearest college is Mt Sierra College at a distance of 2.1 miles from Arcadia center. Other popular options for students include California Institute of Technology and Pasadena City College in Pasadena, just five miles away, and California State University Los Angeles, just 9 miles away.
Commuting Time in Arcadia, CA
The City continuously invests in improving the local transportation system, with a particular focus on pedestrian linkages and bicycle facility improvements. Commuters, to and within the city can access Arcadia through various transport options, including:
Drivers can access Arcadia via the main freeway, Foothill Freeway (I-210). The drive from Downtown Los Angeles to Arcadia is about a 23-minute commute.
Arcadia Transit Fixed-Route provides general public transit service on three bus lines - Green, Blue, and Red with schedules available online.
Arcadia Transit Dial-A- Ride offers curb-to- curb shared transportation to seniors and persons with disabilities, responding to individual travel requests as they are received.
In 2016, Metro opened a new at-grade light rail station. Arcadia Station is located northwest of the intersection of 1st Avenue and Santa Clara Street, and is served by the Metro Gold Line.
Los Angeles International Airport (LAX) is a 40-minute commute.
Employees in Arcadia have an average commute time of 29.1 minutes, which is slightly longer than the national average of 24.8 minutes. The largest share of workers drives alone, followed by those who carpool and work at home.
Arcadia Demographics
Population
Total Population57,564
Male Population(45.9 %) 26,439
Female Population(54.1 %) 31,125
Median Age43.80
Income/Financial
Average Household Income$110,070
Median Household Income$79,934
Median Income Under 25$34,583
Median Income 25-44$78,513
Median Income 45-64$102,185
Median Income Over 65$48,862
News
Top 100 US Property Taxes in 2017
May 29, 2018
With the 2018 tax filing season now behind us, we decided to follow up on our previous list of top 100 property taxes in the U.S. We once again turned to public record sources, aiming to see if any year-over-year difference in taxes tipped the scales for some of the properties included in our pr...
California Q1 2018 Office Sales: Smaller Markets Pick Up the Slack for LA, San Francisco
April 18, 2018
In terms of office sales, Los Angeles was the most active California market we analyzed, wrapping up Q1 with a $1.3 billion total. Bay Area office sales raked in $800 million in 13 transactions, which encompassed over 2 million square feet of inventory. Even though Sacramento came in third, this...
SendGrid Triples Orange County Office Footprint
March 30, 2018
Digital communication platform SendGrid is set to triple its footprint in Orange County, Calif., by relocating its local offices to the heart of the region's fast-growing technology hub at 400 Spectrum Center Drive in Irvine, Calif.
CommercialCafé is your first and only stop when it comes to commercial real estate leasings in Arcadia, CA. Search through our extensive selection of commercial properties for lease with current space availability in the area ranging between 1337 square feet and 63000 square feet. Discover the right property from our 178 listings by using our advanced search function, which includes search by property type, space availability, management company, lease rates, and more.