Commerce, CA Economic Overview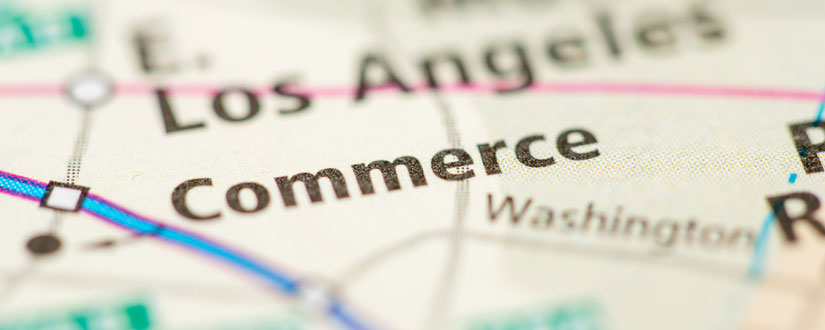 Commerce, also known as "City of Commerce," is located in southeast Los Angeles County and occupies roughly 6.540 square miles. Over 60,000 people work in what is dubbed "The Model City", for the above average amenities the location provides. One such amenity is its 44.2 acres of parks, which include recreational facilities like a fitness center, tennis/racquetball courts and an aquatic center. The Commerce, CA commercial real estate market is among the most attractive in the country.
Roughly 60% of Commerce, CA real estate is devoted to industries like manufacturing, retail, transportation, and administrative and governmental public facilities. There is no gross receipt or property taxes in Commerce, which is in keeping with its pro-business stance. While Commerce does not have Foreign Trade Zone status, like some of its neighbors, it does have pro-business incentives like Industrial Development Bonds (IDB).
Commerce invests about $61 million annually to maintain and improve its public infrastructure, in an effort to preserve the quality of life of its residents and workers.
Commerce, CA Commercial Real Estate Market
The local commercial real estate market serves retail, commercial entertainment, public facilities and public transportation, and, to a greater extent, industrial manufacturing. In fact, a lot of the properties here are mixed-use.
2410 Yates Avenue is among the largest commercial properties in this market–at 900,000 square feet, the property's tenants include AT&T, Gibson Overseas Inc., and Westworks Credit Union. Commerce Casino is about 91,694 square feet of Commerce office space and includes the full-service, 200-room Crowne Plaza Hotel which has its own dining facilities, retail establishments, and entertainment venues. Notable retail properties include Citadel Outlets, part of a commercial development that encompasses a hotel and four office buildings.
Commerce Office Rental Rates ($/SF/year)
Data provided by Yardi Matrix, for properties larger than 50K SF.
Commerce Office Sales
Data provided by Yardi Matrix, for properties larger than 50K SF, which sold at over $5M.
Employment in Commerce, CA
The biggest employer in Commerce is the Commerce Casino. It is the world's largest cardroom, with over 240 tables. The casino employs over 2,000 people and accounts for roughly 38% of the city's tax revenues and almost $22 million a year in licensing fees.
Commerce itself is the next largest employer, followed by Computer Science Engineering, Community/Social Services, Legal Services, and Art, Sports, and Entertainment. The median household income in Commerce, CA is almost $50,000.
Education in Commerce, CA
Commerce is part of the Montebello Unified School, with two elementary schools that serve Commerce: Bandini Elementary School located in the city and Suva Elementary School in nearby Bell Gardens.
Bell Gardens is also home to the intermediate schools that serve Commerce.
Three high schools serve Commerce: Bell Gardens High School in Bell Gardens, Montebello High School, and Schurr High School in Montebello.
Commuting Time in Commerce, CA
Commerce, CA residents expect a longer commute, of 27 minutes, which is above the national average of 24.8 minutes. Super-commutes of 90+ minutes are experienced by 2.85% of the Commerce workforce. Roughly 2.61% of the population uses public transit.
Commerce has free public transit, which is completely paid for by tax revenue–this includes bus routes and commuter shuttles. In addition, L.A.'s Metrolink has a stop in Commerce.
Commerce Demographics
Population
Total Population

13,017

Male Population

(48.8 %) 6,352

Female Population

(51.2 %) 6,665

Median Age

33.40
Income/Financial
Average Household Income

$53,947

Median Household Income

$45,341

Median Income Under 25

$41,827

Median Income 25-44

$50,074

Median Income 45-64

$53,080

Median Income Over 65

$27,886
CommercialCafé is your first and only stop when it comes to commercial real estate leasings in Commerce, CA. Search through our extensive selection of commercial properties for lease with current space availability in the area ranging between 2917 square feet and 92357 square feet. Discover the right property from our 92 listings by using our advanced search function, which includes search by property type, space availability, management company, lease rates, and more.