Downey, CA Economic Overview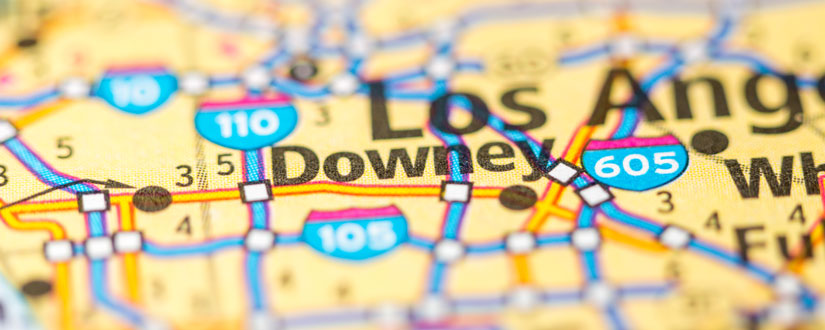 Downey is part of the Los Angeles County area and is just 13 miles from Downtown Los Angeles. Considered one of the Gateway Cities, Downey is home to nearly 112,000 residents. This 12.4-square-mile city is bordered by South Gate, Bell Gardens, Pico Rivera, Santa Fe Springs, Norwalk, Paramount, and Bellflower. The commercial real estate market in Downey is driven by the city's proximity to Los Angeles, its easy freeway and public transit access, and its proactive focus on business retention and attraction.
The economy in Downey is driven in large part by its centralized location in Los Angeles County. The area is a huge consumer market with 10 million people, and the County conducts more than $400 billion in annual two-way trade.
When businesses come to Downey they tend to stay and expand, due to the City's centralized location, as well as its population. The oldest operating McDonald's restaurant is in Downey, along with the first Taco Bell restaurant, and the second Dunkin' Donuts location in the Los Angeles area.
With a median household income of nearly $63,000/year and a growing job base of over 53,000 employees, the economy of Downey is consistently growing. Income growth in Downey has increased by nearly 4%, as industry is attracted to the city's business-friendly environment and major opportunity sites in Downey.
Downey, CA Commercial Real Estate Market
The success of the Downey commercial real estate market is due in great part to the continued efforts of the city to seek and retain business, and to help industry expand. The city has identified several opportunity sites for business development, redevelopment, and affordable housing.
The Firestone Boulevard opportunity site in Downey is the city's primary commercial corridor and is home to a variety of national tenants. The boulevard offers retail, restaurant, office, and service businesses, along with a variety of other commercial uses.
Downtown Downey is the city's central business district and is anchored by a state-of-the-art cinema and a variety of small store fronts. Main development areas of Downtown are located along Firestone Boulevard and Downey Avenue.
The Imperial Highway opportunity site in Downey is a three-mile major arterial road running east and west through the southern part of the city. The major streets of Paramount Avenue, Lakewood Boulevard, Clark Avenue, Bellflower Avenue, and Woodruff Avenue that intersect with Imperial are all potential major development sites.
Other promising development sites in Downey are along Studebaker Road, La Reina Avenue, and Florence Avenue.
Property availability and sales trends in Downey remain strong. Over the past year, asking prices for multifamily, office, and industrial property have increased by 10% or more, while the amount of property for sale in Downey has declined across the board. Investors in the Downey office market are holding on to their increasingly valuable assets.
Downey Office Sales Volume
Data provided by Yardi Matrix, for properties larger than 50K SF, which sold at over $5M.
Downey Office Transactions
Data provided by Yardi Matrix, for properties larger than 50K SF, which sold at over $5M.
Employment in Downey, CA
Job growth in Downey has increased nearly 2% over the past year, with an unemployment rate of just 4.6%, which is about one percent below the national average. Over 44% of the labor force works in management, administration, sales and production.
Major employers in Downey include:
Kaiser Permanente with 4,500 employees;
Stonewood Center with 2,100 people;
Downey Unified School District with over 1,850 workers;
Rancho Los Amigos National Rehabilitation Center with over 1,400 workers;
PIH Health Hospital with over 950 people;
Coca-Cola Refreshments with over 900 workers;
Office of Education - Los Angeles County with 900 employees;
Lakewood Park Health Center with 325 employees.
Education in Downey, CA
Public schools in Downey are operated by the Downey Unified School District. The District oversees the 13 primary schools, five middle schools, and three public high schools in Downey. The city also has several private schools, including Calvary Chapel Christian School, St. Pius X-Matthias Academy, and Saint Mark's Episcopal School.
Thanks to its central location in Los Angeles County, students residing in Downey have access to numerous colleges and universities, including Cerritos College in neighboring Norwalk, Biola University in La Mirada, Whittier College, California State University - Los Angeles, and California State University - Long Beach.
Commuting Time in Downey, CA
The commute time in Downey is just over 28 minutes, about 20% longer than the national average. Nearly 3% of the workforce has a super commute of 90 minutes or more. Almost 12% of the work-day commuters carpool and over 3% choose to work at home.
Access to the integrated transportation systems of Los Angeles County are a boon to both residents and business in Downey.
The I-105, I-5, I-605, and I-710 interstate freeways all pass through or near Downey.;
The LA Metro system provides commuter bus service in Downey.;
Downey is directly north of the major shipping ports of Los Angeles and Long Beach.;
Los Angeles International Airport, Bob Hope Airport, and Ontario International Airport are all located near Downey.
Downey Demographics
Population
Total Population

113,407

Male Population

(48.9 %) 55,452

Female Population

(51.1 %) 57,955

Median Age

34.30
Income/Financial
Average Household Income

$75,964

Median Household Income

$62,897

Median Income Under 25

$35,750

Median Income 25-44

$65,739

Median Income 45-64

$67,948

Median Income Over 65

$45,239
CommercialCafé is your first and only stop when it comes to commercial real estate leasings in Downey, CA. Search through our extensive selection of commercial properties for lease with current space availability in the area ranging between 700 square feet and 2931 square feet. Discover the right property from our 20 listings by using our advanced search function, which includes search by property type, space availability, management company, lease rates, and more.