Pasadena, CA Economic Overview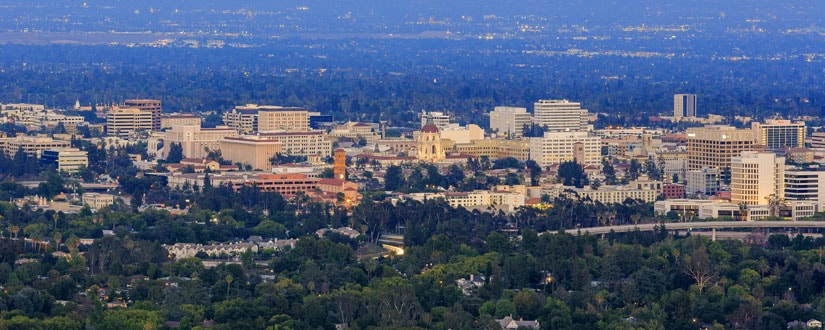 The ninth-largest city in Los Angeles County, Pasadena is home to almost 140,000 residents. While Pasadena is known worldwide for its yearly Rose Bowl Football Game and Tournament of Roses parade, it is also home to well-known educational and cultural institutions like Caltech, the Jet Propulsion Laboratory, and Norton Simon Museum. However, the city of Pasadena is also ripe with busy commercial real estate, which is devoted to retail, restaurants, and even a flea market that attracts thousands of vendors and tens of thousands of buyers.
One of Pasadena's major economy sectors is Educational Services, with California Institute of Technology (Caltech), Pasadena City College, and the Pasadena Unified School District being some of its top employers, and Health Care, represented mainly by Kaiser Permanente and Huntington Hospital, being another major source of jobs. However, the top employer in Pasadena is the Jet Propulsion Laboratory. Professional, Scientific and Management and Administrative and Waste join the list of top local employment industries.
Another driver of Pasadena's economy is retail and restaurant, particularly in its popular 21-block Old Town neighborhood, Paseo Colorado, and South Lake Avenue. These mixed-use properties offer living, working, and retail spaces not just within the same neighborhood, but in the same building.
Pasadena, CA Commercial Real Estate Market
Pasadena's busiest neighborhood is Old Town Pasadena, the city's original commercial center, which continues to be a popular Southern California shopping and entertainment destination. The Pasadena office submarket is mixed-use, with high-end shopping, fine dining, cafes, pubs, and even nightclubs.
Pasadena's South Lake commercial real estate is another mixed use market of shopping, dining, and urban residences. South Lake Avenue District is located between active community groups and a bustling day-time workplace population of more than 56,000, all making use of services, shopping, and events located here.
Of course, the largest (almost 80,000) shopping venue in Pasadena is the Rose Bowl, featuring a monthly flea market that attracts 2,500 vendors and 25,000 buyers who search for bargains, like vintage clothes, antiques, and locally-crafted furniture.
Pasadena, CA Office Sales Volume
Data provided by Yardi Matrix, for properties larger than 50K SF, which sold at over $5M.
Pasadena, CA Office Transactions
Data provided by Yardi Matrix, for properties larger than 50K SF, which sold at over $5M.
Pasadena, CA Commercial Inventory Breakdown
Office Spaces
Total: 11,569,848 SF
By square footage range:
50k to 100k SF: 2,391,469 SF / 20.67% of total office
100k to 500k SF: 8,469,305 SF / 73.2% of total office
500k to 1M SF: 709,074 SF / 6.13% of total office
By class:
Class A: 6,116,860 SF / 52.87% of total office
Class B: 4,167,918 SF / 36.02% of total office
Class C: 405,809 SF / 3.51% of total office
Industrial
Total: 725,105 SF
Data provided by Yardi Matrix, properties over 50k SF
By square footage range:
100k to 500k SF: 725,105 SF / 100% of total industrial
By class:
Class B: 725,105 SF / 100% of total industrial
Employment in Pasadena, CA
Almost half of jobs in Pasadena are in business and finance management. The rest are mostly in computer science engineering, community social services, legal services, and education.
Pasadena's median household income is a little over $72,000. About 75,000 of its 140,000 population is employed.
Education in Pasadena, CA
The Pasadena Unified School District runs the local public schools, including numerous elementary schools, five middle schools, and four high schools.
The most prominent school in Pasadena is, of course, the world-renowned California Institute of Technology (Caltech) in the southern center of the city. Caltech graduates have taken home 32 Nobel Prizes. The Jet Propulsion Laboratory is the city's top employer, and is managed for NASA by Caltech.
Other prominent higher education institutions located in Pasadena are: Fuller Theological Seminary, one of the largest multidenominational schools in the world, Le Cordon Bleu, a branch of the world-famous culinary arts school that offers Le Cordon Bleu accreditation, Art Center College of Design, considered one of the top ten art schools in the world, and Los Angeles Music Academy College of Music, a modern music school staffed by active film, television, and recording industry professionals.
Commuting Time in Pasadena, CA
Almost 71% of Pasadena workers drive a car alone to work and have an average commute of 26.1 minutes one way.
Those who choose Pasadena Public Transportation are in luck - the city is served by the extensive Los Angeles Metro Gold Line light rail that starts in East Los Angeles. There are six total Gold Line stations in Pasadena at various, convenient locations throughout the city. Another option is the Pasadena Transit bus service, which is exclusive to the city. In addition, Los Angeles metropolitan bus services also serve the city, such as LADOT, Metro Local, and Foothill Transit.
There are four freeways that cross Pasadena. The busiest is Foothill Freeway I-210, which runs past the Rose Bowl and merges with the Ventura Freeway and also connects to Arcadia, San Fernando, and San Bernardino. Second-busiest is Ventura Freeway (SR 134) that connects to Bob Hope Airport. Then there is the Long Beach Freeway (SR 710), which was supposed to connect to Long Beach, but doesn't. Finally, the Arroyo Seco Parkway (SR 110), which leads to Downtown Los Angeles.
Pasadena Demographics
Population
Total Population139,899
Male Population(49.1 %) 68,746
Female Population(50.9 %) 71,153
Median Age37.30
Income/Financial
Average Household Income$105,406
Median Household Income$72,402
Median Income Under 25$25,458
Median Income 25-44$76,936
Median Income 45-64$88,385
Median Income Over 65$51,555
CommercialCafé is your first and only stop when it comes to commercial real estate leasings in Pasadena, CA. Search through our extensive selection of commercial properties for lease with current space availability in the area ranging between 2707 square feet and 114659 square feet. Discover the right property from our 552 listings by using our advanced search function, which includes search by property type, space availability, management company, lease rates, and more.