Santa Fe Springs, CA Economic Overview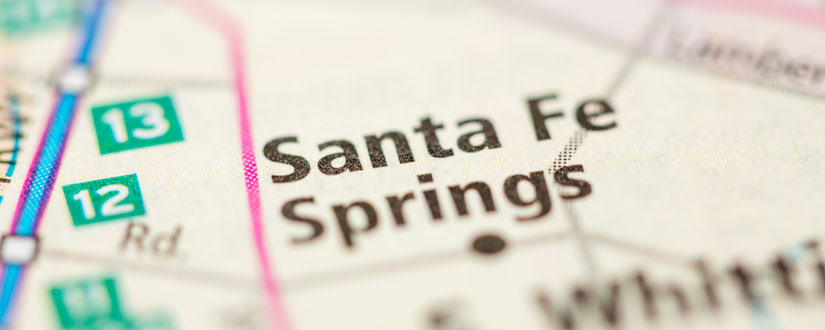 Santa Fe Springs is part of the Gateway Cities of Los Angeles, cities that identify as still being part of metropolitan L.A. but are entirely distinct municipalities. Santa Fe Springs is 13 miles from Downtown Los Angeles, and has a population a little over 16,000. Unlike its L.A. County neighbors, Santa Fe Springs' economy relies on industry. The city is home to Egge Machine Company, a busy supplier of Cadillac engine parts for custom cars and racing, as well as Boeing and U.S. Aerospace, a publicly traded aerospace and defense contractor for Lockheed Martin, among other big names in the aerospace industry.
The Santa Fe Springs economy top industry is manufacturing (22.39%) followed by educational, health, and social services (15.78%), retail trade (11.63%), transportation, warehousing, and utilities (8.15%). The city's top employer is Southern California/Nevada grocery chain Vons, which has a busy distribution center in the city and employs about 1,000 people. Other companies that call Santa Fe Springs home is McMaster-Carr, which handles next day delivery of maintenance, repair, and operation materials and supplies, Presto Food Products, L.A. Produce Company, and Southern Wine & Spirits, all of which have warehouse and distribution in the city.
The local Santa Fe Springs economy has been quietly booming thanks to unemployment decreasing and sales tax revenue rising. Several Santa Fe Springs commercial real estate projects are in development.
Santa Fe Springs, CA Commercial Real Estate Market
Much of Santa Fe Springs' 9.000 square miles is devoted to light industry, made evident by the high density of large manufacturing and industrial properties. Santa Fe Springs commercial real estate offers a fair balance of warehouse, office spaces, and office buildings. Moreover, developable land is still available.
The Santa Fe Springs office market is especially suitable for companies that want to centralize regional warehouse and distribution in the Los Angeles County area. Such businesses can take advantage of spaces as large as 300,000 square feet to accommodate refrigeration (if needed), dry storage, and administrative support. Long-term leases are readily available at reasonable rates due to the high availability of commercial rental property.
Convenience store chain 7-Eleven moved its own warehouse and distribution center to optimize delivery of goods throughout Los Angeles and Orange County. Housed in the Santa Fe Springs distribution center are dairy products, meat products, groceries, as well as ready-to-eat products. The company chose Santa Fe Springs over the tighter industrial markets of North Orange County and mid-counties, for its convenient location and sprawling parking area.
The Carmenita commercial corridor is one of the busiest areas in Santa Fe Springs, CA. Carmenita Road bridges the Santa Fe Springs and Norwalk markets, and boasts several retail centers.
Santa Fe Springs Office Sales Volume
Data provided by Yardi Matrix, for properties larger than 50K SF, which sold at over $5M.
Santa Fe Springs Office Transactions
Data provided by Yardi Matrix, for properties larger than 50K SF, which sold at over $5M.
Employment in Santa Fe Springs, CA
A large number of Santa Fe Springs residents (81%) work for the major industries in town. Government workers make up the rest (13.77%), while a small percent are self-employed or in unincorporated businesses (4.86%). Full-time workers in Santa Fe Springs earn about $30,000 annually.
While manufacturing is Santa Fe Springs' biggest industry, less than 15% of its workforce hold jobs in production (8%), material moving (3.8%), and transportation (3.5%). Many full-time workers have jobs in administration (19.9%), sales (10.1%), and management (8.8%).
Education in Santa Fe Springs, CA
The Little Lake City School District runs the public, primary, and secondary schools in Santa Fe Springs, like Jersey Avenue Elementary School, Lakeview Elementary School, Lake Center Middle School, and Santa Fe High School. There are also private educational institutions like Santa Fe Springs Christian School.
Santa Fe Springs area colleges are located in the neighboring cities of La Mirada, Whittier, Norwalk, and Cypress. Biola University, 3 miles away in La Mirada, and Whittier College, 4 miles away in Whitter, have lower enrollment and higher tuition rates. On the other hand, Cerritos College and Cypress College have very high student populations of up to 20,000 and lower tuition.
Commuting Time in Santa Fe Springs, CA
Commuting one-way in Santa Fe Springs takes an average of 26.9 minutes by car. Roughly 82% of commuters drive alone, with only 10.9% carpooling and 4.4% using public transportation. The main means of public transportation in Santa Fe Springs is the Metro Local Line.
Santa Fe Springs Demographics
Population
Total Population

17,162

Male Population

(46.7 %) 8,012

Female Population

(53.3 %) 9,150

Median Age

35.60
Income/Financial
Average Household Income

$68,819

Median Household Income

$53,168

Median Income Under 25

$0

Median Income 25-44

$0

Median Income 45-64

$0

Median Income Over 65

$0
CommercialCafé is your first and only stop when it comes to commercial real estate leasings in Santa Fe Springs City, CA. Search through our extensive selection of commercial properties for lease with current space availability in the area ranging between 8996 square feet and 10806 square feet. Discover the right property from our 122 listings by using our advanced search function, which includes search by property type, space availability, management company, lease rates, and more.
Cities near Santa Fe Springs City, CA
Cities near Santa Fe Springs City, CA