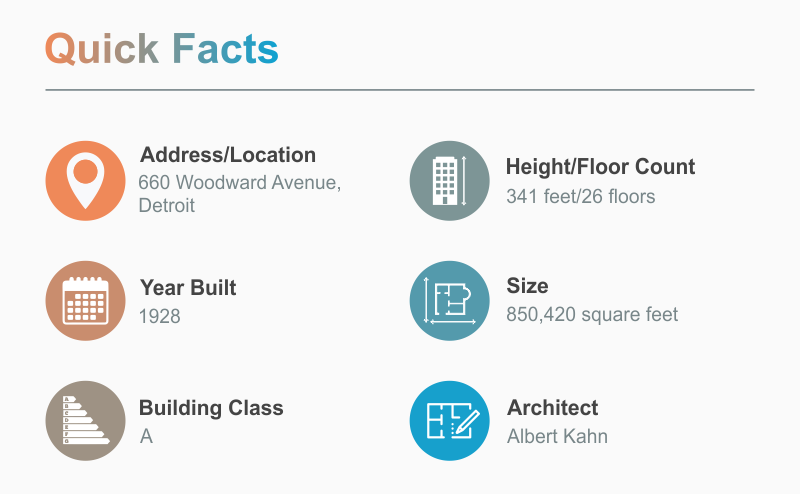 The First National Building once held the title of Detroit's tallest skyscraper, and with 69 teller windows, had one of the five largest bank lobbies in the country. While no longer the tallest, this iconic Class A office building in Downtown Detroit is now a National Historic Landmark, occupying an entire city block along Cadillac Square. It stands next to the Vinton Building and is across the street from Cadillac Tower and Ally Detroit Center.
Albert Kahn, one of Detroit's most famous architects, designed the First National Building in the Neoclassical architectural style. Constructed mainly with limestone, the building has Corinthian columns surrounding the second floor, all three stories tall. Kahn's unique Z-shaped building design maximizes the number of offices receiving natural light, outside air ventilation, and views of the Detroit River, Campus Martius Park, and Windsor, Canada. Kahn designed dozens of other buildings in Detroit including the Fisher Building on West Grand Blvd in the Middle Woodward office submarket and the Packard Plant on East Grand Boulevard in Detroit.
A real estate group owned by Dan Gilbert, the billionaire founder of Quicken Loans and owner of the Cleveland Cavaliers, purchased the half-vacant First National Building property in 2011 for $8.1 million. Just four weeks before acquiring the property, Gilbert also bought the Dime Building, also known as the Chrysler House.
In the few years since then, the First National Building has exceeded 90% occupancy, generating an annual net income of about $7.5 million. The property was recently appraised for $106 million giving ownership a cap rate of just over 7%. According to The Detroit News, Gilbert-affiliated entities have invested nearly $2.2 billion in developing, buying, and renovating close to 14 million square feet of space in more than 80 properties in Downtown Detroit.
Since purchasing the property, Gilbert has invested over $110 million in renovations in the First National Building. The property's main lobbies and central concourse were modernized with 15,000 square feet of new retail space. The ornate decor of the original ceiling was exposed and combined with modern design elements such as a video display wall, custom-designed LED lighting panels, and new interior marble wall features. On the outside of the building, four new canopies were installed to add to the decorative elements of the property's original era.
Key tenants in the First National Building include the headquarters of Honigman LLP, one of the largest law firms in Michigan; Amrock, the nation's largest independent company offering title insurance, property valuations, and closing services; the first Detroit location of New York City Lower East Side-based Roasting Plant Coffee; and Central Kitchen + Bar, a vibrant gastropub serving contemporary American classics from its 3,000 square feet of restaurant space inside the First National Building.
Property images courtesy of Yardi Matrix