With a name like the Googleplex, it may come as no surprise that this office building in Mountain View, Calif., is the corporate headquarters of tech giant Google.
The Googleplex, located at 1600 Amphitheatre Parkway, is the company's largest collection of buildings featuring more than 3 million square feet of space. Charleston Park, a city park that's open to the public, also resides on the Googleplex site. Overall, Google operates more than 20 buildings in the area.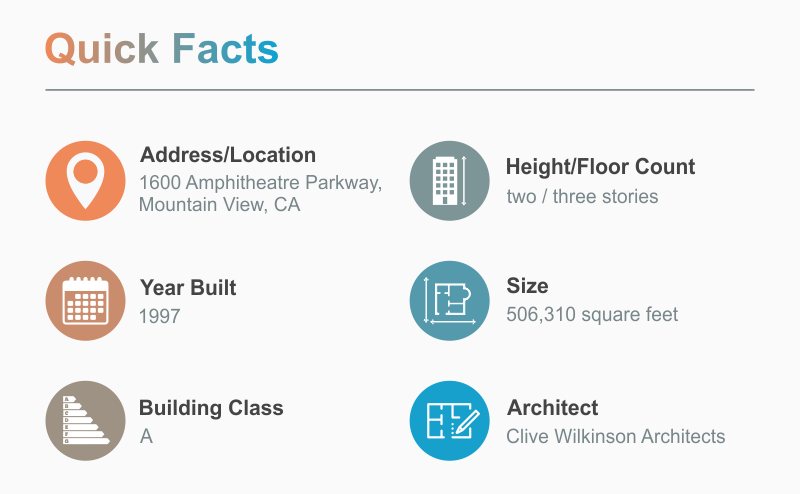 The original campus was occupied by Silicon Graphics (SGI), and it was originally designed to allow the privately owned corporate buildings and the adjoining public green space to seamlessly coexist. It was awarded the ASLA Centennial Medallion in 1999 for its clever integration of public and private space.
The SGI campus was then leased by Google in 2003. Clive Wilkinson Architects designed Google's original workspace and focused on creating a sustainable building to foster creativity and teamwork. The glass-enclosed three-person workrooms, known as  'Glass Tents,' are a particularly innovative feature. The design cuts down on ambient noise but allows sunlight to filter through the office.
Google later purchased the Googleplex for $319 million in June 2006, along with several other properties owned by SGI. The site is now adorned with a series of solar panels and statues of Google's Android logo and the different versions of its Android operating system. In the lobby, you'll also find a live stream of Google's search results–filtered to remove any troublesome search terms.
In 2013, construction began on a new 1.1 million-square-foot headquarters known as "Bay View." Plans for the site were subsequently released in 2015, which included a series of lightweight, movable structures.
At the time, a corporate blog post revealed: "Instead of constructing immovable concrete buildings, we'll create lightweight block-like structures which can be moved around easily as we invest in new product areas. Large translucent canopies will cover each site, controlling the climate inside yet letting in light and air. With trees, landscaping, cafes, and bike paths weaving through these structures, we aim to blur the distinction between our buildings and nature."
Unfortunately, this particular plan did not come to fruition, but a similar tent-like structure is reportedly planned.
Following its corporate restructuring in 2015, Alphabet is now the parent company of Google and several former Google subsidiaries. Alphabet's headquarters are also in the Googleplex.
The Googleplex buildings are decked out with bright and fun decor. This includes a replica of experimental aircraft SpaceShipOne and a dinosaur skeleton that may or may not be a nod to SGI, which was responsible for the computer-generated dinosaurs in Jurassic Park.
There's also gourmet food for staff and high-tech nap pods to give Googlers the optimum 40 winks to revitalize them for their work.
Random fact: the name Googleplex has a double meaning. It's a combination of the words Google and complex and also references the term "googolplex,"  the name given to a very large number: 10,100 (which is a one followed by one hundred zeroes).
Future plans for the Googleplex
Google has big plans for its presence in Mountain View. Last year, the company purchased a $1 billion office park next door to the existing Googleplex campus. It's reportedly the largest real estate deal of 2018 in the Bay Area.
Google reportedly plans to redevelop the center of the North Bayshore area of Mountain View with a combination of office, public, retail and residential space. The plans include more than 3 million square feet of new and redeveloped office space, 400,000 square feet of community retail space, 35 acres of land accessible to the public and up to 8,000 new homes. Up to 20% of those new homes will be affordable housing, including rental units affordable to individuals making $44,000 per year, according to further reports.
In a statement to CNBC, Michael Tymoff, Google's Mountain View development director, said the company wants to create "Complete Neighborhoods" that both put more of an emphasis on homes and "prioritize people over cars." City officials will discuss the plans later on this year.