The Public Service Building in downtown Portland is a 16-story office building with a rich history.
The structure has been listed on the National Register of Historic Places since 1976 and its name gives us a clue about its past. It was originally built to house the offices of the Pacific Power and Light Company and the Portland Gas and Coke Company – both "public services."
The main power plant for the city was originally located in the building's basement. Now, the space houses the city's main power feeds.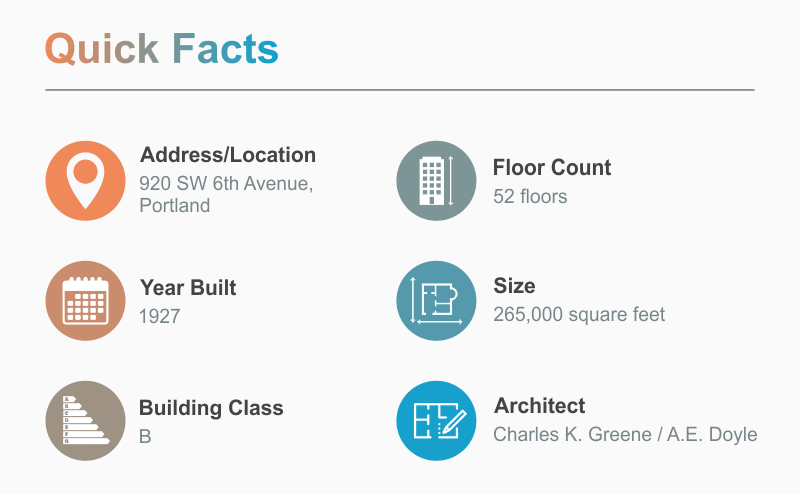 Built in 1927, the Public Service Building originally consisted of a 16-story body with a two-story north and south wing either side of the central section. The building was later extended, and its wings reached their present height of 12 stories in 1957.
Further renovations occurred in 1973 when a new metal roof was installed to replace the building's original red-tile roof. The building's four red and green neon signs were also removed, which read: "heat", "gas", "power" and "light" in different directions.
The Goodman family reportedly purchased the Public Service Building for $3 million in 1992 and proceeded with their own makeover in 1999, a $20 million overhaul focused on reducing the energy costs of the 265,000 square foot building. The aim was to reduce energy costs by $160,000 per year using new and more efficient technologies.
Architecture and The Public Service Building
The Public Service Building was primarily designed by Charles K. Greene and built by American architect A.E. Doyle. It was the third of three similar Italianate buildings in the Portland area, including the Pacific Building and Bank of California Building.
However, Greene left Portland before the building was completed and Pietro Belluschi completed the project. A.E. Doyle died three weeks after the building opened in January 1928.
The ground three floors are faced with grey terra cotta and the upper floors in grey brick. The details and cornices are also in terra cotta.
The Public Service Building was also home to the first Nike retail store, which opened on the ground floor of the structure in 1990. It subsequently closed in October 2011, moving to a different location in the city.
Details
Price: $28.5 – $29/Sqft/Year
City: Portland
Neighborhood: Downtown Portland
Zip Code: 97204
Market: Portland
Property Type: Office – Office Building
Building Size: 265,000 Sqft
Lot Size: 0.46 Acre
Building Class: B
Year Built: 1927
Property photos courtesy of Yardi Matrix.