Everyone these days seems to be talking about moving from Silicon Valley to Miami or from New York City to Austin. And, while those are wonderful, vibrant places, not everyone wants — or can even afford — the big-city prices. As a result, and with home prices skyrocketing, smaller cities that are just off the beaten path are becoming increasingly more appealing.
So, as Millennials begin starting families, settling down and spending more time at home and less time out for cocktails, we wanted to know: What are the best underrated cities that offer a great quality of life, are smaller and are perhaps even a little more affordable? For this study, we only considered cities that have more than 100,000 residents, but less than 250,000. We also factored in attributes like earning potential, home prices, crime rates, local entertainment and whether the city itself was growing or not.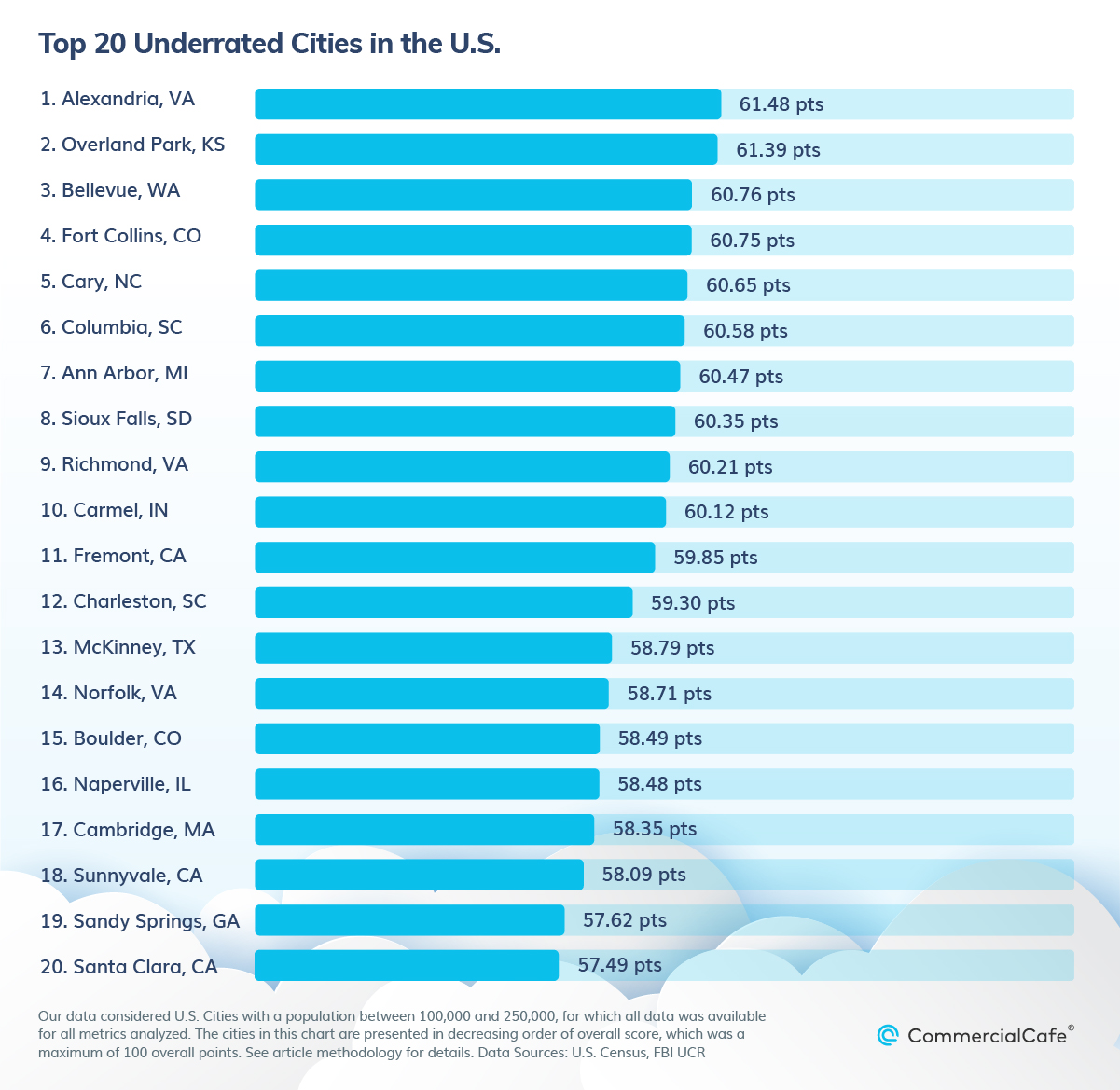 As you might expect, suburbs made a strong showing on this list. That's great news for Millennials who are looking for more space and a place to raise a family, yet still within proximity of urban amenities.
Most Underrated Cities Coast-to-Coast

Alexandria, Va.
Alexandria is our top below-the-radar city. It sits on the west bank of the Potomac River — roughly seven miles south of Washington, D.C. — with a population of roughly 160,000 residents, many of whom work in civil services or for private companies that contract directly with the federal government.
The city is as historic as it is beautiful, with compact neighborhoods that make the whole community very walkable. Here, boutique shops, restaurants and other entertainment venues draw residents and tourists alike. Alexandria also has a low rate of unemployment — just 2.9% in 2019. Wages are on the higher end, too, as the median income for residents age 25 and older is nearly $70,000 per year. However, higher wages typically bring higher home prices, and the median home sale price in Alexandria in 2019 was $572,500.
Overland Park, Kan.
Overland Park comes in at the second spot on our list. This suburb of Kansas City, Mo., is just 13 miles from downtown Kansas City. At first glance, the city doesn't stand out in any specific metric, but it's actually well above average across most of them.
Overland Park sports a median home sale price of just more than $300,000 — below the national median — combined with a median yearly salary of $60,000, which is above the national median. Plus, the unemployment rate here is just 2.18%. The city also has thriving healthcare and tech sectors, and was rated "one of the most popular cities for Millennials" in 2018.
Bellevue, Wash.
Bellevue comes in at #3 on our list of top underrated cities, and this Seattle suburb is a gem. Just east of downtown Seattle and across Lake Washington, Bellevue boasts an impressive median annual salary of $79,000 and its 2019 unemployment rate was below 3%. And, although the city's population is comprised of just 148,000 people, the numerous skyscrapers downtown will make you think you're actually in a bigger city.
Granted, at $920,000, home prices here are on the higher end of most cities on our list. But Bellevue is a safe city. In fact, it's the fourth-safest city on our list with just 12.3 incidents per 100,000 residents. As such, Bellevue should definitely be on the radar of the upwardly mobile Millennial generation.
Top 3 Underrated Cities Where People are Moving
Geographic mobility measures the number of people who move to particular city as a percentage of the city's total population during a specific time period, which was 2018 to 2019 for our purposes. The higher the percentage, the larger the proportion of current residents who have moved there recently.
Here are the top three most popular underrated cities by geographic mobility.

Columbia, S.C.
Columbia sits almost exactly in the center of South Carolina and is the state's capital. It's also situated at the region's fall line — where the heights of the Piedmont region fall to the Atlantic coastal plain — creating a hiker's paradise with truly breathtaking scenery of waterfalls and terrain.
In the 1990s, Columbia began an urban renewal of sorts after losing many of its urban residents to the suburbs. For example, the Conagree Vista District — once a warehouse district — is now a vibrant setting of restaurants, art galleries, and boutiques. Plus, more revitalization projects are also currently underway — and they're paying off. In fact, census data showed that about 30,000 people moved to Columbia in 2018. That equated to 23% of the city's current population — the highest percentage in our study.
Boulder, Colo.
Boulder also saw lots of emigration recently. The city is just northwest of Denver in the foothills of the Rocky Mountains and welcomed approximately 16,500 emigrants from 2018 to 2019 — more than 15% of its current population. Boulder also consistently ranks high on city rankings of health, quality of life and more.
The University of Colorado also calls Boulder home and brings with it many entertainment venues that cater to the students and residents alike. It's also one of the only cities on our list that has an urban growth boundary and wildlife management plan, both of which aim to preserve the natural beauty of the city and surrounding area.
Norfolk, Va.
Norfolk is world famous in military and shipping circles: It's home to the largest naval base in the world — Naval Station Norfolk — and one of NATO's two Strategic Command headquarters. It's also the central hub for the nine cities in the region that make up the Hampton Roads metro area.
What's more, because the city is surrounded by water on three sides and is close to the ocean, residents and tourists alike have an abundance of options when it comes to things to do. Plus, Norfolk also has one of the highest concentrations of food service establishments (542) on our list. Maybe that's why nearly 15% of its 243,000 current residents moved here between 2018 and 2019.
Top 3 Underrated Cities by Income & Housing Prices
Often, finances are one the most significant considerations when choosing a location to move to — perhaps only behind family. In any case, how much you make directly affects what you can afford. And, while high salaries are definitely easier to work with, higher housing costs also tend to follow.
Consequently, the top three underrated cities with the highest median incomes are all in Silicon Valley: Sunnyvale, Santa Clara and Fremont.
This region is famous for high tech, high salaries and high home prices. Indeed, all three cities have median salaries of more than $82,000, with Sunnyvale the highest at $92,000. Likewise, housing prices here were also the highest on our list: All three had median home sale prices of more than $1 million. And, once again, Sunnyvale is at the top of this list, with a median price of $1.567 million.
Quality of life is great in this area, too — if you can afford it. Violent crime rates here are low, averaging about 16 incidents per 100,000 people. And, there are plenty of restaurants and entertainment venues to keep you either busy or relaxed, depending on your preference. To that end, Fremont has the second-most food service establishments on our list at 551.
Top 3 Most Affordable Underrated Cities
But just because a city has higher wages and higher costs of living doesn't mean it's better. There's more to life than the rat race, and living comfortably and affordably are not mutually exclusive. In fact, many Millennials are learning just how important work/life balance is — and how to achieve it on a budget.

Columbia and Norfolk also rank on our list as the top two most affordable underrated cities. Both of these cities boast very reasonable housing prices with median sale prices of $201,500 and $218,000, respectively. Additionally, both cities' average commute time are right around 20 minutes. Meanwhile, Norfolk's 54 art, entertainment and recreational establishments are quite respectable on our list, while Columbia is closer to nature.
Not far behind, Sioux Falls, S.D., is the third-most affordable city on our list with a median home sale price of just under $219,000. The city is near the Iowa border in the southeastern part of the state, and is widely considered to be one of the healthiest cities in the country. And, although average salaries in Sioux Falls are below other cities on our list, the unemployment rate here is quite appealing: It was just 2.09% in 2019 — the second-lowest in our study, behind only Ann Arbor, Mich.
Plus, South Dakota doesn't have a corporate income tax, which has been a draw for financial and services companies. It's also a regional hub for Wells Fargo and Citigroup. And, because the distances between other larger cities in the region are so far, Sioux Falls has many of the amenities you'd come to expect in larger cities: It's the regional center of shopping and dining with 408 dining establishments and 81 art, entertainment and recreation establishments.
Check out the entire top 20 list below to see how each city ranks for every metric by points.

Here's how each city ranked by metric value.
Methodology:
We based scores for the following eight metrics on values made available by the 2019 U.S. Census, Census County Business Patterns Survey 2019 and the FBI Uniformed Criminal Report from 2018 and 2019.
Geographic mobility as a percentage of total population, for which the maximum weight was 20 points.
Median earning in the past 12 months (in 2019 inflation-adjusted dollars) for the population aged 25 years and older. The maximum weight for this metric was 20 points.
The percent of unemployed from the Civilian Labor Force (all non-institutionalized civilians who are either employed or unemployed). The maximum weight for this metric was 10 points.
Housing value metrics were inversely correlated, meaning that the higher the value of the house, the lower the awarded score. The maximum weight for this metric was 10 points.
Art, entertainment and recreation establishments include the following NAICS code categories: 7111, 7112, 7121, 7131 and 7139. The maximum weight for this metric was 10 points.
Food service establishments include bars with alcoholic and non-alcoholic beverages and the following NAICS code categories: 7224 and 7225. The maximum weight for this metric was 10 points.
Commute time was measured by time to work for workers 16 years and older who did not work from home. The maximum weight for this metric was 10 points.
Last, but not least, the crime rate was measured by incidents of violent crime per 100,000 people. The maximum weight for this metric was 10 points.