Generation Z, the iGeneration, Post-Millennials, Zoomers … known by a variety of names, the generation following Millennials is now reaching adulthood, settling down and already making an impact. Currently aged 15 to 24, Gen Zers have an estimated purchasing power of more than $140 billion — which is only going to increase as more of the 67 million Zoomers enter the job market.
However, the effects of Generation Z growing up and settling down will likely be distributed unevenly across the country. That's because an up-and-coming generation of Gen Z college students and young professionals will be looking to start building a life in the metros that best suit their needs.
So, to determine which areas are hotspots for Gen Zers — and which might be best for them in the coming years — we ranked the 50 biggest U.S. metros based on the following indicators:
Total Gen Z population
Percentage of Gen Zers of the metro's total population
Number of colleges in the metro
Average internet speed
Unemployment rate
Availability of entertainment options based on total Gen Z population divided by the number of entertainment venues (sports fields and arenas; bars; restaurants; museums, etc.)
Regional price parity (RPP), with 100 representing the national average
Average personal income per capita
In addition to determining which metros already had the largest Gen Z populations in absolute numbers and in percentages, we also selected the metrics that best represented the most common interests of Gen Zers.
For example, unlike Millennials — who adapted to technology and embraced it after they had already grown up — Gen Zers were only a few years old when the first smartphones appeared, making them the first generation born during the digital status quo.
At the same time, according to analysis by Jean M. Twenge, Generation Z is more likely to value financial stability and safety after seeing the difficulties of the Great Recession as they were growing up. As such, Gen Zers might also look to invest in their future and emphasize metros that offer education and career opportunities when deciding where to move. Hover over each metro on the map below to see how it fared in each indicator:
South & Northeast Metros Most Likely to Benefit Gen Zers
In our previous ranking of the best metro areas for Millennials, most U.S. regions recorded entries in the top 10. Meanwhile, the 10 best metros for Gen Zers were primarily distributed in the South and Northeast — with Cincinnati, OH, being the only exception.

Boston was rated the best metro for members of Generation Z, with a total score of 58 points — 1.5 points ahead of second place.
Specifically, the city fared well across all metrics, receiving a full 10 out of 10 points for logging the highest average internet speed (175 MB/s) of all metros, which is sure to benefit the Boston coworking spaces that Gen Zers may use for remote work. The area also had an unemployment rate of 5.4% as of April 2021 — below the national average of 6.1%. Meanwhile, Boston's regional price parity was 115.5. Although this figure is relatively high, an average personal income of $81,500 — the highest among the 10 best cities and the third-highest of the nation's 50 largest metros — makes up for it.
And, whether it's the cultural hotspots of Fenway-Kenmore or the old-school cool shops and restaurants of Beacon Hill and South End, Boston has plenty to offer in terms of entertainment, earning 8.2 points in that category — the most of all top 10 metros for Gen Z.

Naturally, each city presents unique conditions and provides for different needs. To that end, most of the metros further down the list were notable for their regional price parity and unemployment. However, the notable exception to this rule was New York City in the second spot.
NYC had the largest population of Gen Zers at 2.3 million, therefore receiving the full 10 points for that indicator. But, in terms of percentage, Zoomers were the least prevalent in New York City when compared to all of the top 10 cities.
Furthermore, NYC earned close to the maximum number of points for its large number of colleges, internet speed and entertainment availability. And, besides being a fast-living metro, NYC is also highly walkable — a trait that Zoomers are sure to appreciate.
Conversely, where the NYC metro lost out was in affordability: Its regional price parity of 125.7 means that goods and services are 25% more expensive here than the national average. Consequently, this makes NYC 10% more expensive than Boston — even though the #1 metro for Gen Z also has a higher average personal income. Nonetheless, Zoomers that land a job with one of New York's prestigious financial or tech companies can benefit from coworking in Manhattan to simplify their commute when working remotely. As such, the nation's largest metro could be a great place to be for Gen Zers, but its steeper price tags could prove to be an impediment.

Unlike the entry in the second position, the final spot on the podium was occupied by a smaller, more affordable metro: Nashville, Tenn.
Although Nashville didn't score well for Gen Z population or personal income, it gained the status of the third-best city for Gen Zers primarily due to the 12.4 points it earned for its unemployment rate of 4.1%, as well as the 13.4 points it garnered thanks to its below-average regional price parity.
Nashville also scored well in percentage of Gen Zers, internet speed and entertainment options, with its moniker of "Music City" painting a clear picture. And, in addition to being drawn to the metro for its job opportunities, affordability and famous cultural scene, Zoomers might also choose Nashville as their residence after graduating from one of the metro's many universities, including Tennessee State University, Vanderbilt University and Belmont University.

A trio of Texas metros were also among the best for Gen Z: Dallas at #4, Austin at #5 and San Antonio at #8. With Texas at its heart, the Sun Belt is an increasingly popular area for those who are relocating — and Gen Zers are moving in greater numbers than other age groups. Moreover, Texas also enjoys growing investments and employment opportunities from innovative companies, which could greatly benefit young professionals and college graduates alike.
Within the Lone Star state, Dallas inched ahead of Austin by half a point, ultimately coming out ahead due to a Gen Z population of more than 1 million and its considerable number of colleges. Meanwhile, Austin had a lower unemployment rate than Dallas (4.5% versus 5.7%) and higher average personal income ($62,000 versus $58,700, respectively). Austin has evidenced itself as a hotspot for young professionals in recent years, with advantageous job opportunities as well as a lively coworking scene, with Austin coworking offices finding success among the city's residents.
While not traditionally seen as a hotspot for young professionals, San Antonio may be on the rise with Gen Zers looking to relocate after finishing their studies or beginning a career. Notably, the metro has greatly walkable neighborhoods popular with postgraduates, such as Southtown, though other areas geared more towards urban living could also see interest.
Of the three Texan metros, San Antonio had the largest percentage of Gen Zers, the best internet speed and the best regional price parity with 93.3. However, it gained fewer points for a lower ratio of entertainment options to its Gen Z population, and because of the metro's lower personal income per capita.

Oklahoma City has a relatively small Gen Z population of just under 200,000. However, Zoomers here represent 14.2% of the metro's total population — the largest percentage among the 50 largest metros in the U.S.
On top of receiving a maximum score for its percentage of Gen Zers, OKC was counted among the best metros for Gen Zers for its below-average unemployment and great affordability. And, while the metro's average personal income of $48,860 was below that of other entries, its great regional price parity compensated for it.
Plus, despite being a smaller metro, Oklahoma City offers no shortage of things to do. In fact, it's a cultural hotspot with trendy neighborhoods — such as the Plaza District, Bricktown and the Historic Film Row — driving local arts and cuisine. As such, the metro could gain even more Gen Zers who aren't as drawn by big-city living.
Despite Strong Indicators, California Metros Lose Out in Affordability
Some metros — such as Boston, New York City and Oklahoma City — earned the maximum score in one indicator and went on to gain a spot among the 10 best metros for Gen Zers. However, there were also several metros that fared well in one metric, but couldn't make the top 10.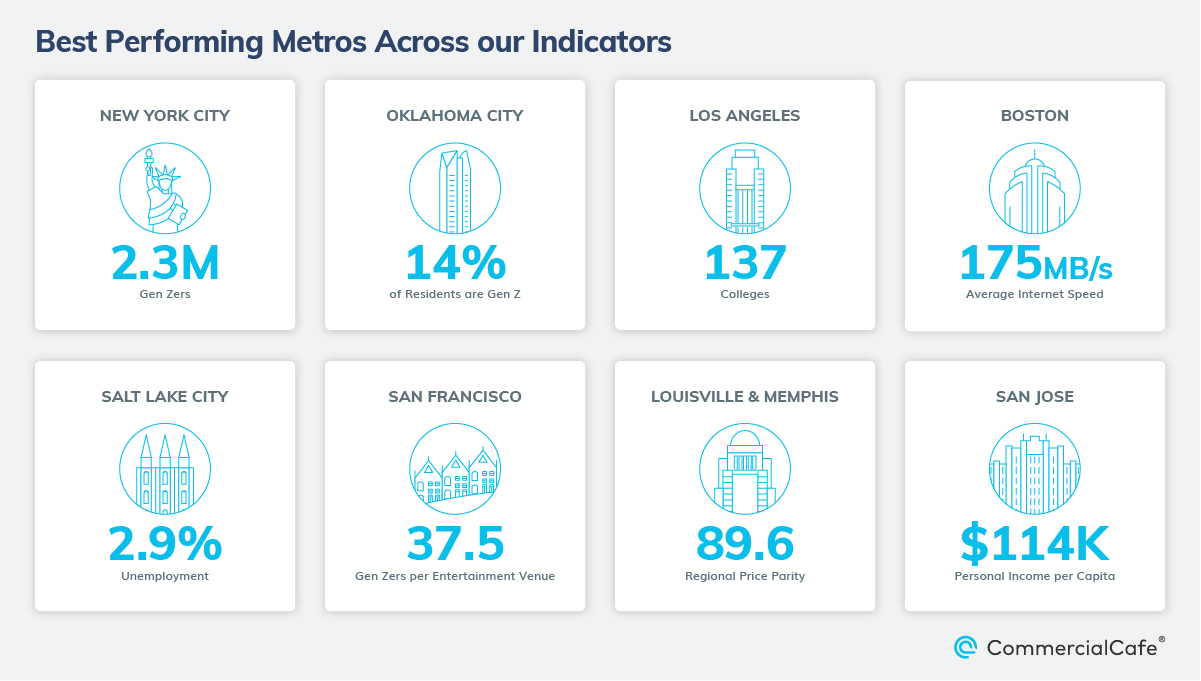 One such example was San Francisco, which earned maximum points for entertainment availability and had the second-highest average personal income after San Jose. However, San Francisco's low percentage of Gen Zers and a price parity of 134.5 slowed it down. Likewise, Los Angeles — which received a top score for its 137 colleges, more than NYC or Chicago — only reached #17 due to a price parity of 118.8 and an unemployment rate of 9.9%.
On the other hand, Salt Lake City had the lowest unemployment rate at 2.9%, earning it a maximum score. Even so, the metro's relatively low Gen Z population, number of universities and entertainment venues stopped it at #13 — 1.5 points below Cincinnati at #10. However, The Crossroads of the West is still a strong contender for smaller metros that could prove attractive to Gen Zers and young professionals, with coworking spaces in Salt Lake City picking up steam as a result. Similarly, Louisville and Memphis both received 15 out of 15 points for their price parity of 89.6, but didn't fare as well in other metrics.
Generation Z values innovation, connectedness, security and genuine experiences. These traits may be an eclectic mix; however, as the members of this generation finish their studies, find jobs and look to settle down, the metros that best fulfil their needs stand to profit the most from the influx of Gen Zers.
The Pew Research Center has named Generation Z the most educated generation yet. In an economy that relies on innovation and knowledge work. As such, the office will likely keep its central role in white collar employment. Browse the list below to explore some of the most important U.S. office markets, which are also likely to become Gen Z employment magnets:
Methodology
We defined Generation Z as those who were born between 1997 and 2006 (ages 15 to 24 in 2021).
Points for each indicator were awarded proportional to their value, with the exception of entertainment availability, unemployment and regional price parity, in which case points were awarded inversely proportional. The data was compiled on June 14, 2021.
The Gen Z population is based on the flat number of people aged 15 to 24, based on 2019 Census data.
The percentage of Gen Zers refers to the percentage of people aged 15 to 24 out of a metro's total population, based on 2019 Census data.
The number of colleges refers to the number of colleges within the metro as of 2021.
Internet speed represents the metro-wide average internet speed, as measured by BroadbandNow.com.
The unemployment rate in April 2021 was extracted from the latest Bureau of Labor Statistics report when the data used in the study was compiled.
Entertainment availability was calculated by dividing the population of Gen Zers (per Census data) by the number of entertainment venues. Census designations include: performing sports; spectator sports; museums, historical sites and similar; amusement parks and arcades; drinking venues; restaurants and other eateries; and other amusement and recreation. As a result, metros that had more entertainment options compared to their Gen Z population received a higher score.
Regional price parity (RPP) is a U.S. Bureau of Economic Analysis indicator that compares the affordability of goods and services in a metro to the national average. An RPP of 100 is the national average, and each point above or below that value represents an increase or decrease of 1% in prices compared to the national average.
Personal income per capita was extracted from the Bureau of Economic Analysis' 2017-2019 report.