More than 45 million Americans changed residences between 2017 and 2018, according to U.S. Census Bureau estimates. This means that more than 14% of the total U.S. population moved in the course of a single year. Migration has been a defining characteristic of Americans since the frontier expansion; nowadays, Americans move more often than most other people in the world.
Many of the shifts in population within U.S. borders can be attributed to residents moving from one Metropolitan Statistical Area (MSA) to another. To see which metros are the most popular destinations, we analyzed net population gains through metro-to-metro migration for U.S. cities and their respective MSAs. We used U.S. Census estimates for 2013-2017, the latest data released as of August 2019.
Overall, our study found that the Sun Belt is an attractive area for inter-metro migration. Tech hubs are also a step ahead when it comes to drawing prospective residents. Take a look at the chart below to see which metros drew the most residents per year through metro-to-metro migration and read on to find out more about each individual metro.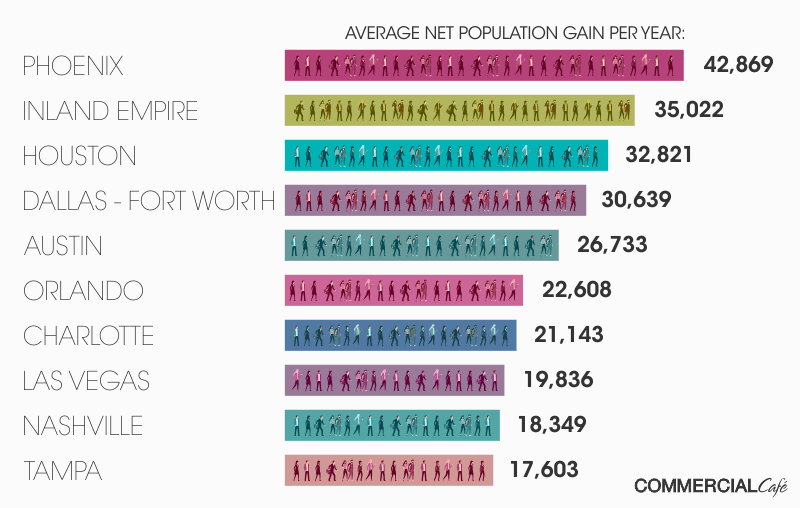 #1 – Phoenix, AZ

Phoenix is the U.S metro that grew the most from metro-to-metro migration. It attracted not only people from other metros in the American West, but also from the Midwest and Northeast. Citizens coming from these areas boosted the population count of the Valley of the Sun by almost 43,000 per year.
Phoenix displayed impressive growth in the job market. Between 2013-2017, the number of employed residents here grew by an average of 3.5% annually. The management, business and financial sectors are especially prosperous here, with the number of workers in these fields increasing by an average of 6.1% per year.
What's more, Maricopa County—where Phoenix is the county seat—is home to more than half of Arizona's population; it's also the fastest-growing county in the U.S.
Companies operating in the metro include American Express and American Airlines. Several Arizona State University campuses are also possible factors for in-migration.
#2 – Inland Empire

The runner-up on our list is California's fastest-growing metro, the Inland Empire, which grew by a yearly average of 35,022 residents through metro-to-metro migration. Comprised of several cities in western Riverside County and southwestern San Bernardino County, this area's population grew through migration from many other Californian metros. Notably, more than 84,000 people move into the Inland Empire from neighboring Los Angeles each year. This could be because real estate in the Inland Empire is relatively cheaper than homes for sale and apartments or houses for rent in Los Angeles.
It's also an important transportation hub, as it represents a corridor for import goods that pass through L.A. This translates into a 4.1% year-over-year increase in the number of workers in the production, transportation, and material moving industries.
The fields of logistics and distribution are also experiencing growth here. Large companies such as Toyota and Whirlpool operate distribution centers in the Inland Empire.
#3 – Houston, TX

Houston rounds out the podium for net metro-to-metro migration. On average, it gained 32,821 residents per year from other U.S. metros.
Texas sees a lot of intra-state migration. The biggest sources of new residents for Houston—as well as the three most popular destinations for people moving out of Houston—are the three other large metros in the state—Dallas-Fort Worth, Austin, and San Antonio. Houston comes out even in most of these population exchanges, except for the Austin metro, which gains far more residents than it loses to Bayou City.
Among the three Texas metros on our list, Houston saw the largest population increase through metro-to-metro migration. This growth is visible in Space City's many business districts, which added almost 18 million square feet of office space between 2013 and 2017, according to Yardi Matrix data. This amount surpasses that of any other metro in the top 10. The Houston housing market is also on the upswing. The number of housing units here increased by an average of 2.1%—or 52,841 units—each year. And, with a growing number of tech workers, freelancers and entrepreneurs, Houston coworking spaces are also becoming more popular by the day.
Furthermore, the healthcare sector provides Houston with a steady flow of income and job openings, and the city is home to the largest medical complex in the world, according to the institution's website. Houston's port is also among the busiest in the U.S. by international waterborne tonnage, and the oil industry is booming. Considering these factors, it's easy to see why Houston is flourishing.
#4 – Dallas-Fort Worth, TX

The Dallas-Fort Worth metropolitan area gained 30,639 citizens on average each year between 2013 and 2017 as a result of inter-metro migration, landing it in fourth on our list. Dallas-Fort Worth is another example of the South's growing popularity, as it drew considerable numbers of people from metros throughout the United States.
There are many reasons why people gravitate towards DFW. First, the effects of the oil boom are still felt here—the natural resources, construction, and maintenance sectors saw a 3.5% year-over-year growth in workers on average. Second, healthcare plays an important role in the local economy, with an average yearly growth rate of 5.6%. Major healthcare companies McKesson and CVS Health hail from the Dallas-Fort Worth metro.
Likewise, several Fortune 500 companies have also established their headquarters in DFW—including American Airlines, ExxonMobil and AT&T—generating career opportunities bound to attract metro-to-metro migration, while also driving demand for coworking in Dallas. The area is also attractive for students who enroll in the metro's many universities.
#5 – Austin, TX

Closing out our Texan trio is the Austin metro area, which gains an average of 26,733 residents from other U.S. metros every year. This means that Austin's population grows by 1.3% per year from internal migration alone—the largest percentage growth among our top 10 cities. Austin wins net migration from all the other three major metros in Texas – Houston, Dallas-Fort Worth, and San Antonio.
Much of Austin's growth is due to its status as a new tech city; Dell's headquarters is situated here, and major tech companies—like Apple, Ebay, Amazon, Google, and IBM—operate in the city while also having employees log in to work from a coworking space in Austin. In fact, the number of people working in computer, engineering, and science jobs grew by as much as 7.6% year-over-year; the yearly growth rate of the total number of workers in Austin sits at 3.8%.
Austin had the largest percentage growth of office space in the top 10. The square feet of office space here grew by 11% between 2013 and 2017.
#6 – Orlando, FL

Orlando earned the sixth spot with an average of 22,608 residents gained yearly from other U.S. metros. Florida is a popular destination, landing two of its metro areas in the top 10, only surpassed by the three Texas metros. Orlando drew people from other regions of the U.S., but also from other metros in the Sunshine State. Miami and New York were the two biggest starting points for in-migration to Orlando.
The job market in Orlando is prosperous. Its management, business, and financial sectors are flourishing, with a yearly growth in employment of 6.5% – the largest of the metros in the top 10, which also means that the Orlando coworking scene is in full swing. Orlando is also the fastest-growing metro by number of jobs in healthcare (7.9%) and natural resources, construction, and maintenance (5.2%). The total number of working residents increased by 3.7% year-over-year, a number surpassed only by Austin and Nashville in our top 10.
College students also boost Orlando's population numbers; the University of Central Florida is the largest university in the U.S. by enrollment.
#7 – Charlotte, NC

The Charlotte metro area added 21,143 residents yearly from in-migration. Queen City is a popular destination with people moving here not only from the Carolinas, but also from the entire East Coast.
One of the main driving forces of Charlotte's growth is its popularity with the younger generations; the metro is especially attractive for millennials.
Charlotte is also competing with San Francisco for the title of the nation's second-largest banking center, and Bank of America is headquartered here. Management, business, and financial jobs here grew by 5.5% on average every year. Moreover, North Carolina encourages investment with its lowest corporate income tax rate in the U.S. at 2.5%. Forbes dubbed the state the best for business in 2018.
#8 – Las Vegas, NV

The City of Lights lands eighth on our list after gaining 19,836 residents yearly through metro-to-metro migration. Las Vegas saw the biggest growth (6.3% y-o-y) among our top 10 cities in education, legal, community service, arts, and media employment. In fact, the metro's administrators dub it "The Entertainment Capital of the World."
Las Vegas is similar to Phoenix in that they both attract large numbers of residents from the neighboring state of California. In fact, the three metros that contribute the most residents to Las Vegas are all from the Golden State.
Jobs in natural resources, construction and maintenance also soared by 4% yearly in Las Vegas—the fastest growth shown by any metro on our list. Manufacturing and mining are central to the Las Vegas economy, and large-scale construction projects—such as those for the Las Vegas Convention Center and the Allegiant Stadium—are bound to further boost worker demand in the metro. And, with tech, finance and other office-using sectors also having a robust presence here as evidenced by the diverse Las Vegas coworking offices available, Sin City will likely remain a hotspot for in-migration.
#9 – Nashville, TN

In the ninth spot is another metro from the South: Nashville. Its popularity resulted in a yearly population growth of 18,349 people through in-migration.
Nashville has the smallest total population on our list at about 1.9 million. Nonetheless, Music City witnessed considerable growth in several sectors. For example, it added 15,350 housing units every year on average—a 2.1% year-over-year growth.
In addition to being the home of 21 healthcare companies, the entertainment and music industries are still big in Nashville. The metro also identifies its excellent transportation system and low overall cost of living as driving forces behind its growth.
#10 – Tampa, FL

Tampa closes out our top 10 list, gaining an average of 17,603 residents per year from metro-to-metro migration. Tampa's main sources of in-migration are Miami and metros from outside of the state, including New York City.
Tampa's biggest draws include its robust financial and insurance markets, its healthcare and tourism, and its below-average sales and income tax. The MSA's yearly growth of 6.9% in production, transportation and material moving was the highest of our top 10. Major companies headquartered here include IT company Tech Data and Raymond James Financial, an investment banking company. Such companies — in addition to the innovative startups powered by the city's business-friendly attitude — also drive demand for coworking spaces in Tampa.
Tampa's MSA is also a popular center for scientific research and technology, thanks in part to the University of South Florida and University of Tampa.
Check out the interactive map below to see the top locations for in-migration for each of our top 10 metros:
Methodology
We looked at migration between metropolitan statistical areas (MSAs) of continental U.S. cities.
Migration data was based upon August 2019 U.S. Census yearly average estimates for 2013-2017.
Increases in number of workers and housing units are U.S. Census estimates for year-over-year growth in percentages for 2013-2017.
Yardi Matrix provided data for the increase in square feet of office space between 2013 and 2017.
The timeframe featured in the study for number of workers, housing units and increase in office space (2013-2017) was selected because the latest migration data released by the U.S. Census Bureau in August 2019 presented estimates for 2013-2017.
Non-internal migration and migration to or from places that are not part of a metropolitan area were excluded.
Net population gain from metro-to-metro migration was obtained by deducting the population lost through metro-to-metro migration from the population gained through metro-to-metro migration.
The study highlighted the 10 metro areas with the largest net population gains from metro-to-metro migration.
For each of the top 10 metros, we highlighted the top three sources of incoming metro-to-metro migration and the top three destinations for metro-to-metro migration.
CommercialCafe is a commercial real estate internet listing service, part of Yardi's network of platforms, and you ideal provider of top office solutions across various U.S. markets.