Fort Worth, TX Economic Overview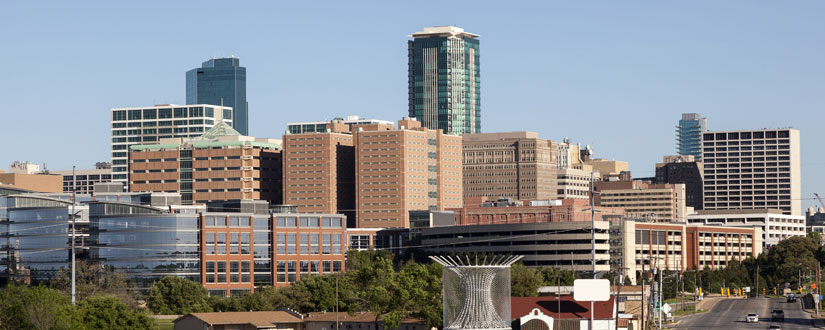 Fort Worth is located in north central Texas. With a population of over 830,000 people, it is the 16th-largest city in the country. Fort Worth is the second-largest city in the Dallas-Fort Worth-Arlington metropolitan area, also known as the DFW Metroplex. The energy industry is a main economic driver with over 1,000 natural gas wells within the city limits and 15 trillion cubic feet of natural gas located in the 25-county Barnett Shale zone. Other industries that drive the Fort Worth commercial real estate market include aviation, distribution and health care.
Fort Worth ranked 15th on Forbes' list of Best Places for Business and Careers. The city receives over 8.8 million business and tourist visitors annually, which generates $2.3 billion in direct spending and create over 22,500 jobs. One of the major economic drivers to date has been AllianceTexas, a 17,000-acre master planned, mixed-use community in Far North Fort Worth. AllianceTexas has been recognized as one of the fastest growing areas of the U.S. Direct investment in the project tops $60 billion, with more than 4,000 new jobs created and 425 companies employing over 44,000 people along the Alliance corridor.
Fort Worth, TX Commercial Real Estate Market
They say that 'business is booming' in Fort Worth, and 'they' are certainly correct. While many analysts combine the Dallas-Fort Worth-Arlington Metroplex into one giant, economic statistical bundle, there are certain unique commercial real estate projects in Fort Worth that make Fort Worth stand apart from its two neighboring cities.
A Courtyard by Marriott is currently under construction to support the demand for business travel being created by the AllianceTexas project.
Development in Fort Worth continues to hit new highs while striving to meet the demand fueled by the energy, high-tech, data, distribution, research, development and education sectors. Here are a few examples on the office, distribution and data side, as of mid-2017:
Facebook is tripling the size of its data center to nearly 2.5 million square feet.
Amazon opened a 1 million-square-foot fulfillment center and is employing over 1,000 additional people, making this the 4th fulfillment center in the Dallas-Fort Worth Metroplex.
Walmart is opening a second distribution center of 1 million square feet in Fort Worth, to support its e-commerce business, and will employ an additional 400 people.
Novartis recently opened a $53 million, 37,000-square-foot data center in south Fort Worth, to support its activities in North and South America. Over the past five years, the company has created more than 1,000 jobs in Fort Worth.
Swiss dermatology company Galderma is expanding its North American headquarters in Fort Worth to support research, development and training, with the investment of $22 million into a 100,000-square-foot facility and the creation of over 340 new jobs.
The Fort Worth retail market is vibrant and primed for growth, as these high-profile projects show:
Tanger Outlet Centers will open in 2017 in North Fort Worth and is expected to be 100% leased before it opens to the public.
Waterside is a 63-acre mixed-use development along the Trinity River. The project will include 200,000 square feet of retail and restaurant space, 800 multifamily residential units, hotels, office buildings, and room for additional high-density single-family housing.
Westbend will add another 3.5 acres to its existing 279,000-square-foot mixed-use River Plaza development at 1701 River Run. The expansion will provide additional space for much-needed ground floor retail with multi-family apartments or condominiums above.
Employment in Fort Worth, TX
Over 80% of the residents of Fort Worth have a high school diploma or higher, making it one of the better educated large cities in the U.S. Major employers in Fort Worth include American Airlines, D.R. Horton, the John Peter Smith Hospital, Pier 1 Imports and BNSF Railway.
According to the city's most recent Comprehensive Annual Financial Report the top 5 employers in Fort Worth are:
Lockheed Martin Aeronautics with 13,500 employees
Naval Air Station Joint Reserve with 11,400 employees
Fort Worth Independent School District with 10,100 employees
American Airlines with 6,500
The City of Fort Worth with 6,100
Demand for office, retail, distribution and mixed-use development in Fort Worth is widespread throughout the area.
Education in Fort Worth, TX
Fort Worth is home to numerous colleges and universities, including Texas Christian University, Texas Wesleyan University, University of Texas at Arlington, Texas A&M and Brite Divinity School. The Fort Worth Independent School District serves most of Fort Worth and is the fifth-largest school district in Texas. There are also many private, religious and non-religious K-12 schools in Fort Worth, including Bethesda Christian School, Covenant Classical School, Trinity Valley School and Hill School of Fort Worth. In addition, the Roman Catholic Diocese of Fort Worth oversees several Catholic primary and middle schools.
Commuting Time in Fort Worth, TX
Everything is bigger in Texas, even when it comes to the workplace commute. A study by the Texas A&M Transportation Institute found that drivers spend up to 36% more time commuting, than the national average. The good news is that Fort Worth is investing significant amounts of money into its transportation infrastructure and has recently approved construction of a commuter light rail project.
Scheduled to open for service in late 2018 TEXRail is a $1.5 billion, 27-mile commuter rail project that will extend from downtown Fort Worth, through the northern and northwestern parts of the city to reach Dallas/Fort Worth International Airport.
Fort Worth is served by three U.S. highways and four interstate highways: the I-30, I-20, I-35W and I-820, all of which pass through the city itself.
Dallas/Fort Worth International Airport is situated between Dallas and Fort Worth and is the third-busiest airport in the U.S. for operations. Four feeder or cargo airports surround the Fort Worth-area: Fort Worth Alliance Airport, Fort Worth Meacham International Airport, Fort Worth Spinks Airport and the Naval Air Station Joint Reserve Base.
Fort Worth Demographics
Population
Total Population

1,006,472

Male Population

(48.8 %) 491,029

Female Population

(51.2 %) 515,443

Median Age

33.10
Income/Financial
Average Household Income

$80,168

Median Household Income

$52,110

Median Income Under 25

$28,892

Median Income 25-44

$49,445

Median Income 45-64

$57,477

Median Income Over 65

$40,420
CommercialCafé is your first and only stop when it comes to commercial real estate leasings in Fort Worth, TX. Search through our extensive selection of commercial properties for lease with current space availability in the area ranging between 1164 square feet and 142238 square feet. Discover the right property from our 225 listings by using our advanced search function, which includes search by property type, space availability, management company, lease rates, and more.