The office, as we all know it, has fundamentally changed. There is a paradigm shift we are seeing across office occupiers where employees are demanding more flexibility and meaningful collaboration opportunities. Employers are racing to find a sweet spot between team productivity, employee experience and real estate costs.
While many companies are pulling back on fully remote work in favor of bringing employees back to the office, approximately 82% of the employers indicate that the requirement for in-office presence for employees on a weekly basis is either not required or for a maximum of three days per week. This is a huge shift from the traditional 5 days a week in-office with 1:1 employee to desk ratios. This change also puts pressure on employers to provide a meaningful experience and reason for employees to come in.
Realizing the evolving workplace needs of office occupiers and the shift towards flexible work, Yardi and WeWork announced a partnership in April 2022 to bring a hybrid space management app to market. Today the app was launched as WeWork Workplace and is available for companies of all shapes and sizes to take full control of their office strategy and deploy a functional and sustainable hybrid work model for their employees.
As Robert Teel, senior vice president at Yardi puts it "The future is bright for Workplace. We look forward to working with occupiers to enhance Workplace over the coming months and years. Yardi has a 40-year history of customer driven development – we listen to our clients and the market and grow with a changing landscape. The hybrid-work paradigm shift is an incredible opportunity for us to lay the technology foundation for a new style of working, but it is also an incredible opportunity for companies to rethink their real estate strategy." Teel added.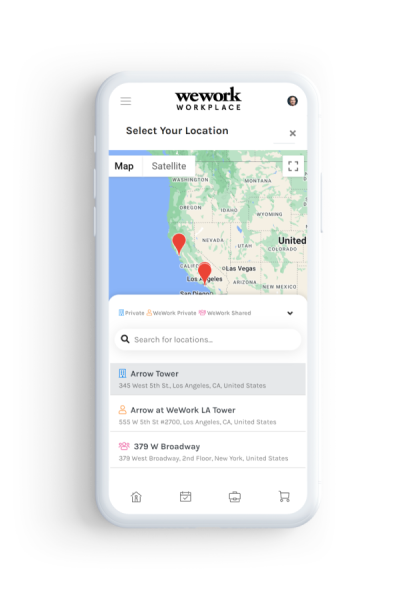 WeWork Workplace is an app that allows employees to book space across all company locations – leased, owned and flex with an all-in-one platform. Moreover, it gives employees access to WeWorks' global network of coworking spaces and its affiliates. The platform allows employers to plan and execute a strategic work model that is centered around flexibility and hybrid work.
As Sagar Morabia, senior director at Yardi shared: "With this paradigm shift, 1:1 employee to desk ratios are turning out to be inefficient. On the other hand, employees are asking for more intentional and meaningful collaboration opportunities. So, the ability to optimize the real estate footprint while enhancing employee experience wherever they work from is what WeWork Workplace aims to solve for."
To give an example, an employee can book a conference room through the app for a team meeting at the company's base office location, which might be a traditionally leased or owned space, or book a private suite or a desk in a coworking location that may be closer to a client than the base location. Regardless of which option was booked, the team lead could also easily invite their team to a space using the team booking functionality which is in-line with the shift to office time being focused on collaboration and culture.
Through the Workplace App, companies can provide their employees with an outstanding user experience that enables them to deliver the best service to their clients. "For traveling employees, the Workplace app is just as compelling. Book a conference room at headquarters, book a WeWork desk between client meetings on a trip, and host a presentation with multiple clients in a large WeWork conference room.", Teel added. This unified experience to book workstations across the company's universal spaces is unique to WeWork Workplace.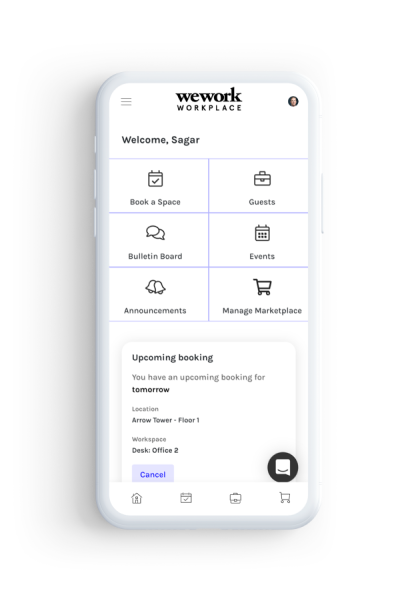 WeWork Workplace app is simple to use but also comes loaded with features like team bookings, overflow capacity management and visitor management, which enables meaningful collaboration for the employees. The employer on the other hand can stay on top of the space usage trends, employee preferences and make impactful decisions through actionable insights that the app generates. The platform is the only solution on the market that combines all aspects needed to build, manage and execute workplace strategies centered on utilization and occupancy.
That said, you do not have to be a WeWork customer to benefit from this app. You can use the app to manage the non-WeWork locations to begin with, while having an option to retain the same user experience for your employees if/when you decide to leverage coworking to your portfolio of spaces in the future.
If you are in the process of enabling a hybrid strategy for your workforce, please visit https://www.wework.com/solutions/wework-workplace and sign up for a live demo.