The Atlanta office market made a steady recovery during Q2, following a slow start to the year. Sales volume exceeded $640 million, although only half the usual number of deals of over $5 million closed between April and June 2017. Urban Class A office properties moved well and, in fact, first class inventory accounted for 90% of office assets larger than 50,000 square feet traded in Q2. Average price per square foot is also on the upswing, resting at 11% over the past five years' quarterly average. With all market metrics pointing up, developers have confidently been delivering more office space, both in the urban core and in Greater Atlanta.
With the help of Yardi Matrix data, we analyzed all sales of office buildings larger than 50,000 square feet to close at over $5 million during Q2 2017 (see methodology). Find the key takeaways below and read on to see how the Atlanta office market fared:
Q2 Dollar Volume Surpasses Q1 in Half the Sales
With eight office assets changing hands during Q2 2017, Atlanta office sales activity has slowed down, compared to the five-year average of 16 deals to close per quarter. But even with fewer transactions on the books, Q2 2017 sales are up 64% year-over-year and 44% higher than Q1's. The sales recorded in May alone accounted for over half of the quarterly tally of $626 million, which marks Atlanta's third-best performing second quarter of the past five years, in terms of dollar volume.
Average Price per Square Foot up 35% Y-o-Y
The 3.7 million square feet of Atlanta office space that changed hands this past quarter is roughly 24% less than the 4.9 million square feet that have traded on average per quarter over the past five years. However, the average price per square foot* rested at $180, which is 11% higher than the five-year average of $162.
Year-over-year, the price-per-square-foot average increased by 35%—granted, 2016's second quarter was not one of Atlanta's best in this respect. However, the market was quick to recover after that and Q2 2017 still looks good, with a 27% increase from Q1's average price per square foot and 6% over 2016's average.
BB&T Tower and ACSC Data Center Top Quarter Deals
The quarter was off to a quiet start, with only one sale closed in April, but was quick to make up for it in May— the busiest month of the quarter, when five of the eight major deals closed, amassing 55% of the total quarterly sales volume.
The priciest deal to close in May was Lionstone's $182 million purchase of the BB&T Tower, which North American Properties and CBRE Global Investors had acquired for $75 million back in 2011.
Currently, the property's anchor tenant BB&T Corp. occupies 80,000 square feet in the building, through 2024. Other major leases in the building include Safe Software Inc. and law firms Ford & Harrison and Finnegan, Henderson, Farabow, Garrett & Dunner.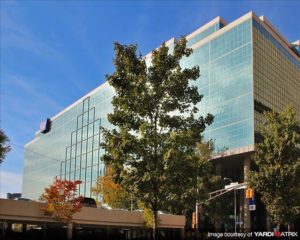 Coming in at number two on the list of the major transactions of the quarter is the sale of the American Cancer Society Center building, which closed in June. The Downtown Atlanta data center commanded $166 million and adds nearly 1 million square feet of high-quality data center and office space to the Carter Validus portfolio.
Also known as "250 Williams," the data center is excellently located in the heart of Downtown Atlanta, with the access to power and network fiber necessary to support the building's specialized infrastructure. Cousins Properties sold the 10-story, LEED-Silver certified facility at roughly 88% occupancy.
1.7 Million Square Feet of New Office Space in Q2 & Q3
The Greater Atlanta office pipeline has been plentiful and continues to deliver new Class A office space to the market.
Four projects were completed during Q2 2017, totaling 1.1 million square feet of new office space. The largest Atlanta office developments to be completed are Tishman Speyer's 500,000-square-foot Three Alliance Center in North Buckhead and Highwoods Properties' 299,000-square-foot Riverwood 200 office building in Vinings.
April also marked the opening of a new phase of the Village of Avalon project that is shaping up in Alpharetta. The nine-story, 224,000-square-foot Offices at Avalon II officially opened on April 13th and is home to major tenants like Crown Castle, Microsoft Corp. and Regus' flexible office space concept, SPACES.
With a little over 625,000 square feet of office space scheduled for delivery during Q3, it's safe to say the pipeline output is thinning in the immediate future. However, there are four developments still to come, the largest of which is due to be completed this August. The Battery, a nine-story, 270,000-square-foot office tower adjacent to the Atlanta Braves' Sun Trust Park is anchored by media and technology giant Comcast Corp.
Other upcoming Q3 deliveries are Loudermilk Cos.' 104,885-square-foot 309 East Paces and Westbridge's 142,500-square-foot Stockyards, which are scheduled for completion at the end of July, and TPA Group's 107,643-square-foot Edison Building 1, due in late September.
Methodology
Square footage parameters – over 50,000 sq. ft.
Minimum amount per transaction $5,000,000
Transactions recorded until July 12th, 2017
Average per-square-foot price calculation: 'ownership stake', 'ground lease', 'controlling interest', and 'portfolio' transactions were excluded
Data source: Yardi Matrix