The concept of adaptive reuse—the restoration or redevelopment of a building for a different use than its original purpose—has caught a lot of traction over the years across all major cities in the U.S. The popularity of the trend is owed to its ability to breathe new life into old, often decrepit buildings, while preserving their unique features and historical significance. Ultimately, projects of this nature are meant to revitalize their surrounding areas and fuel economic development, without losing that authentic feel.
As far as Chicago real estate goes, the potential for adaptive reuse projects is far from limited. Given its long-standing history as one of the country's main manufacturing and distribution hubs, conveniently located in the epicenter of the Midwest, the city is riddled with old vacant factories and large industrial halls waiting to be repurposed and brought back to life. Consequently, it comes as no surprise that the better part of local adaptive reuse projects are industrial-to-office conversions. We thought we'd mark the city's 180th birthday with a round-up of its most notable adaptive reuse projects. The list was compiled with the help of Yardi Matrix data, check out some of the highlights, below.
600 West Chicago
The iconic Montgomery Ward & Co. Catalog House building at 600-618 W. Chicago Ave. was constructed in 1908 and was designated a Chicago Landmark in 2000. The warehouse and office building was redeveloped in 2001 and currently serves as Groupon Inc.'s corporate headquarters, incorporating 1.4 million square feet of Class A Chicago office space across eight stories.
The Sullivan Center – 33 South State Street
Image courtesy of YardiMatrix.comThe 940,000-square-foot State Street landmark was constructed in 1865 and converted to Class A office space in 2009. The property was designed by Louis Sullivan for the retail firm Schlesinger & Mayer, and was used for retail purposes for more than a century. In the spring of 2016, the LEED-certified asset was acquired by New York-based Madison Capital for $267 million, according to Crain's Chicago Business.
1K Fulton – 1000 West Fulton Street
Image courtesy of CommercialEdge.comA staple of Chicago's historic Fulton Market District, 1000 W. Fulton St. was originally built in 1923 as a cold storage warehousing facility, easily recognizable by its 'Fulton Market Cold Storage' signage. The 535,000-square-foot building was converted to Class A office space in 2015 and currently serves as Google's Midwest headquarters.
Reid Murdoch Center – 325 North LaSalle Street
Located in Chicago's bustling River North neighborhood, the iconic Reid Murdoch building was built in 1914 and converted to Class A office space in 2002. The seven-story property was designed by George C. Nimmons in the 'Chicago School' style of architecture, and served as a food processing warehouse for Reid, Murdoch & Co., one of the country's largest wholesale grocers. Located at 325 N. LaSalle St., the building now features 325,000 square feet of space and houses the headquarters of Encyclopaedia Britannica.
The Medinah Temple & Tree Studios
Built in 1912 as the headquarters for the Chicago chapter of the Shriners, the Medinah Temple is a Chicago Landmark that once housed an ornate auditorium with approximately 4,200 seats. In late 2000, the building's exterior was restored and the interior was converted to retail space–currently housing Bloomingdale's Home and Furniture Store. Located at 600 N. Wabash Ave. on Chicago's Near North Side, the former temple shares a square block with another Windy City landmark: the Tree Studio Building and Annexes. Established in 1894, the Studios are reportedly the oldest artist colony in the U.S., having housed more than 500 artists over the years. The property was renovated and converted to office space in 2003.
The State Lake Theater Building – 190 North State Street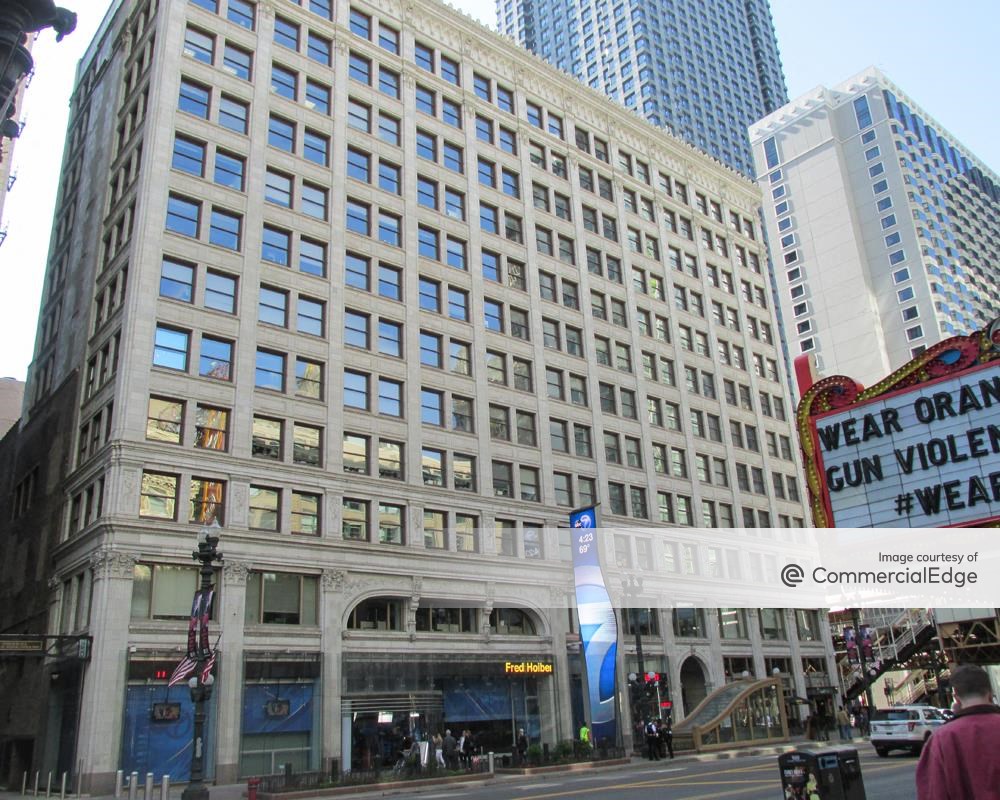 Image courtesy of CommercialEdge.comOriginally completed in 1917, the 265,000-square-foot theater at 190 N. State St. was converted to Class B office space in 1985. The 12-story, French Renaissance-style building situated in the Loop includes 3,000 square feet of first-floor retail and is home to ABC Chicago affiliate WLS-TV. Designed by architects Rapp & Rapp, the former theater served as the major venue for the RKO theater chain in Chicago, alongside the Palace Theater on Randolph Street.
5050 North Broadway
Built in 1927 as a private parking garage, the structure at 5050 N. Broadway was expanded in 1966 to house the headquarters of the Combined Insurance Company of America (later Aon). Today, the property includes two adjacent 6- and 10-story buildings totaling 303,028 square feet of Far North Side Chicago office space, as well as 624 parking spaces. The structure also underwent cosmetic renovation work in 2013, and was acquired by Cedar Street Cos. in 2015 for $16.1 million.
North Branch River Campus – 909 West Bliss Street
Constructed for industrial use in 1924, conversion work on 909 W. Bliss St. is currently underway, with completion scheduled for the summer of 2017. R2 Cos. will turn the 248,000-square-foot vacant warehouse into a state-of-the-art Goose Island office tech hub that will include a modern fitness center, on-site restaurant, landscaped breezeway, rooftop decks and ample parking space, according to Architizer.