Industrious has secured 60,000 square feet at 135 West 50th Street in the heart of Manhattan. The flexible office company signed a deal with landlord George Comfort & Sons Inc. for two separate spaces in the 925,000-square-foot building.
The 15-year lease includes 37,000 square feet of space on the second floor of the 24-story mid-rise building. This space will serve as a shared workspace and includes a profit-sharing component with the landlord, according to The Real Deal.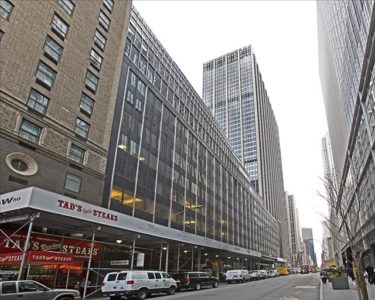 The space will offer a professional atmosphere with thoughtfully designed spaces and a handful of amenities. Wi-Fi, a fully stocked cafe with breakfast served daily, and networking events are just some of the member perks that will be available. The space is expected to open in the third quarter of 2020.
The remaining 20,000-square-foot lease is a management contract to operate an amenity center dubbed "Club 135 by Industrious," and is also on the second floor of the building. The center will serve the building's tenants and will include a lounge space and a wellness facility. The expansive space will include a multipurpose room for events up to 200 guests, as well as executive conference rooms and collaborative workspaces. Additional amenities include a wellness center with yoga classes and meditation areas, lounge areas and an indoor/outdoor terrace overlooking West 50th Street.
Peter Duncan, Andrew Conrad, Matt Coudert and Alexander Bermingham of George Comfort handled the deal in-house for George Comfort & Sons Inc., according to the Commercial Observer. Industrious had no brokers.
Built in 1963, The LEED Green Certified 135 West 50th Street was recently renovated. Improvements include a revamp of the lobbies and entrances, new window installations and addition of retail spaces. A grand staircase will also be built at the 50th Street entrance to provide direct access to the Industrious space.
Notable tenants at 135 West 50th St. include Mizuho Trust and Banking Co., Volunteers of America and more.
135 West 50th Street is located in the heart of Midtown, at the epicenter of New York's Sixth Avenue corridor. It is easily accessed by major subway lines and some of the city's most iconic destinations. Central Park and Rockefeller Center are just a short walk away.
This will be the sixth NYC location for Industrious. Other locations include Industrious SoHo West, Industrious Brooklyn, Industrious Union Square, Industrious Bryant Park and the co-branded Industrious at Equinox in Hudson Yards.
Industrious was founded in 2013 and started to focus on landlord partnerships in 2018. It's one of the largest premium flexible workspace providers in the U.S. with over 90 locations in more than 45 cities.