Building Under the Pipeline Radar
Adaptive reuse projects that bring more office space to the market are not always counted in market reports. Most conversions do not count as "ground up" and are not included in the office development pipeline estimates that are released quarterly.
We decided to take a look at what has come to the Los Angeles office market "under the radar" this decade, as well as what's in the works. Yardi Matrix and PropertyShark data on Los Angeles office space conversions that were completed since 2010 yielded some interesting examples.
Innovative building design is not the only notable element brought forward by the redevelopment projects presented below. The increased appeal of creative office spaces and office campuses to successful technology, advertising, media, and information (TAMI) companies goes to show that L.A.'s famous entertainment sector is seeing significant competition as a major contributor to the local economy.
Such developments are examples of how the "creative office hunger" drives change in a neighborhood's economy, comfort and looks. Office-using creative industries have stepped outside the coloring lines and looked to formerly mixed-use residential and industrial areas. Neglected or underused industrial spaces were transformed and, in turn, revitalized the surrounding neighborhoods by drawing in young creative professionals and modern amenities.
The Reserve in Playa Vista, West Side L.A.
Built in 1971 to serve as an electronics manufacturing plant, the building was then used as a U.S. postal service distribution center. In 2011, Wells Fargo had foreclosed on the property, which turned out to be a great investment for Shorenstein and Worthe REG. The partnership paid $46.5 million for the Playa Vista property and invested another $30 million in transforming the core and the shell with a design aimed at creative office space seekers, according to the L.A. Business Journal. The 20-acre site became a unique office campus that offers 400,000 square feet of creative office space and features amenities like sand volleyball courts, a dog park, car wash, fitness center, bike shop and modern dining.
It proved to be a wise investment that fully paid off – in 2015 the campus was sold to Atlanta-based INVESCO for $316 million. At almost $790 per square foot, the deal was one of the priciest in the West Side L.A. office market. INVESCO bought The Reserve packed with tenants like TMZ, Microsoft Corp., Sony Playstation and Verizon Communications.
How the Creative Office and Residential Markets Soar Together
The property's value had dropped since 2006, when it was sold for $76 million. Consultants on the 2011 deal told the L.A. Times that, although the Westside was already the area's strongest office market, creative office space was in very short supply and quickly growing demand. As one of the only redevelopment opportunities on the Westside that allowed for a campus environment with surface parking, the West Jefferson Boulevard property got a lot of interest.
Shorenstein and Worthe bet on the creative office market and turned the former USPS distribution center into a $316 million Class A office asset. As often happens, one building does not soar on its own – it lifts up its surroundings, as well. We checked PropertyShark historic sales data for residential properties in the vicinity of 13031 W Jefferson Blvd and found that before and during 2014, rather few condos sold for over $850,000 – most commonly, condo sales prices rested between $500,000 and $750,000. However, most sales in adjacent residential buildings that were recorded after 2014 circled the $1 million threshold.
Located right next door to The Reserve, the 2,200-square-foot 5400 Playa Vista Drive #25 fetched $1.1 million in August 2015 and the 1,920-square-foot #22 sold for $1.15 million in May 2016 – a 19% Y-o-Y increase in price per square foot within the same development. Similarly dramatic spikes in price per square foot can be seen all around The Reserve, such as 5700 Sea Walk Drive, where #11 sold at $335 per square foot in February 2015 and, 13 months later, #9 closed at $1,325,000, commanding $620 per square foot.  Nearby 5746 Kiyot Way actually saw 13 condos sell for $1 million or more starting 2013, at a price per square foot gradually rising from the $400's to almost $600.
According to Playa Vista real estate agent Sam Araghi (currently with Coldwell Banker), The Reserve was the project that kicked open the door to significant investment in the area. With more land at lower prices than other Westside submarkets and conveniently closer to LAX, Araghi trusts the Playa Vista community has plenty of room to accommodate bigger office developments and their employees.
"The Reserve marked the beginning of the tech movement to Playa Vista, which put our community on the map at a national level. The Reserve really showed companies that there is a future in Playa Vista for commercial office space."
Mr Araghi adds that the creative office trend has enriched the community with tech, media and advertising professionals. This, in turn, had a positive effect on the real estate market as a whole.
"When the Reserve first opened we saw an increase in both rental prices as well as sales prices.  I wouldn't say the Reserve spiked the market but I believe that it is because of the Reserve that other companies saw potential in Playa Vista and made the move.  The biggest spike in prices happened when Google ultimately announced its acquisition in the community."
The Desmond in Downtown L.A.
Built in 1916 for the Willys-Overland Car Co., the building used to be 1 story shorter. It housed an automotive showroom on the ground floor and was outfitted for car service, repairs and customization on floors two through four. New cars rested on the fifth floor, waiting to be delivered to customers. From 1932 to 1941, it was used by various manufacturing and textile industry tenants. After 1941 the building mostly served as a warehouse for Desmond's department store and furniture company distribution, storage and operations.
Come 2013, the vacant five-story building just two blocks east of the Staples Center was a tempting redevelopment asset. Lincoln Property Co. (LPC) stepped in and contracted architects from Skidmore Ownings & Merill to reposition the property in a way that meets the need for creative office space in Downtown Los Angeles. LPC paid $16.3 million for the building and an adjacent surface parking lot and proceeded to transform The Desmond in a way that preserved many of its existing attributes:
upgraded building mechanics and interior finishes, preserving each floor's high ceilings
renovated exterior, with special care given to replacing the factory-style windows
a sixth-floor glass pavilion was added, with conference rooms and an outdoor deck that offers broad views of the neighborhood
reinforced foundation and a lateral support system were employed to bring the structure to seismic code without affecting the original interior columns
Last year, sports and entertainment company AEG paid $48.5 million for the revamped 82,000-square-foot property. AEG was already occupying the entire building and exercised an option to buy that was included in the lease agreement, according to The Real Deal.
Hercules Campus at Playa Vista in West Side LA
The Hercules Campus spreads over 28 acres of land and offers 537,000 square feet of creative office space in Playa Vista. It comprises 11 nationally registered historic landmark buildings that were home to the Hughes Aircraft Co. The industrial complex took shape on undeveloped land in the early 1930s through the 1950s, when the legendary Howard Hughes and his hand-picked engineers, mechanics, and pilots set out to design planes that would go faster than ever before.
After his death in 1976, the HAC site south of Culver City was sold, leaving most of the structures in disrepair, while others were demolished altogether (LAC). In October of 2010, The Ratkovich Co. partnered with Penwood Real Estate Investment Management and paid $32.4 million for the land and announced a $50 million adaptive reuse visionary investment. In keeping with the site's history, the redevelopment project aimed to promote and serve state-of-the-art innovation.
Restoration efforts incorporated modern engineering and solar and fuel cell technology as part of a long-term goal to ultimately bring the campus "off the grid." The former "Spruce Goose" hangar, fire station, HAC offices and assembly sites now house creative entertainment, media and technology innovators like Youtube, Konami, 72 and Sunny, and Google. The ambitious undertaking earned an LAC Conservancy Preservation Award in 2014.

The Ford Factory in Downtown L.A.'s Arts District
Originally built in 1913, it served as a Ford Motor assembly facility until 1929. Structures were added to the property in 1923, 1988 and 1996. During this time, the building functioned as a toy factory for the Imperial Toy Co. and was later used by American Apparel, mostly for storage. Finally, in 2014, San Francisco-based Shorenstein Properties bought the complex for $37 million.
The new owner stepped up with a clear adaptive reuse vision and turned the 257,000-square-foot property into a creative office campus. The project intended to reposition the property in the up-and-coming live/work/play neighborhood, while preserving the asset's authenticity and historical significance. Renovation efforts are now complete and Warner Music Group's 12 year 9 month full-building lease begins in August of this year.
Property improvements include modernized building systems, expansive floor plates of up to 88,000 square feet of contiguous space, a parking garage, a 15,000-square-foot outdoor landscaped communal space between the office and parking structures, and ground-level retail and restaurant space.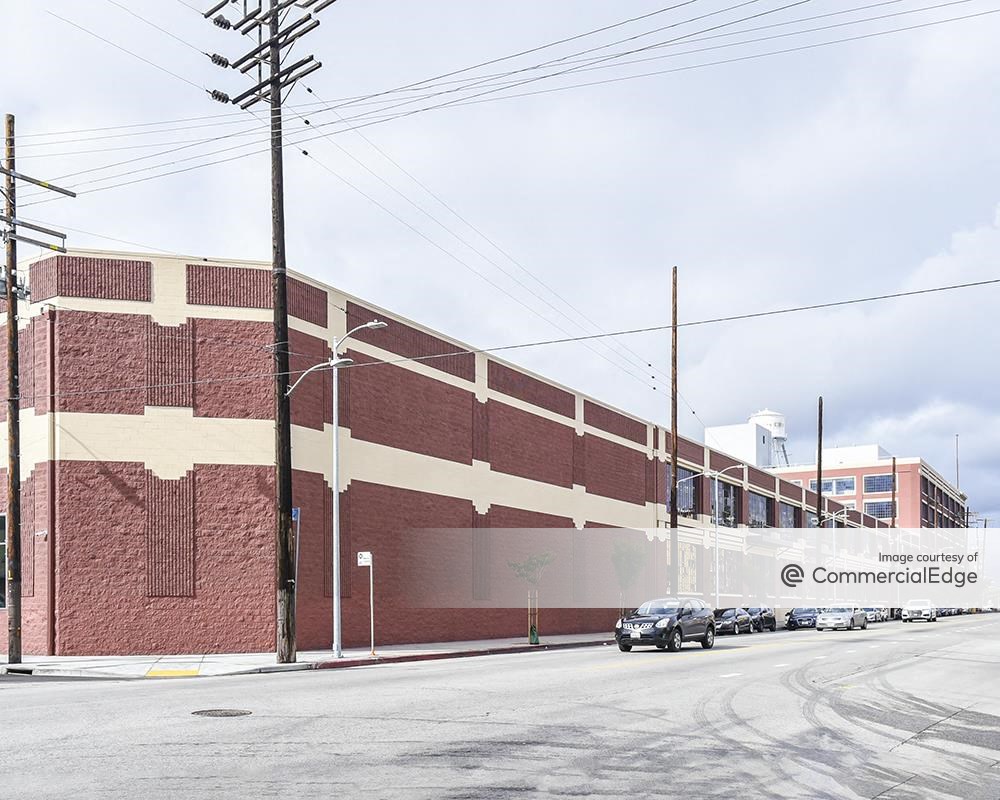 2nd and Vignes in Downtown L.A.'s Arts District
British real estate firm Est4te Four Capital paid $21 million for this 1926 warehouse almost two years ago, according to Urbanize L.A. Per the redevelopment plans filed with the city, Est4te Four intends to add five floors to the property and reposition it as a prime commercial mixed-use complex. The existing two-story structure would be repurposed for retail and restaurant use, with services and parking in the basement. Furthermore, the redevelopment at 929 East 2nd Street would reinforce the building's concrete support system, to add more floors. The project description estimates a total of 102,679 square feet of floor area upon completion. This extra space would encompass more retail, automated parking, offices, a private club, event spaces, artist studios and a gym. Usable space would be increased by a seven-story expansion along the west side of the property.
Sears Landmark Building in Boyle Heights, East L.A.
Since 2013, the iconic and long underused Sears complex at Olympic and Soto has had a new owner with a big dream, as The L.A. Times reported. Izek Shomof is giving the 23-acre site and 90-year-old building a makeover.
The first-floor Sears has a lease that is good for nine more decades and is reportedly one of the busiest branches in the country. The store is surely not going anywhere and will likely be joined by other ground-floor retail tenants. Omgivning drew up the plans for the adaptive reuse project, which is designed to hold 1,000 live/work units, 80,000 square feet of retail/restaurant space and 240,000 square feet of office space. Roughly 200,000 square feet will be removed from the floor plates in order to create "light courts." Developers estimate the project will take two years to complete, once they have final approvals.