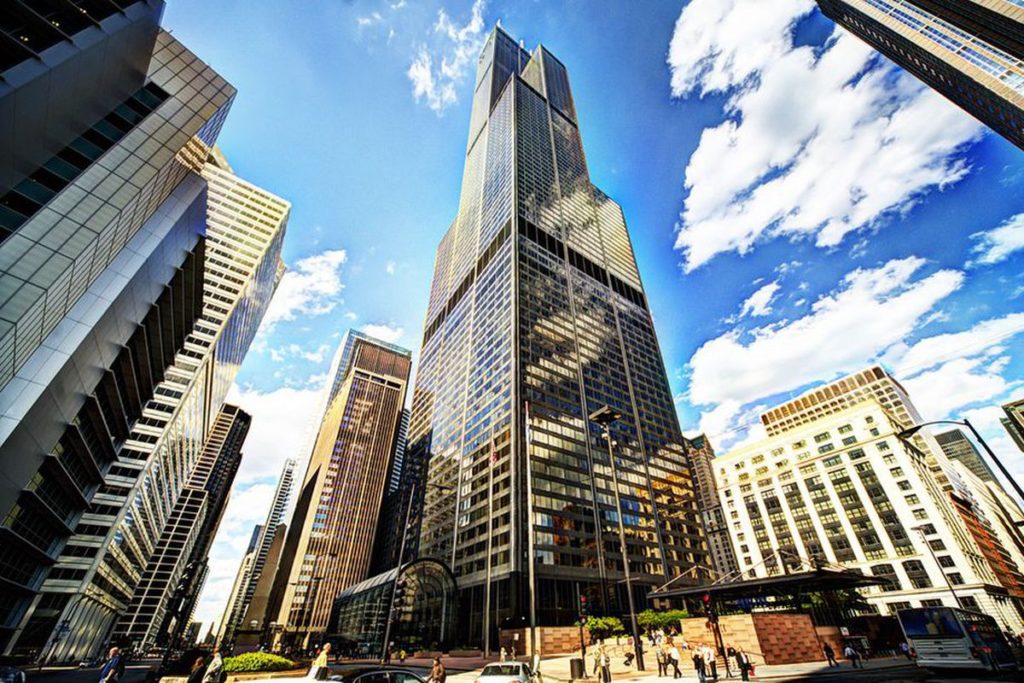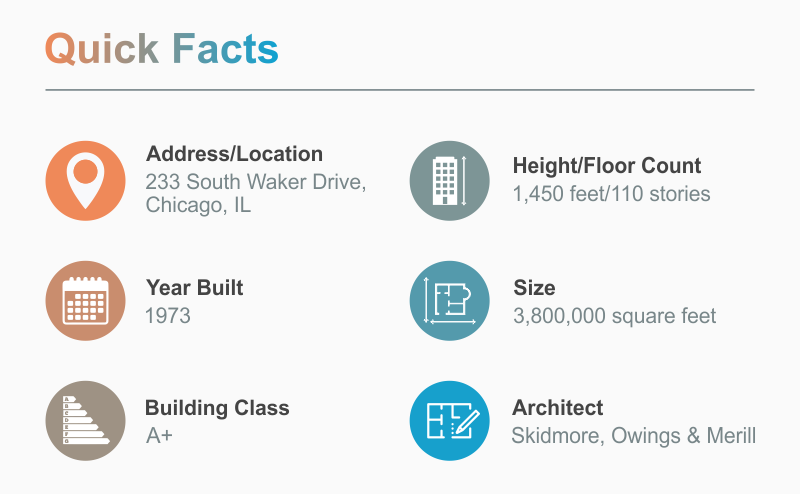 The tallest building in Chicago and the second-tallest in the U.S., Willis Tower is a recognizable staple on the Windy City skyline and the crown jewel of the Chicago school of architecture.
Built in 1973 to serve as the headquarters for Sears Roebuck & Co., Willis Tower–back then known as the Sears Tower–held the title of world's tallest building for 25 years. Designed by local architecture firm Skidmore Owings & Merrill, the same company that designed Burj Khalifa in Dubai, Willis Tower was one of the first buildings to incorporate Fazlur Khan's innovative bundled tube structure. The concept is based on the idea that by designing a building as a hollow cantilever perpendicular to the ground, that building can better withstand lateral wind loads. To this purpose, Willis Tower's design incorporates setbacks at the 50th, 66th, and 90th floors. Kahn's idea was so successful that most skyscrapers now incorporate the tube system design, including the Burj Khalifa, currently the tallest building in the world.
Sears sold and moved out of the tower in 1988 but held on to the naming rights until 2003. In 2009, Willis Group Holdings moved into the building and obtained the naming rights; thus, Sears Tower became Willis Tower.
While it might have lost its initial name and the title of the world's tallest building, Willis Tower houses the highest observation deck in the United States. The Skydeck opened to the public in 1974 on the tower's 103rd floor—at a height of 1,353 feet. In 2009, the Skydeck underwent a multi-million-dollar makeover, which included the addition of The Ledge—a group of four glass boxed that extend 4.3 feet from the building, offering visitors unobstructed and dizzying views of Chicago. The makeover also included some major eco-upgrades spearheaded by Adrian Smith + Gordon Gill Architecture, to make the building more energy efficient.
Willis Tower is not done breaking new ground, 45 years after its completion. Blackstone Group, which paid a record $1.3 billion for the property in 2015, is investing $668 million to renovate and reposition the tower to attract both tenants and visitors. The renovation effort will include the addition of new amenities, entertainment, retail, and dining areas, as well as upgrades to the famous Skydeck. In 2018, Willis Tower also became the largest office building and third-largest building overall to earn Energy Star certification.