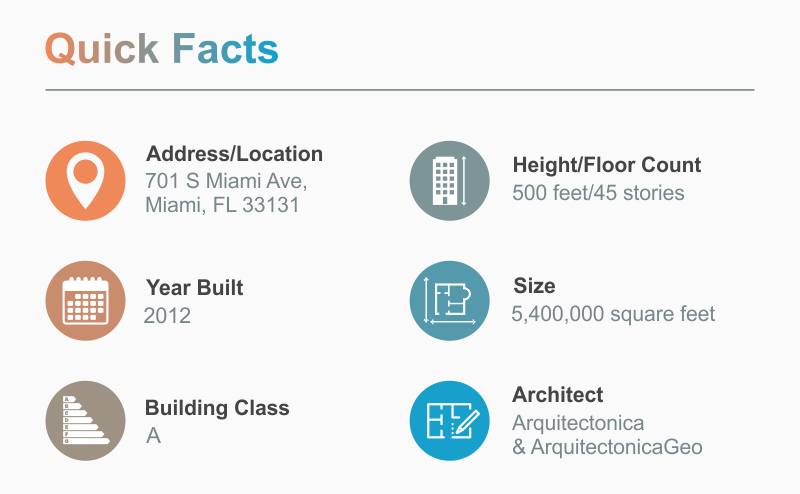 Located at the very heart of Miami's bustling Brickell Financial District and South Florida's international trade and finance corridor, the Brickell City Centre is one of the largest development complexes in the city and it isn't even finished yet.
Situated at 701 S Miami Avenue, the building is not actually right in the downtown core as its name would suggest, but rather is located at its periphery. The enormous construction occupies both sides of South Miami's 7th and 8th Streets and is set to further expand over two more blocks. Upon its completion, it is said that it will occupy a total of five blocks to the south of Miami River and to the west of Brickell Avenue.
The ambitious project was initially introduced in the early 2000s, when the real estate bubble was at its height; however, it was abandoned soon after the economic crisis of 2008 hit the city. The initial plan comprised an impressive complex of four skyscrapers and had already been approved by the City of Miami, as well as the Federal Aviation Administration before it was dropped.
The project was brought back to life in June 2011, when the US subsidiary of the Hong Kong-based Swire Properties stepped in to save the day. The property developers changed the initial plan of the building, aiming instead to construct a four-story retail and entertainment space, complete with 6 separate, smaller towers. Each tower will have individual functions, two housing residential units, two giving home to office spaces, one boasting a section for wellness and one incorporating a hotel.
Though Brickell City Centre is still under construction, a part of it has already been completed and is fully functional. At its base lies a vast five-story shopping mall, spanning three different blocks. Below it, a 7-acre car park can be found, which can fit 2,600 vehicles. This task proved to be a challenging one to tackle due to Miami's low elevation above sea level, but it was achieved by installing special watertight slurry walls. The Brickell City Centre development complex also features a handful of covered sidewalks and ensures interconnectivity between all its towers and buildings.
Towering over the mall are three 500-foot high-rises, each with 45 floors, called "EAST", "Reach" and "Rise", the last two housing residential units which began occupancy in 2016. The slightly smaller Two & Three Brickell City Centre Towers are home to office spaces. An additional plan is in the works for the construction of the 500-foot, 50-story "North Squared" tower at Southeast 6th Street, which will also boast 700 extra parking spots.
One of the most fantastic assets of the development complex is Climate Ribbon, an artistic and aesthetically pleasing feature which cost $30-million and which harnesses the power of the surrounding natural environment, transforming it into a sustainable, environmental management system. The 150,000-square-foot elevated trellis accomplishes this fantastic feat, connecting three different blocks on the way. Swire Properties purchased an additional 1.55-acre lot at 700 Brickell Avenue in 2013, with even more ambitious plans in mind. The lot, along with the previously purchased Eastern National Bank building's site, will accommodate One Brickell City Centre, which, upon completion, will be the tallest building in Magic City and in all the Southeastern United States.
Initially, a height of 1,102 feet was suggested; however, this was reduced to 1,040 feet, in line with the Federal Aviation Administration's guidelines. Once it's finished, One Brickell City Centre will be home to 67,000 square feet of retail space, 677,000 square feet of Class A office space, 256 condo units and 120 hotel rooms.
The entire project is LEED for Neighborhood Development Certified, a ranking system which takes into consideration a building's contribution to smart growth and clever urban planning, whilst also boasting green infrastructure practices. The Climate Ribbon and the many lush plants which shield the complex's sidewalks from the traffic are just a couple of the elements for which Brickell City Centre has received widespread recognition.