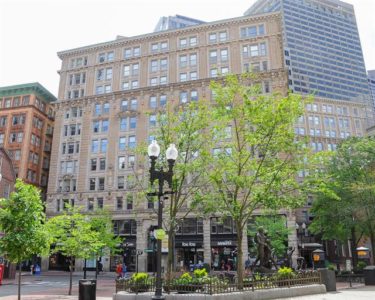 The Old South Building is an 11-story high-rise in Boston, Massachusetts. The building was completed in 1903 and now houses a range of commercial office spaces.
The Old South Building was originally erected by the Old South Church at the turn of the 20th century and has links to the Puritans and the historic Old South Meeting House. 
The Old South Building links the city's Downtown Crossing and the Financial District. It was designed by the architect A.H. Bowditch and has two entrances – one on 294 Washington Street and the other on 10 Milk Street. Its ornate design incorporates stately columns, cornices, and other intricate elements seen on many other buildings in the Boston area.
In the late 1990s, the Old South Church sold the property for an excess of $20 million to a group of private investors. The Old South Church held the deed on the land on which the Old South Building now stands since the late 1600s.
The Old South Meeting House also sits next to the Old South Building. The historic congregational church gained fame as a meeting place for the Boston Tea Party where an estimated 5,000 colonists gathered on December 16, 1773. Now, the Old South Meeting House is open daily as a museum and this historic site is claimed to be the second oldest establishment in existence in the US.
The Old South Building has gone through several facelifts over the years including a 126,000 square foot renovation with a complete makeover of the building's lobby and entrance ways as well as 11 separate office renovations. This was completed alongside an extensive renovation of its basement into an amenities space, which includes a fitness center, locker rooms, and other facilities.
Recent reports indicate that Goldman Sachs joined forces with Synergy Investments in ownership of the building in 2016 and that the building's value could now exceed $58 million.
Details: Old South Building, Boston
Address: 294 Washington Street

Price: $55/Sqft/Yearly

City: Boston

Neighborhood: Downtown – Financial District

Zip Code: 02109

Market: Urban Boston

Property Type: Office – General Office

Property Size: 230,206 Sqft

Lot Size: 0.57 Acre

Building Class: B

Year Built: 1903