Whether you prefer to work surrounded by others, in the privacy of a reserved meeting room, or while sprawled out on the couch, Apt CoWork has what you need. With a variety of amenities including, but not limited to, high speed Wi-Fi, ample charging, wireless printing, community seating, cozy chairs, and privacy pods, Apt CoWork was built to inspire a productive work day.
Available Workspaces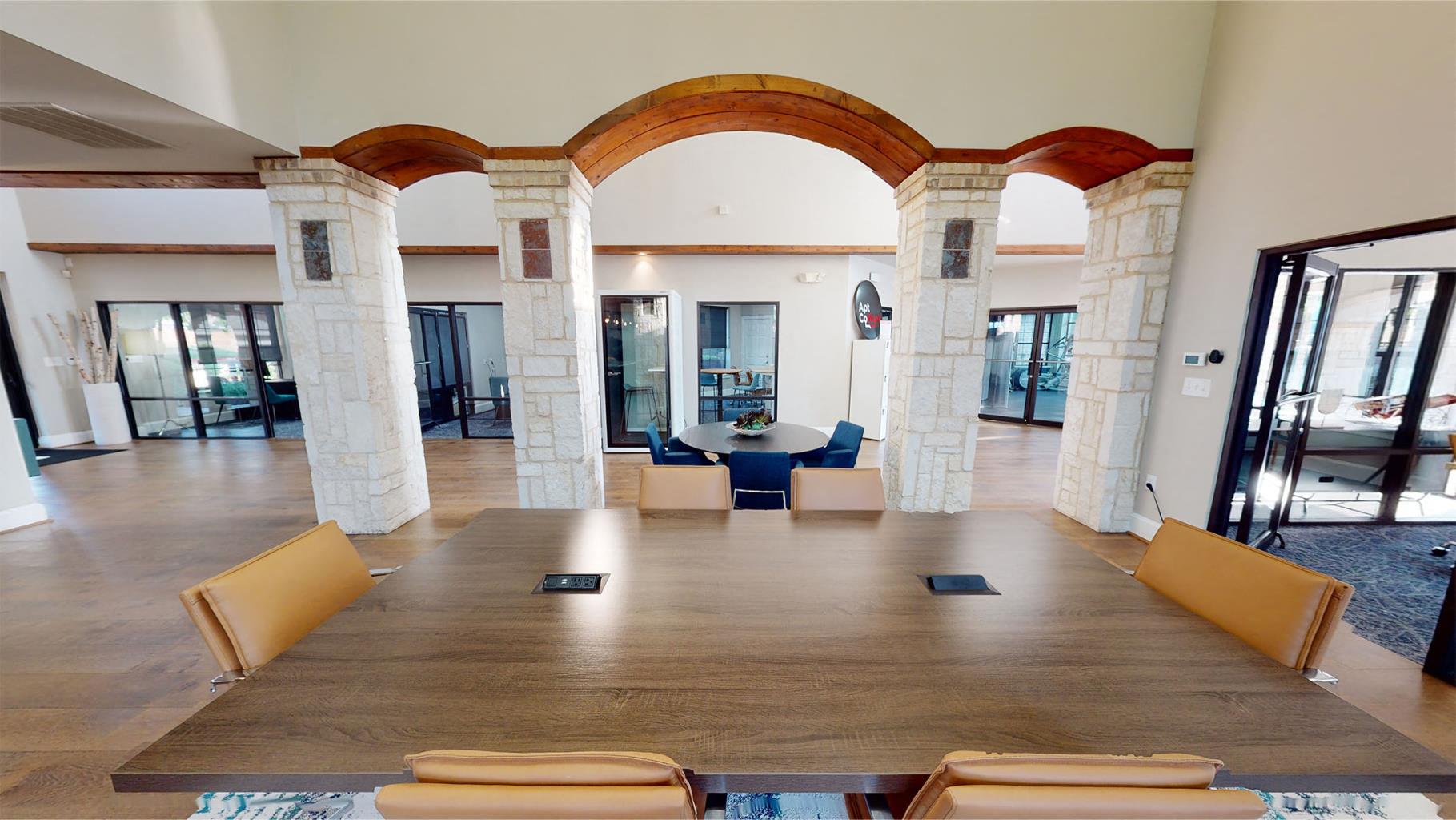 Amenities
Caffeine zone
Complimentary coffee & tea
Equipment
Printer
TV/Monitor
White boards
Facilities
Parking
Privacy booths
Window view
Hours of Operation
Monday, Wednesday, Friday: 9:00 am - 7:00 pm
Tuesday, Thursday: 9:00 am - 6:00 pm
Saturday: 10:00 am - 6:00 pm
Sunday: 11:00 am - 5:00 pm
Monday
9:00 am - 7:00 pm
Tuesday
9:00 am - 6:00 pm
Wednesday
9:00 am - 7:00 pm
Thursday
9:00 am - 6:00 pm
Friday
9:00 am - 7:00 pm
Saturday
10:00 am - 6:00 pm
Sunday
11:00 am - 5:00 pm
Getting Around
Walk Score ®

37/100

Car-Dependent

Bike Score ®

35/100

Somewhat Bikeable
Location
City

Lewisville, TX

Neighborhood

Valley Ridge Estates

Zip Code

75077
Points of Interest
Highland Village/Lewisville Lake

1.62 miles

Old Town

2.76 miles

Hebron

5.47 miles

North Carrollton/Frankford

7.24 miles

Trinity Mills

8.20 miles

DFW Airport North

8.86 miles

MedPark

9.11 miles

Grapevine-Main Street

9.16 miles
QuikTrip

0.88 miles

Exxon

1.00 miles

Texaco

1.31 miles

Exxon

1.48 miles

Sam's Fuel

1.49 miles

Shell

1.61 miles

Village Deli

1.70 miles

Tom Thumb 3575 Fuel Station

2.11 miles

Shell

2.39 miles

QuikTrip

2.61 miles
Boat Trailer Parking

2.23 miles

Arrowhead Park Boat Trailer Parking

3.20 miles

Nationstar Mortgage Parking

4.63 miles

Nationstar Mortgage Convergence Parking

4.73 miles

CoServ

5.48 miles

CoServ

5.60 miles

Start

7.04 miles

Dove Loop Boat Ramp

7.17 miles

Doggie's Wonderland Parking

7.26 miles

River Oaks Community Pool

7.56 miles
Motel 6

1.58 miles

Courtyard by Marriott Dallas Flower Mound

2.27 miles

Econo Lodge Inn & Suites Lewisville I-35

2.38 miles

La Quinta Inn & Suites by Wyndham Lewisville

3.97 miles

Suburban Extended Stay Hotel Lewisville

4.36 miles

Best Western Plus

4.89 miles

Comfort Inn & Suites

4.98 miles

Homewood Suites by Hilton Dallas-Lewisville

5.08 miles

Comfort Suites Lewisville

5.51 miles

Country Inn & Suites by Radisson, Lewisville, TX

5.55 miles
Street Taco

0.51 miles

The Rusty Beagle

0.80 miles

Taco Mas

0.85 miles

Burger King

0.97 miles

Fat Cow BBQ

1.03 miles

Jack in the Box

1.23 miles

Soulman's Bar-B-Que

1.23 miles

Popeyes

1.30 miles

Boston Market

1.30 miles

McDonald's

1.31 miles
Huffines Middle School

0.30 miles

Valley Ridge Elementary School

0.53 miles

Killough High School

0.72 miles

Degan Elementary School

0.98 miles

DeLay Middle School

1.18 miles

Prairie Trail Elementary School

1.25 miles

Merry Hill School

1.31 miles

Lamar Middle School

1.46 miles

Lewisville High School

1.56 miles

Montessori Unlimited

1.61 miles
Primrose School

2.32 miles

Kids 'R' Kids

2.44 miles

Joyous Montessori Lewisville

3.00 miles

The Children's Courtyard of Flower Mound

3.19 miles

Xplor Preschool and School Age Care

5.40 miles

The Goddard School of Corinth

6.60 miles

Childrens Lighthouse

7.18 miles

Childcare Network

7.20 miles

Terry's Treehouse Learning Center

7.97 miles

La Petite Academy

9.17 miles
Frequently Asked Questions
How much does coworking space cost at Apt CoWork Apt CoWork at Toscana at Valley Ridge?
You will find the price varies depending on what membership option you choose out of the ones that are currently available. At Apt CoWork Apt CoWork at Toscana at Valley Ridge, the lowest priced available workspace is Open Desk Coworking, which starts at $10/hour. Open Desk Coworking rates start at $30/day. The cost for Open Workspace starts at $100/month.
What coworking memberships does Apt CoWork Apt CoWork at Toscana at Valley Ridge offer?
Workspace and membership options currently available here include Open Desk Coworking and Open Workspace. You can contact Apt CoWork Apt CoWork at Toscana at Valley Ridge to find out more about occupant capacity, upcoming availabilities or other opportunities.
What amenities are available at Apt CoWork Apt CoWork at Toscana at Valley Ridge?
Here, you will find some of the most appreciated coworking space amenities in the city, such as and Printer. What sets Apt CoWork Apt CoWork at Toscana at Valley Ridge apart from most of the local coworking spaces is TV/Monitor. It is important to know what amenities are a must for you to be productive, as well as which amenities would be a "nice to have access to," so that you can also be comfortable during your work time. Check the listing page for details on what this coworking space offers in terms of practical work needs, workspace types, services, and perks. For any additional information on amenities or regarding aspects like noise level, dress code, and community characteristics, contact the coworking community for more details, to book a test day membership, or set up a visit.
Is Apt CoWork Apt CoWork at Toscana at Valley Ridge located in a good area?
Apt CoWork Apt CoWork at Toscana at Valley Ridge is located at 1400 West Valley Ridge Boulevard in the Valley Ridge Estates neighborhood , in zip code 75077. The location description details on this page will give you an idea of what essential amenities you can find nearby, as well as how the location is rated in terms of walkability, bike-friendly infrastructure, or public transit. See how close you can find the nearest public transportation stop, whether there are parking facilities in the area, restaurants or other dining establishments, as well as hotels, motels, or other accommodation. If you are a working parent looking for coworking space with convenient access to childcare, you can also find more information on whether there are options in the area, as well as how far or near they are located.

If you are driving here, you should know the property does not have parking as a common area amenity. Other amenities within 1 mile of this location include 4 educational institutions, 4 restaurants or other dining establishment(s).
Want to lock in your space at this property?
Book now to secure the best options for your needs.
Book Now