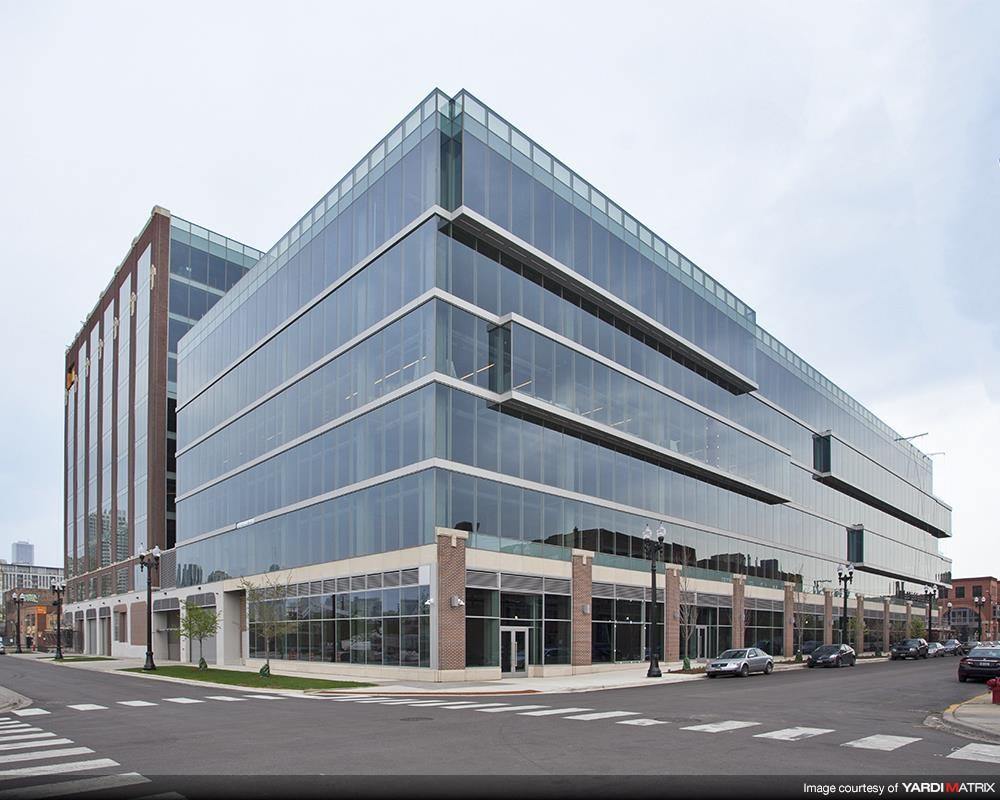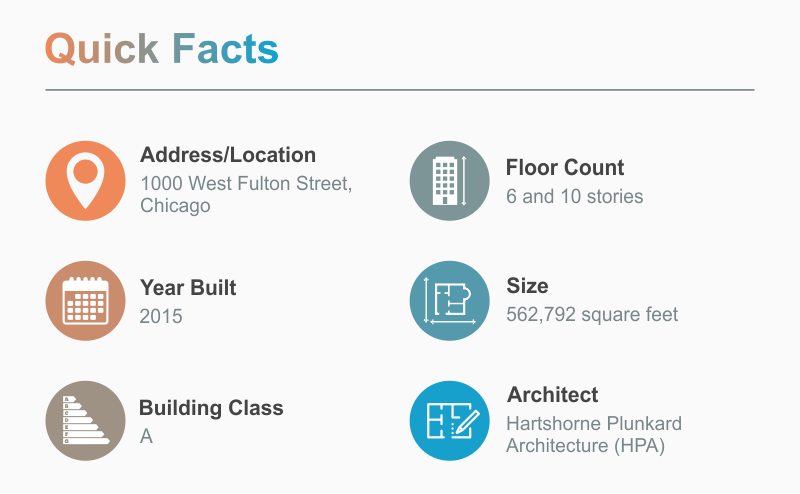 The 1K Fulton building is located in Chicago, perhaps unsurprisingly, at 1000 W. Fulton St.
The property was originally built in 1923 as a cold storage facility for the Fulton market. After decades of use–and disuse–impressive stalagmites and stalactites formed on the ceilings and floors of the building. While the effect was dramatic, it wasn't conducive to a safe work environment.
Now, the 530,000-square-foot building has LEED Gold certification and has been transformed into an office and retail space in the Chicago West Loop. Sitting opposite the Ace hotel, 1K Fulton is home to approximately 2,500 workers from tenants including Google and bike components manufacturer SRAM.
The 1K Fulton building is impressive, featuring 17'5'' ceiling heights, a roof deck, an on-site fitness center and outdoor seating in its plaza. It also includes dedicated bike parking, on-site bike repairs and detailing, and an internal cycling test track.
1K Fulton sits in the emerging Fulton Market District, with the city's Morgan Station only two blocks away. There's also a shuttle service to Chicago's main commuter rail hubs, the Ogilvie and Union stations.
The cool development of 1K Fulton
In 2012, 1K Fulton was bought for $12 million by Sterling Bay, which undertook the development with the aid of Hartshorne Plunkard Architects and Perkins+Will.
During its redevelopment, the 10-story building was literally thawed out. Heaters were brought in to get rid of the ice before construction could start.
The outside of the building was shaved off to allow for expansive floor-to-floor views, and the remaining frame was inspected and secured to strengthen the structure. Sterling Bay then proceeded to introduce an additional six stories and 155,000 square feet of space. The adaptive reuse project reportedly cost almost $90 million in construction costs.
Google moved 650 of its staff members into the building in late 2015. In 2016, the 1K Fulton Building sold for $257 million, making it the third most expensive office deals in Chicago's history.
The building reportedly sold at a record $574 per square foot, providing Sterling Bay with a 20% project-level internal rate of return, at a 4.50% exit cap rate.
The building has a 97% occupancy rate and its tenants include SRAM International, Sandbox Industries, Swift&Sons, and Smack Shack.
Other companies have also relocated to the West Loop region in the city, including McDonald's Global Headquarters in Oak Brook. Glassdoor and Dyson are also opening up offices at 1330 West Fulton.