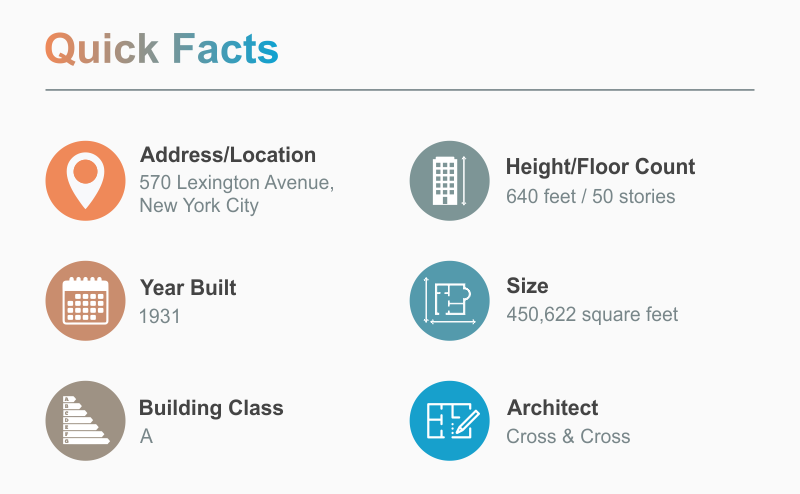 Originally known as the RCA Victor Building, the iconic General Electric Building is easily recognized for its most striking features: the mixture of Gothic limestone spires, undulating red brick, and filigree ornaments designed to represent radio transmission waves from the Radio Corporation of America.
Located in the Central Midtown Manhattan office market, the General Electric Building – along with the Chrysler Building, the Empire State Building, and Rockefeller Center – is counted as one of the most famous art deco buildings in New York City. The building was commissioned by the RCA Victor Co., a subsidiary of General Electric, during the golden age of radio.
Combining the height of a skyscraper with the decorative complexity of its distinctive Art Deco style, the building is known as one of the most expressive structures of its era. Unlike the nearby Chrysler Building that was originally criticized for its design, the General Electric Building won unanimous praise from both critics and the general public alike when it opened its doors in 1931.
The General Electric Building was intentionally designed to blend with the lower Byzantine dome of the adjacent St. Bartholomew's Church on Park Avenue. The building shares the same salmon-pink brick color as the church, with terra cotta decorations in a complementary style. The design is a rare example of a friendly juxtaposition between two buildings of different scale, use, and age.
At night the Gothic tracery crown of needles is illuminated from the inside, casting a glow across the neighborhood, intended to represent electricity and radio waves. A clock with the cursive GE logo and a pair of disembodied silver arms holding bolts of electricity sits above the main entrance to the General Electric Building.
After RCA Victor – the company for which the building was designed – relocated to Rockefeller Plaza, the property was officially renamed the General Electric Building. Currently, the GE sign adorns the 30 Rockefeller Plaza tower, so our building of this week now officially goes by its street address of 570 Lexington Avenue. Like many NYC landmarks and thoroughfares, though, its identity remains unchanged in New Yorkers' minds, no matter what else the owners or the city choose to call it at any given time.
The General Electric Building was extensively refurbished in 1994 and encompasses more than 400,000 square feet of LEED-certified Class A office space. Major tenants in the General Electric Building include Cornell University, which leases a combined total of 90,000 square feet for two of its schools, the Real Estate Board of New York, Sotheby's Institute of Art, hedge fund firm Hudson Executive Capital, Innova Health Partners, Brazilian national oil company Petrobas, and the Newport Group.
The General Electric building has also appeared on the big screen. The building was featured in the 2005 film Mr. & Mrs. Smith featuring Brad Pitt and Angelina Jolie, as well as in the Netflix TV series Iron Fist, whose character Harold Meachum lived in a penthouse of the building.