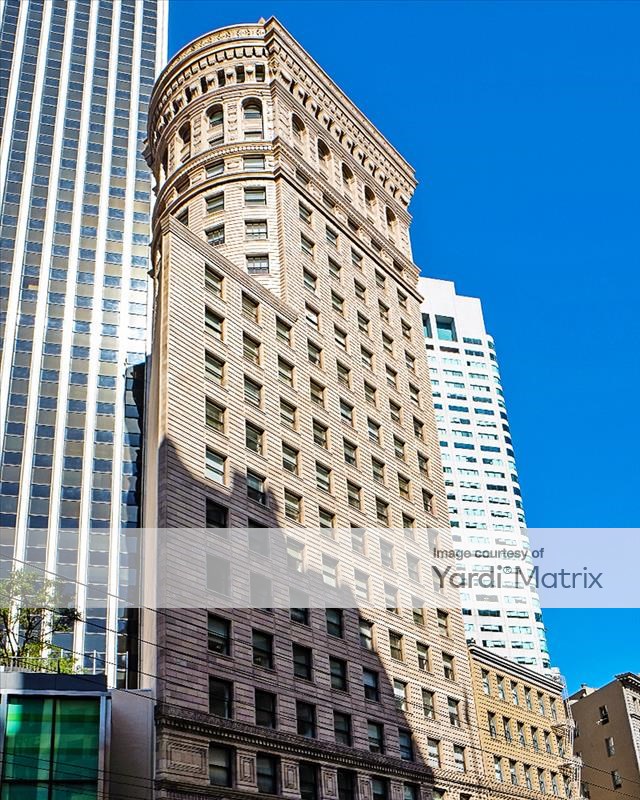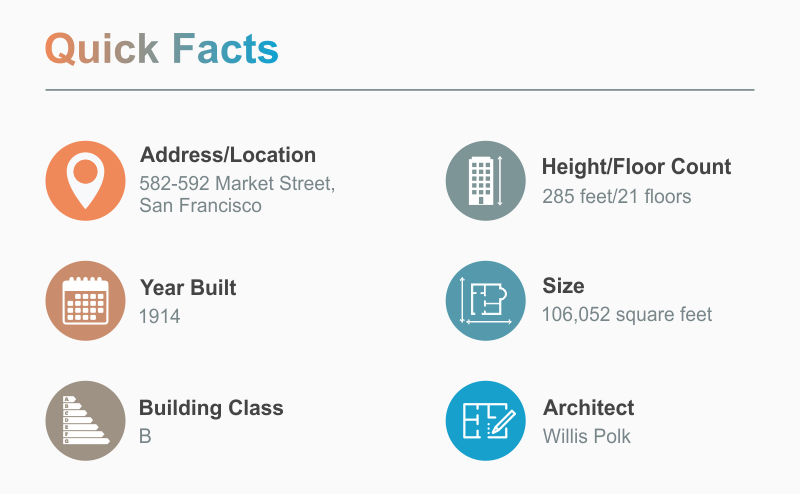 Designed and built by Willis Jefferson Polk, an American architect from Jacksonville, Ill., The Hobart Building lies in the Financial District of San Francisco at 582-592 Market Street. The structure is situated near the SoMa high-tech corridor with proximity to major public transport routes.
Over the years, The Hobart Building has become an icon of San Francisco, but upon its completion in 1914 after only 11 months of construction work, it was greeted with controversies and doubt. Considering the extremely short construction time frame, many critics accused the builders of negligence and recklessness.
The strange polygon-shaped lot also has attracted its fair share of debates. Handpicked by the head of Hobart Estate Company, Walter Hobart, the asymmetrical lot was chosen due to its proximity to Second Street. At that time the street led to the high-class residential area of Rincon Hill, so the best offices of the tower overlooked the posh living quarters of the wealthy.
The lot upon which The Hobart Building was built also aimed to fill an existing space between a handful of buildings. Despite this, a neighboring edifice was demolished in 1967, leaving the western wall of The Hobart Building exposed and providing the building with an even more striking image. It also aimed to replace an old Hobart Building, which suffered severe damages in an earthquake and fire eight years prior.
The building was made to order for the Hobart Estates Company and served as an office building, a function that it still holds today. At the time of its completion, it was the second tallest building in San Francisco, rising 285 feet, with a total of 21 stories.
From an architectural standpoint, The Hobart Building stands out from the crowd of glass-façade skyscrapers thanks to its unique shape and design. Boasting a sculpted terra cotta façade and Baroque ornamental elements, the structure comes with an elegant, timeless, and one-of-a-kind appearance. The interior of the building is similarly impressive, featuring Italian marble and handcrafted brass. Its exceptional design and notable features place it among the most appealing examples of Neoclassical Architecture (also known as Classical Revival Style) in the City by the Bay.
Since it was constructed with the purpose of providing a professional setting to those conducting business on a daily basis, The Hobart Building's interior layout continues to cater to this need to this day. Thorough, extensive renovations have ensured a contemporary functionality and somewhat modern appeal without losing sight of the building's emblematic character.
Due to its proximity to the Financial District, the Hobart Building serves as the perfect base for all types of businesses. The landmark has continuously welcomed various types of companies throughout its 105 years of existence. It offers neat, well-equipped office spaces in San Francisco both for smaller-sized businesses as well as for larger corporations. A wide variety of leases, facilities, and on-site amenities are available to tenants at all times.