Birmingham, AL Economic Overview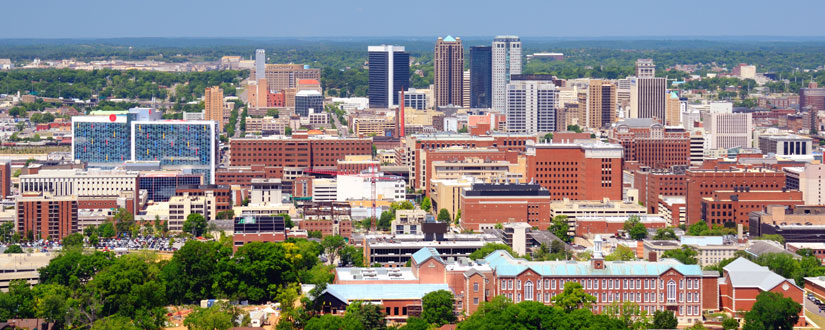 Birmingham offers considerable benefits for entrepreneurs, home buyers and employees. Thumbtack ranked it as the number 3 city in the country for women entrepreneurs. Birmingham also ranks among the top 10 markets for first-time homebuyers, as well as employee engagement (according to Forbes) and second in the country for median income growth (according to the Wall Street Journal).
Birmingham is an attractive investment destination, featuring multiple industries, such as: biotechnology and medical research; banking; steel industries and telecommunications.
The city boasts a strong consumer base, seeing as Birmingham houses the largest population within the state of Alabama. Among the 100 largest U.S. cities, Birmingham has the highest sales tax of, 10%, which also applies to groceries.
Birmingham, AL Commercial Real Estate Market
One of the key industries that played a key role in the Birmingham economy from the start is the steel industry. It may not be as prominent as it once was, but it still has a significant impact. The city is home to several of the largest steelmakers in the United States, such as Nucor, CMC Steel, and U.S. Steel.
Since the 1970s and 1980s, Birmingham was transformed by and became a major hub for biotechnology and medical research investment, centered around the University of Alabama at Birmingham (UAB). Its adjacent hospital, a Level I trauma center, consistently delivers breakthrough medical research. Other notable health care service providers include Diagnostic Health Corporation, Caremark RX, Surgical Care Affiliates, and Health South.
Birmingham was ranked the 10th largest banking sector within the U.S. in 2014. Two major banks are headquartered here: BBVA Compass, and Regions Financial Corporation. Although Birmingham commercial real estate is on an overall upswing, in 2015, the Birmingham office market began registering an increase in vacancy.
West Homewood office space had the highest vacancy rate, of 22.2%, despite having the lowest average asking rent per square foot. In contrast, Midtown Birmingham office space had the lowest vacancy rate of 7.2%, although average asking rent per square foot was among the highest.
Employment in Birmingham, AL
Due to competitive salary rates, complemented by relatively low living expenses, the Birmingham metropolitan area has consistently been ranked among the best places to work and earn a living in America.
Top industries with the highest number of employers include:
Educational services

The University of Alabama at Birmingham is the largest employer in the city, with approximately 23,000 employees

Financial services and banking

Regions Financial Corp. has about 7,134 financial services employees

Health care services

St. Vincent's Health System has a dedicated workforce of about 4,786 employees, Baptist Health System, Inc. offers approximately 4,633 job opportunities and Children's of Alabama has about 4,543 workers

Telecommunications

AT&T has around 4,517 workers in its payroll
Companies located in Birmingham include:
Insurance companies

like Protective Life, ProAssurance, Infinity Property & Casualty, and Liberty National

Construction and Engineering companies

such as Robins & Morton, B.L. Harbert International, Brasfield & Gorrie, and BE&K

Manufacturing

is represented by two of the largest soft-drink bottlers in the U.S.–the Buffalo Rock Co. and The Coca-Cola Bottling Co.
The unemployment rate in Birmingham is 0.3% higher than the overall U.S. rate of 4.7% (as of April 2017). In the 3rd quarter of 2016, the Birmingham average weekly wage in all industries was $964, which is slightly lower than the overall U.S. average of $1,027.
Education in Birmingham, AL
Birmingham City possesses a higher percentage of bachelor's degree holders (16.6% in 2015), compared to the Alabama state average of 15.4%. The city's 62 schools enroll approximately 30,500 learners.
Home to highly respected colleges and universities, Birmingham includes a total of 14 institutions of higher learning. The University of Alabama at Birmingham is one of the nation's top medical schools, the Birmingham-Southern College is a leading liberal arts college and Samford University's Cumberland School of Law is a highly respected law school. Several community colleges and technical schools offer a variety of professional training courses.
Commuting Time in Birmingham, AL
Birmingham residents average 20.9 minutes of travel time, which is shorter than the 24.8-minute national average. And only 1.3% of the Birmingham workforce has 90+ minute "super commutes."
A diverse road network helps ease traffic, consisting of four Interstate Highways: Interstate 20, 65, 59 and 22. This is complemented by the southern bypass expressway Interstate 459, connecting with the Interstate Highways at various points: I-65 to the south, I-59 to the northeast, I-20 to the east, and I-20/59 to the southwest.
Birmingham Demographics
Population
Total Population

467,283

Male Population

(47.1 %) 219,905

Female Population

(52.9 %) 247,378

Median Age

38.00
Income/Financial
Average Household Income

$68,930

Median Household Income

$40,004

Median Income Under 25

$19,348

Median Income 25-44

$41,600

Median Income 45-64

$48,762

Median Income Over 65

$31,620
CommercialCafé is your first and only stop when it comes to commercial real estate leasings in Birmingham, AL. Search through our extensive selection of commercial properties for lease with current space availability in the area ranging between 16017 square feet and 16017 square feet. Discover the right property from our 127 listings by using our advanced search function, which includes search by property type, space availability, management company, lease rates, and more.
Cities near Birmingham, AL