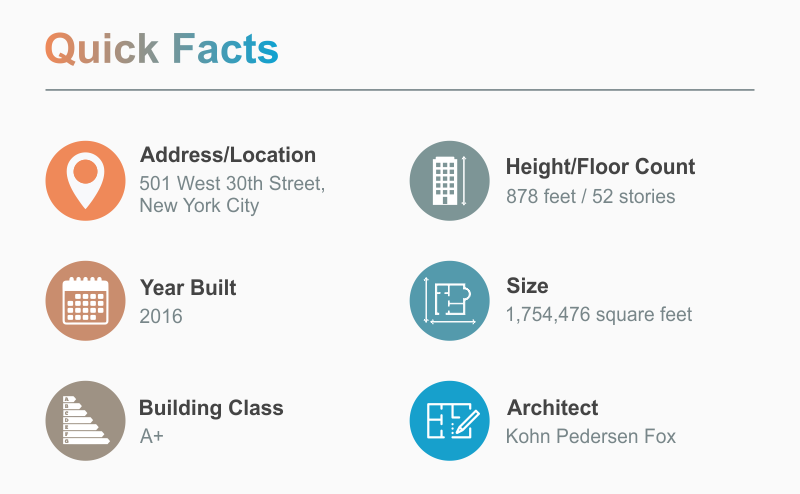 10 Hudson Yards is the first office building completed as part of the Hudson Yards master plan urban renewal project. The entire development will be home to 16 skyscrapers and over 12.7 million square feet of commercial office, street retail, and mixed-use space. The 10 Hudson Yards building is also known as Hudson Yards Tower C, Coach Tower, and Hudson Yards South Tower.
Located in the Hudson Yards office submarket of Midtown Manhattan, 10 Hudson Yards is bordered by the Hell's Kitchen, Penn Station, and Chelsea office markets. The southern facade of the property projects over the 30th Street tract of the High Line – a 1.45-mile linear elevated park, greenway, and rail trail built on a former spur of the New York Central Railroad. One of the main entrances to 10 Hudson Yards gives building occupants and visitors direct access to the High Line, considered to be an icon of modern-day landscape architecture.
The 10 Hudson Yards office building is also helping to transform the West Side of Manhattan into the island's next great green neighborhood. This Class A+ office building in Manhattan boasts a LEED Platinum BD+C certification for the core and shell and a LEED Gold certification with:
Storm proof systems
Co-generation
Thermal micro-grid
Efficient air flow system
Advanced lighting controls
Under-floor or overhead air distribution
Central chilled water plant
Water harvesting
Out of the approximately 111,200 LEED projects around the world, only about 6,600 have achieved the LEED Platinum certification. With nearly 520 million square feet of green building space, New York City ranks first among the U.S. cities in reducing energy use and increasing energy efficiency through the LEED certification program.
Other Class A+ office buildings in the Manhattan commercial real estate market with LEED certifications include the Empire State Building, 1345 Avenue of the Americas in the Theatre District – Times Square office market, the MetLife Building in Central Midtown Manhattan, and the World Trade Center in the Financial District office submarket.
World-class tenants were ready to move into the office space in 10 Hudson Place just after the building broke ground and about three years before the building opened its doors.
Coach, Inc. is the anchor tenant at 10 Hudson Place whose global headquarters occupy nearly 740,000 square feet on 16 floors. Coach's space features a 15-story atrium, double height conference rooms overlooking the High Line, a private cafeteria, and a large terrace with views of the Hudson River. Other major tenants in 10 Hudson Yards include L'Oréal USA with 402,000 square feet on 11 floors, Boston Consulting Group with over 193,000 square feet on 6 floors, SAP with 115,000 square feet on 5 floors, and VaynerMedia which occupies the entire 25th floor.