We're almost halfway through H2 2018, and it's high time to check up on construction activity, as well as the state of the U.S. office pipeline when compared to previous analyses. Last year around the same time, we looked at top U.S. cities for office delivery during the fall-winter season, and found that NYC, San Francisco, Plano, Cupertino, and Atlanta had the busiest delivery schedules for new office projects. In December 2017, we analyzed what markets would welcome the most new office space in 2018, and it looked like suburban construction would drive the 2018 office pipeline.
This year, tariffs imposed on steel and aluminum have already caused some reconsideration of planned construction projects. Uncertainty regarding how the commercial real estate industry will work around changes in building costs makes it difficult to draw reliable longer term pipeline estimates, at present. We can, however, look at office projects that either were completed since the start of January, or are nearing completion, with a set delivery date before the end of this coming December.
According to information tracked by CRE research and data platform Yardi Matrix, new office and mixed-use projects encompassing roughly 101 million square feet are on track for 2018. Nearly 42 million square feet of that total were delivered during the first six months of the year, leaving nearly 60% of 2018 scheduled office completions for delivery during H2. Read on to see where developers been busiest, and to check out the 20 largest office projects delivered and yet to come online this year.
Bay Area, NYC, Dallas, Top Markets for Office Development in 2018
Competition is close between the top two U.S. markets for office development in 2018. Bay Area completions scheduled for this year total just over 11 million square feet and put the California office market in the lead. New York City landed second place, with office development in Brooklyn, Manhattan, and Queens amounting to nearly 10 million square feet. Number three on the list is Texas' D-FW metroplex. Office development in the Dallas metro area resulted in 7.7 million square feet of new office space scheduled for delivery in 2018. The growth of the Dallas office market is driven by corporate relocations and expansions, fueled by central location and cost of living, and sustained by availability of vacant land in the Dallas central business district and surrounding corridors.
San Francisco is fourth, with just over 7 million square feet in office projects due for completion this year. Washington, D.C., rounds out the top five, with 6.3 million square feet of new office real estate in the works. Each city's largest completion of the year has already been delivered and is open for business. The 1.4 million-square-foot Salesforce Tower in San Francisco officially wrapped up in May and Carr Properties' 862,000-square-foot Midtown Center in Downtown D.C. opened in June. Both projects rank among the top 10 largest to be completed in H1 2018.
Check out the table below for the full list of top 40 markets for office development in 2018 and read on for more office pipeline highlights of the year:

Coming in sixth is Boston, with 3.6 million square feet of new office space due in 2018. The largest Boston office properties scheduled for completion in 2018 and that were already delivered during H1, are Skanska's 17-story, 450,000-square-foot 121 Seaport, managed and operated by Cushman & Wakefield, and fully leased to Alexion Pharmaceuticals and PTC, and the 460,000-square-foot MathWorks campus building at 1 Lakeside Campus Dr., in Natick, Mass.
Austin's expanding tech scene continues to drive high demand and office development to match. With 3.5 million square feet of space in 40 office buildings scheduled for delivery in 2018, Austin landed the seventh spot and is one of two Texas markets to rank among the first ten of this year's top destinations for development. Charles Schwab's new headquarters hub at Gracy Farms is now complete.  Also ready is the massive new live-in Oracle campus, which encompasses 560,000 square feet, can accommodate up to 10,000 employees, and is Austin's largest new office delivery of the year. The sizeable ground operations that support Oracle's cloud business span 40 acres of Lady Bird Lake waterfront property and come with pretty much every amenity desirable to the enthusiastic, fresh talent the company is looking to attract.
Philly ranks eighth among this year's top U.S. markets for development. The Philadelphia office market is slated to welcome 10 new buildings encompassing just over 3.5 million square feet. Comcast's recently completed Innovation and Technology Center accounts for roughly 44% of this capacity on its own.
This year, Denver comes in ninth, with 24 buildings totaling 3.4 million square feet scheduled for delivery in 2018. Hines' trophy office property at 1144 15th St., was delivered in April and ranks among the top 10 largest completions of H1 2018. The stunning 40-story Pickard Chilton-designed tower in Downtown Denver is home to Chipotle's corporate offices along with Unicom Capital, Gates Corp., Optiv Security, and Boston Consulting Group.
Coming in just ahead of Los Angeles and Chicago for office development this year, Atlanta rounds out the top 10. Raleigh–Durham, Seattle and Miami wrap up the top 15 markets, all home to over 2 million square feet of new office development this year.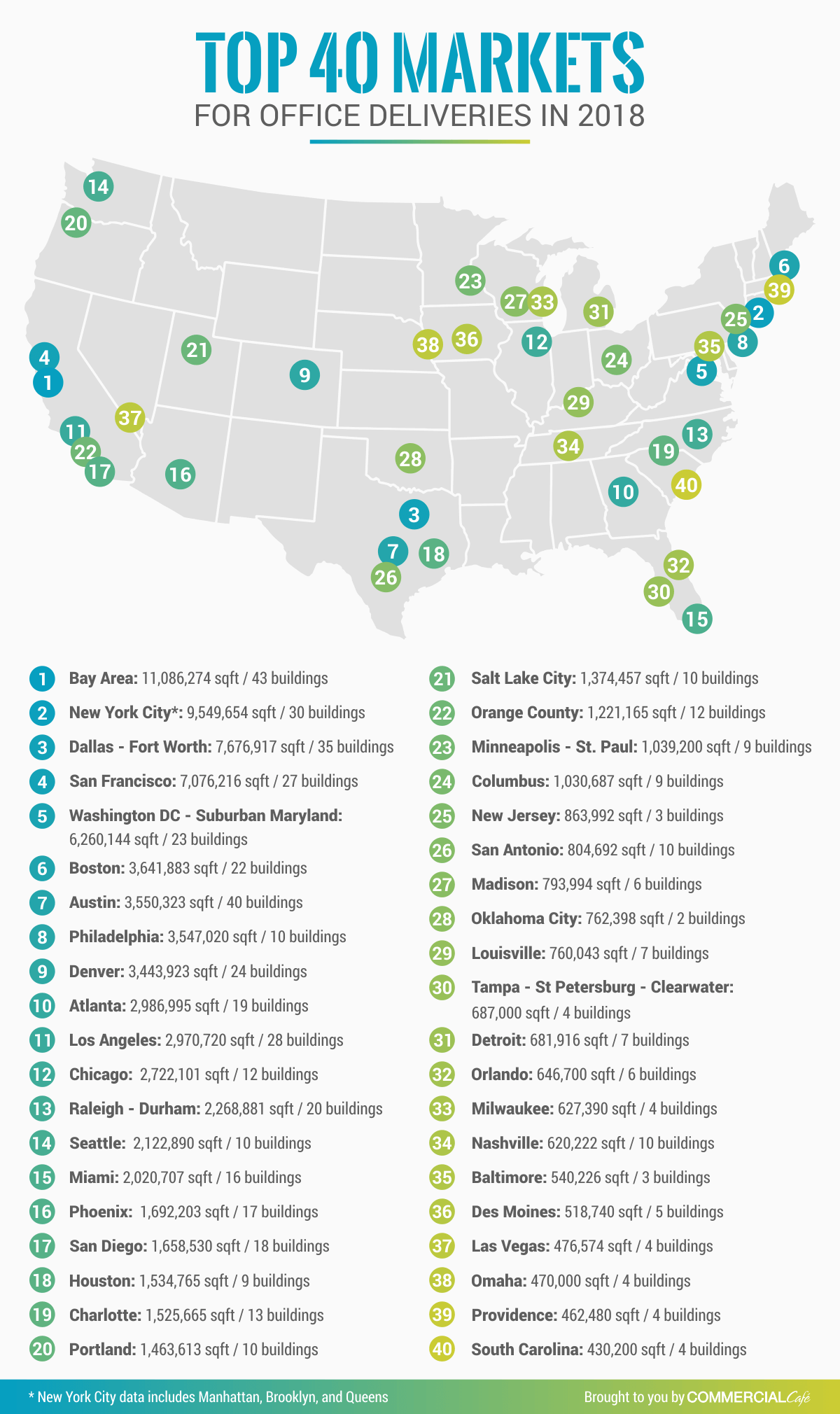 Silverstein Properties Completes 3WTC, Largest H1 Office Delivery
Rising 80 stories, and encompassing 2.8 million square feet, 3 World Trade Center opened in June—almost exactly 17 years after Silverstein Properties famously purchased the World Trade Center site for $3.2 billion, in what was the largest real estate transaction in NYC history at the time. Lifelong New Yorker Larry Silverstein established a lasting legacy by persistently working to rebuild the World Trade Center complex after 9/11. 3 WTC is the second-to-last tower to open on the site. The developer estimates that the 2 WTC tower, and the Ronald O. Perelman Performing Arts Center—the last two remaining elements—should be completed by 2023.
JP Morgan Chase's new regional headquarters in Plano opened in January. The 1 million-square-foot campus is 75% wind-powered, and represents the first of a multi-phase corporate consolidation that aims to bring half of the firm's North Texas work force together by the end of 2019.
January also marked the completion of BOK Park Plaza at 499 Sheridan in Oklahoma City. The 27-story, 689,614-square-foot office tower is reportedly the first speculative office space built in Downtown Oklahoma City since 1984. Bank of Oklahoma's operations occupy the building's top four floors. OK City News also reported that Enable Midstream—a master limited partnership between CenterPoint Energy, OGE Energy, and ArcLight Capital—will vacate 22% of the space at Leadership Square in August 2019 and move into floors 15 through 20 in BOK Park Plaza.
Comcast Tech Center, Facebook MPK21 Meet H2 Deadline; Apple Park Still Loading
Philadelphia recently welcomed its new tallest building, the Comcast Technology Center. The 60-story, 1,555,803-square-foot office tower took four years to complete, and is one of several supertall structures developed in the nation's latest skyscraper building boom.
The Frank Gehry-designed Facebook Menlo Park campus expansion opened in July. Coming in at a cost of about $300 million, the building dubbed MPK 21 includes 512,900 square feet, can seat up to 3,000 employees, and is designed to enhance well-being, sporting elements like a 3.6-acre green roof complete with hundreds of trees and shrubs, a tiered botanical garden-style courtyard, and even a mini redwood forest.
Meanwhile, in Cupertino, roughly 9,000 trees dot the Apple Park campus landscape, employees began moving into the grand circular structure over a year ago, and the visitor center and Apple Store across the street offers exclusive sneak-peek views to the public. In spite of all this, an official project completion announcement is yet to be made. Encompassing nearly 2.9 million square feet of office space, Apple's Ring Building is the largest project on track for delivery this year.
Growing on the broad shoulders of NYC's old shipbuilding industry, the modern Brooklyn Navy Yard development is contributing greatly to Brooklyn's emergence as a competitive office market. The 675,000-square-foot Dock 72 is just about ready to open its doors. WeWork is slated to occupy about a third of the Brooklyn waterfront creative office property, which boasts interiors and amenities that are specifically designed to attract the cream of the tech industry.
On the banks of NYC's other river, Manhattan's Hudson Yards megaproject pushes forward. If the 1.3 million-square-foot 55 Hudson Yards tower is completed on time—this October—it will be the third-largest office project to be delivered in H2 2018.
Methodology
We used Yardi Matrix data to analyze all U.S. office projects equal to or larger than 50,000 square feet, with completion dates scheduled for 2018. This includes both completed projects and properties that are currently under construction, but due for delivery before the end of the year. Our analysis, based on data recorded up until August 30th, 2018, includes buildings with a designated primary use type as "Office," and including at least 50% office space. The listed square footage reflects the total square footage of the property. Therefore, in case of mixed-use properties, this includes office, retail, multi-family, and other commercial space within the property. Because some properties include more than one building, the listed "No. of Buildings" represents the total number of buildings included in all properties considered. The New York City pipeline includes the boroughs of Brooklyn, Manhattan, and Queens. Additional research was conducted for data validation.