Atlanta, GA Economic Overview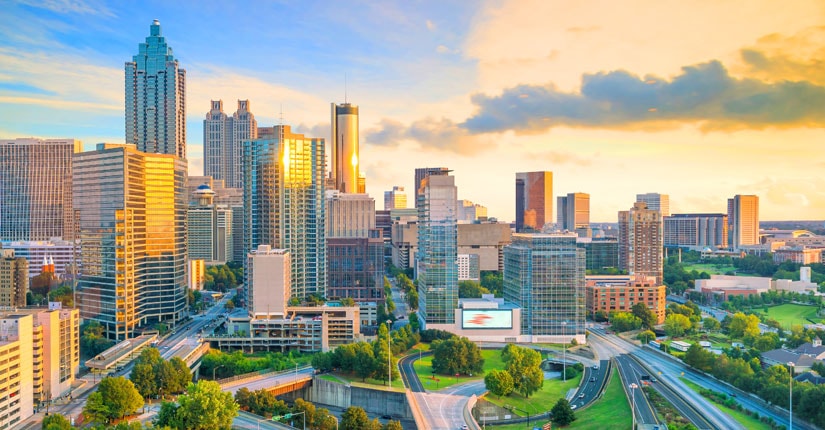 The City of Atlanta is the capital of Georgia and, at nearly 475,000 residents, it is also the largest city in the state. As the total metropolitan population is over 5.7 million people in the Atlanta-Sandy Springs-Roswell MSA, the area is the ninth-largest metro area in the U.S. and is known as the Shining Star of the South. With a GDP of $339 billion Atlanta is home to 16 Fortune 500 companies along with a diverse mix of businesses in the advanced manufacturing, technology, bio-science, clean-tech and auto industries. Industry of all types is attracted to the dynamic city, creating an almost unprecedented demand for commercial real estate in Atlanta.
The booming economy of Atlanta is recognized worldwide and has won numerous awards, including the #1 award as the city with the Lowest Cost of Doing Business (from KPMG), the #3 Best City for Young Entrepreneurs from Forbes, the #2 Best City for Millennials from Money.com, the #3 City for Global 500 Headquarters, and the #3 City for Fortune 500 Headquarters.
With a growing job base, the median household income of over $50,000 has grown by 10% over the previous year. Income growth in the Atlanta metropolitan area is expected to remain strong as companies continue to be attracted to the business-friendly city, a talented workforce with the third-lowest unionization rate in the country, and the unmatched domestic and global access that the city offers.
Atlanta, GA Commercial Real Estate Market
The continued growth of the Atlanta commercial real estate market is driven by the third-largest concentration of Fortune 500 companies and numerous world headquarter locations including Coca-Cola, Turner Broadcasting, Home Depot, UPS, Delta Airlines and AT&T Mobility.
Over 75% of all the Fortune 1000 companies do business in metro Atlanta and the area is home to nearly 1,300 multinational corporations. Other industries that play a major role in the commercial real estate market of Atlanta include logistics, media, information technology, and education.
There is nearly 770 million square feet of industrial space in all nine of Atlanta's submarkets, with flex space accounting for less than 8% of that figure. Despite new speculative product coming onto the market, industrial vacancy rates in Atlanta continue to decline as net absorption is nearing a record high. With very little industrial product in the pipeline, both rental rates and CAP rates for industrial space in Atlanta remain stable.
With nearly 223 million square feet of office inventory in Atlanta's 12 submarkets, office vacancy rates in Atlanta are holding steady despite the delivery of over 1.4 million square feet of new office product. Net absorption, asking rents, and CAP rates all increasing and all market indicators are expected to continue moving in the right directions. Class A office space in the Atlanta metro area accounts for just over 50% of the inventory total.
The retail market in Atlanta has been expanding significantly, with just under 167 million square feet of inventory and vacancy rates barely over 9%, the market is seeing near-historic positive absorption, new product delivery and the lowest vacancy rate in years. With nearly 3 million square feet of product in the pipeline, much of the new retail product is coming from the development of mixed-use projects in the northern suburbs of Atlanta including Decatur, Johns Creek, and Alpharetta.
Atlanta, GA Office Sales Volume
Data provided by Yardi Matrix, for properties larger than 50K SF, which sold at over $5M.
Atlanta, GA Office Transactions
Data provided by Yardi Matrix, for properties larger than 50K SF, which sold at over $5M.
Atlanta, GA Commercial Inventory Breakdown
Office Spaces
Total: 147,195,479 SF
By square footage range:
50k to 100k SF: 10,200,743 SF / 6.93% of total office
100k to 500k SF: 80,214,641 SF / 54.5% of total office
500k to 1M SF: 33,971,089 SF / 23.08% of total office
&gt 1M SF: 22,809,006 SF / 15.5% of total office
By class:
Class A+: 12,557,460 SF / 8.53% of total office
Class A: 88,612,791 SF / 60.2% of total office
Class B: 20,170,669 SF / 13.7% of total office
Class C: 824,691 SF / 0.56% of total office
Industrial
Total: 86,769,396 SF
Data provided by Yardi Matrix, properties over 50k SF
By square footage range:
50k to 100k SF: 3,671,972 SF / 4.23% of total industrial
100k to 500k SF: 62,958,693 SF / 72.56% of total industrial
500k to 1M SF: 15,686,231 SF / 18.08% of total industrial
&gt 1M SF: 4,452,500 SF / 5.13% of total industrial
By class:
Class A: 30,451,227 SF / 35.09% of total industrial
Class B: 49,828,882 SF / 57.43% of total industrial
Class C: 5,262,301 SF / 6.06% of total industrial
Employment in Atlanta, GA
With a cost of living that is 17% below the national average, both employers and employees are attracted to the job market in Atlanta. Nearly 42% of the labor force works in management, education and training, business and financial operations, and sales. Major employers in Atlanta include Coca-Cola, Delta Air Lines, SunTrust Bank, and CNN.
Education in Atlanta, GA
The Atlanta Public School District operates the 50 primary schools, 15 middle schools, and 21 high schools providing education to nearly 55,000 students. There are also a number of charter schools, private schools and non-traditional schools in Atlanta, including the West End Academy and the New School of Atlanta.
With over 30 colleges and universities in Atlanta, nearly 35% of the residents in the city hold a bachelor's degree or higher. The Georgia Institute of Technology is one of the most prominent universities in Atlanta, along with Georgia State University and the private Emory University.
Commuting Time in Atlanta, GA
Residents in Atlanta have a commute time of just under 24 minutes each day, with over 2% of the workforce having a super commute of 90 minutes or more. Public transit in Atlanta is a popular commuting choice, with over 10% of the work week commuters choosing this route, while almost 8% take advantage of working at home.
Over 80% of the population of the U.S. can be reached with just two hours of flight time from Atlanta, and more than 40% of the country's manufacturing and distribution industries are within a 500 mile radius of Atlanta.
Three interstate freeways radiate from Atlanta - I-20 runs east-west, I-75 runs northwest-southeast, and I-85 runs northeast-southwest;
Buses, heavy rail, light rail and street cars are all part of the public mass transit system in Atlanta, with the city's subway system being the eighth-busiest in the U.S;
Freight rail service in Atlanta is provided by both Norfolk Southern and CSK railroads;
Hartsfield-Jackson Atlanta International Airport is home to Delta Air Line's largest hub, making it the busiest airport in the world.
Atlanta Demographics
Population
Total Population448,901
Male Population(49.3 %) 221,101
Female Population(50.7 %) 227,800
Median Age33.40
Income/Financial
Average Household Income$84,886
Median Household Income$47,527
Median Income Under 25$19,590
Median Income 25-44$58,466
Median Income 45-64$51,250
Median Income Over 65$29,274
News
The sustained momentum experienced by the Atlanta office market in 2015 and 2016 led the quarterly dollar volume to occasionally exceed the $1 billion mark, peaking at $1.7 billion in Q4 2015 and Q4 2016. What followed was a more tempered 2017, during which major investment sales, although still...
Private University Moves to Century-Old Atlanta Office Tower
April 30, 2018
Herzing University, a private non-profit institute, will move its Atlanta, Ga., campus to the iconic Hurt Building, one of the nation's earliest skyscrapers.
CommercialCafé is your first and only stop when it comes to commercial real estate leasings in Atlanta, GA. Search through our extensive selection of commercial properties for lease with current space availability in the area ranging between 7378 square feet and 245087 square feet. Discover the right property from our 2540 listings by using our advanced search function, which includes search by property type, space availability, management company, lease rates, and more.