Since 2002 West Seattle Coworking has been one of the few full scale coworking spaces in the area. We offer phone rooms, shared and private office space, meeting and conference rooms rentals, and much more in the heart of West Seattle. Both of our locations are close to shops and cafes and are 100% independent and owned and managed by a local West Seattle family.
Available Workspaces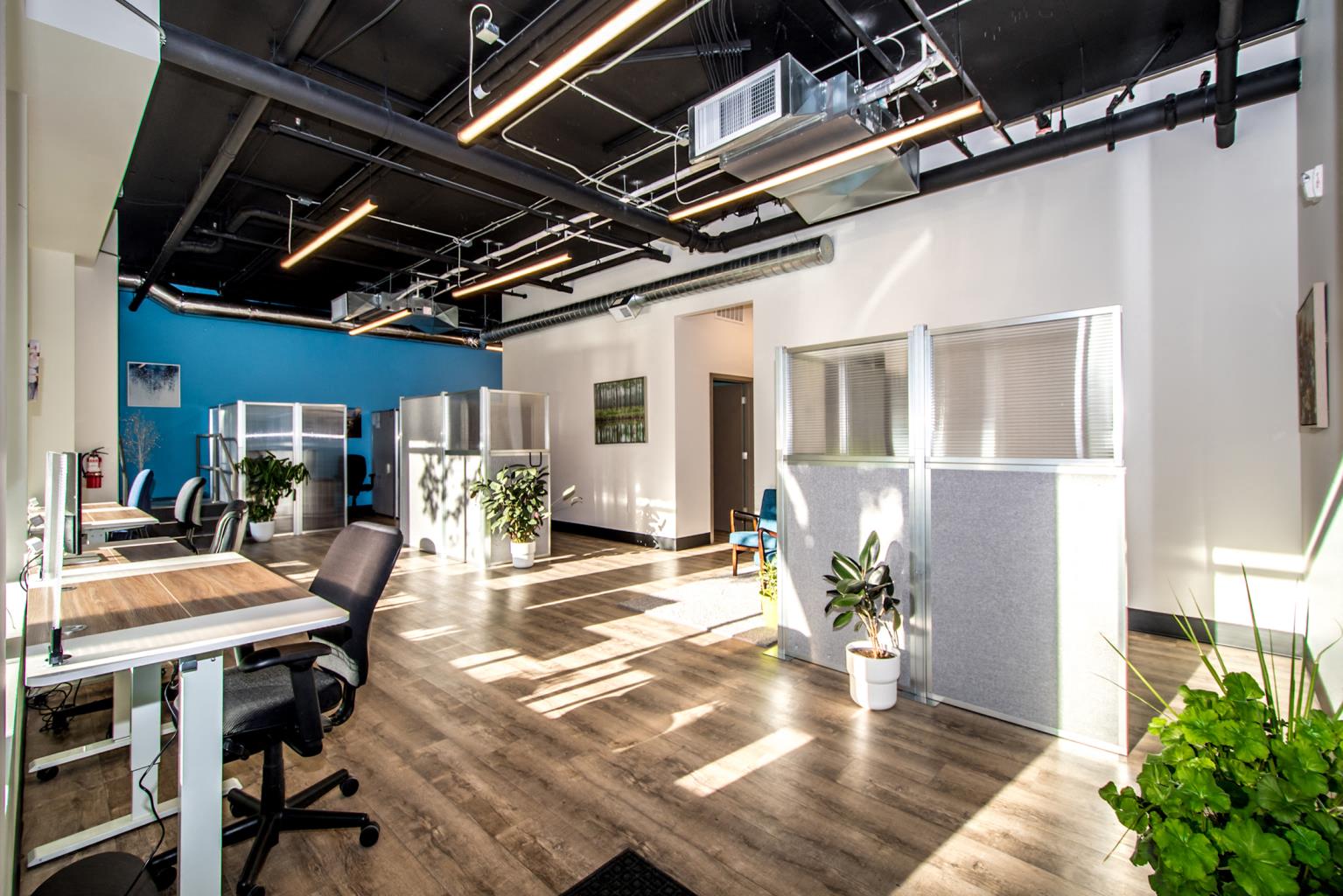 Want to reserve space at this property?
Reach out now for details on services and availability.
Amenities
Caffeine zone
Complimentary coffee & tea
Equipment
Printer
Projector
TV/Monitor
White boards
Facilities
Bike storage
Parking
Privacy booths
Receptionist/Secretarial services
Window view
Food & Bev
Catering
Free water
Hours of Operation
Sunday, Monday, Tuesday, Wednesday, Thursday, Friday, Saturday: 24/7
Monday
24/7
Tuesday
24/7
Wednesday
24/7
Thursday
24/7
Friday
24/7
Saturday
24/7
Sunday
24/7
Getting Around
Walk Score ®

79/100

Very Walkable

Transit Score ®

55/100

Good Transit

Bike Score ®

52/100

Bikeable
Location
City

Seattle, WA

Neighborhood

Roxhill

Zip Code

98126
Points of Interest
Fauntleroy

0.95 miles

Vashon Island

4.14 miles

Rainier Beach

4.53 miles

Othello

4.56 miles

SODO

4.70 miles

Columbia City

4.70 miles

Beacon Hill

4.98 miles

Mount Baker

5.27 miles

Stadium

5.31 miles

Occidental Mall

5.72 miles
7-Eleven

0.08 miles

76

0.41 miles

Shell

0.47 miles

Safeway

0.51 miles

Chevron

0.85 miles

76

1.26 miles

Arco

1.28 miles

Spencer's Automotive and Shell Station

1.47 miles

Shell

1.59 miles

Shell

2.02 miles
Olsen-Myers Way Park & Ride

1.87 miles

South Parking Lot

1.99 miles

Visitor Parking

2.06 miles

North Parking Lot

2.27 miles

GarageHop

2.91 miles

Lot 9-A

3.41 miles

Moon Date

3.57 miles

Lot 9-1

3.63 miles

Lot 9-B

3.76 miles

Main Parking Lot

3.77 miles
The Grove

2.74 miles

Aero Motel

2.90 miles

Ontario Hotel

4.04 miles

Columbia Hotel

4.94 miles

Ramada Inn

5.25 miles

Econo Lodge Seatac Airport

5.26 miles

Silver Cloud Hotel

5.29 miles

Jet Inn Motel

5.35 miles

Knight Inn

5.38 miles

Days Inn - Seattle South/Tukwila

5.59 miles
A Pizza Mart

0.29 miles

Taco Del Mar

0.43 miles

Giannoni's Pizza

0.44 miles

Wingstop

0.45 miles

McDonald's

0.47 miles

Sub Shop

0.51 miles

Toshi's Teriyaki

0.51 miles

Vatsana Thai Restaurant

0.51 miles

El Camion

0.65 miles

Endolyne Joe's

0.67 miles
Calvary Luthern School

0.33 miles

Roxhill Elementary School

0.38 miles

Explorer West Middle School

0.67 miles

Chief Sealth International High School

0.72 miles

Brighton Elementary School

0.76 miles

Learning Way School

0.76 miles

Denny International Middle School

0.77 miles

Holy Family School

0.86 miles

Shorewood Christian School

0.86 miles

Arbor Heights Elementary School

0.86 miles
West Seattle Montessori School

1.70 miles

Ages in Stages Childcare

1.72 miles

Child Care Center

1.97 miles

Childhaven - Eli Creekmore Memorial Branch

2.45 miles

Europa Kids International Preschool

2.71 miles

Bright Horizons

2.77 miles

Kid's Country

3.63 miles

From Roots to Wings Early Childhood Development Center

3.77 miles

Seattle Early Learning Center

4.22 miles

Seattle Early Learning Center

4.28 miles
Frequently Asked Questions
How much does coworking space cost at West Seattle Coworking 9030 35th Avenue SW?
You will find the price varies depending on what membership option you choose out of the ones that are currently available. At West Seattle Coworking 9030 35th Avenue SW, the lowest priced available workspace is Meeting Room, which starts at $45/hour. Open Desk Coworking rates start at $29/day. The cost for Virtual Office starts at $49/month.
What coworking memberships does West Seattle Coworking 9030 35th Avenue SW offer?
Workspace and membership options currently available here include: Open Desk Coworking; Meeting Room; Private Office and Virtual Office. You can contact West Seattle Coworking 9030 35th Avenue SW to find out more about occupant capacity, upcoming availabilities or other opportunities.
What amenities are available at West Seattle Coworking 9030 35th Avenue SW?
Here, you will find some of the most appreciated coworking space amenities in the city, such as Receptionist/Secretarial services, High-speed wifi and Parking. It is important to know what amenities are a must for you to be productive, as well as which amenities would be a "nice to have access to," so that you can also be comfortable during your work time. Check the listing page for details on what this coworking space offers in terms of practical work needs, workspace types, services, and perks. For any additional information on amenities or regarding aspects like noise level, dress code, and community characteristics, contact the coworking community for more details, to book a test day membership, or set up a visit.
Is West Seattle Coworking 9030 35th Avenue SW located in a good area?
West Seattle Coworking 9030 35th Avenue SW is located at 9030 35th Avenue Southwest in the Roxhill neighborhood , in zip code 98126. The location description details on this page will give you an idea of what essential amenities you can find nearby, as well as how the location is rated in terms of walkability, bike-friendly infrastructure, or public transit. See how close you can find the nearest public transportation stop, whether there are parking facilities in the area, restaurants or other dining establishments, as well as hotels, motels, or other accommodation. If you are a working parent looking for coworking space with convenient access to childcare, you can also find more information on whether there are options in the area, as well as how far or near they are located.

There are 1 public transportation stops within 1 mile of West Seattle Coworking 9030 35th Avenue SW. If you are driving here, you should know the property does not have parking as a common area amenity. Other amenities within 1 mile of this location include 10 educational institutions, 10 restaurants or other dining establishment(s).
West Seattle Coworking
West Seattle Coworking
(206) 751-6566