Prior to the pandemic, remote working was more of a perk for corner-office types, grinders who proved themselves, creatives and freelancers. In fact, since the industrial revolution, the only occupations that worked from home with any sort of regularity were farmers and those in creative occupations, like writers, painters and sculptors. Even the post-World War II era saw the invention of multi-level marketing, which allowed women to put their skills to work selling products out of their homes.
Nowadays, we live in a completely different world — one that seems to be changing by the day. A year and half after the onset of the pandemic — and subsequent transition to working from home for those who could — 72% of white-collar workers are still working from home, according to a May 2021 Gallup poll. Granted, this percentage is likely to fall as the virus and its variants subside and vaccination rates increase. But, will we go back to the pre-pandemic world where working from home was a scarcity? Or, will we find a new happy medium?
For those who find themselves in a position to work from home full-time indefinitely, the country — indeed, the world — is open to them. Whether it's the big city, out in the suburbs, the rural back roads, the beach or the mountains, it doesn't matter. They can work from anywhere. However, not all places are created equal with regards to what's necessary to work from home. For instance, a great internet connection is essential. Amenities such as restaurants and grocery stores nearby are also wonderful to have because cooking or ordering delivery are the best lunch options. Even local flexible coworking offices come in handy when you need a change of scenery and the local café is too busy to hold Zoom meetings.
So, we created a list of the top 20 cities for digital nomads and those who work from home full-time. Which cities have the best internet speeds? Which have the best assortments of restaurants? Which are more affordable and have low crime rates? Keep reading to find out or jump to the end to check out our methodology.
Valley of the Sun a Top Location for Remote Workers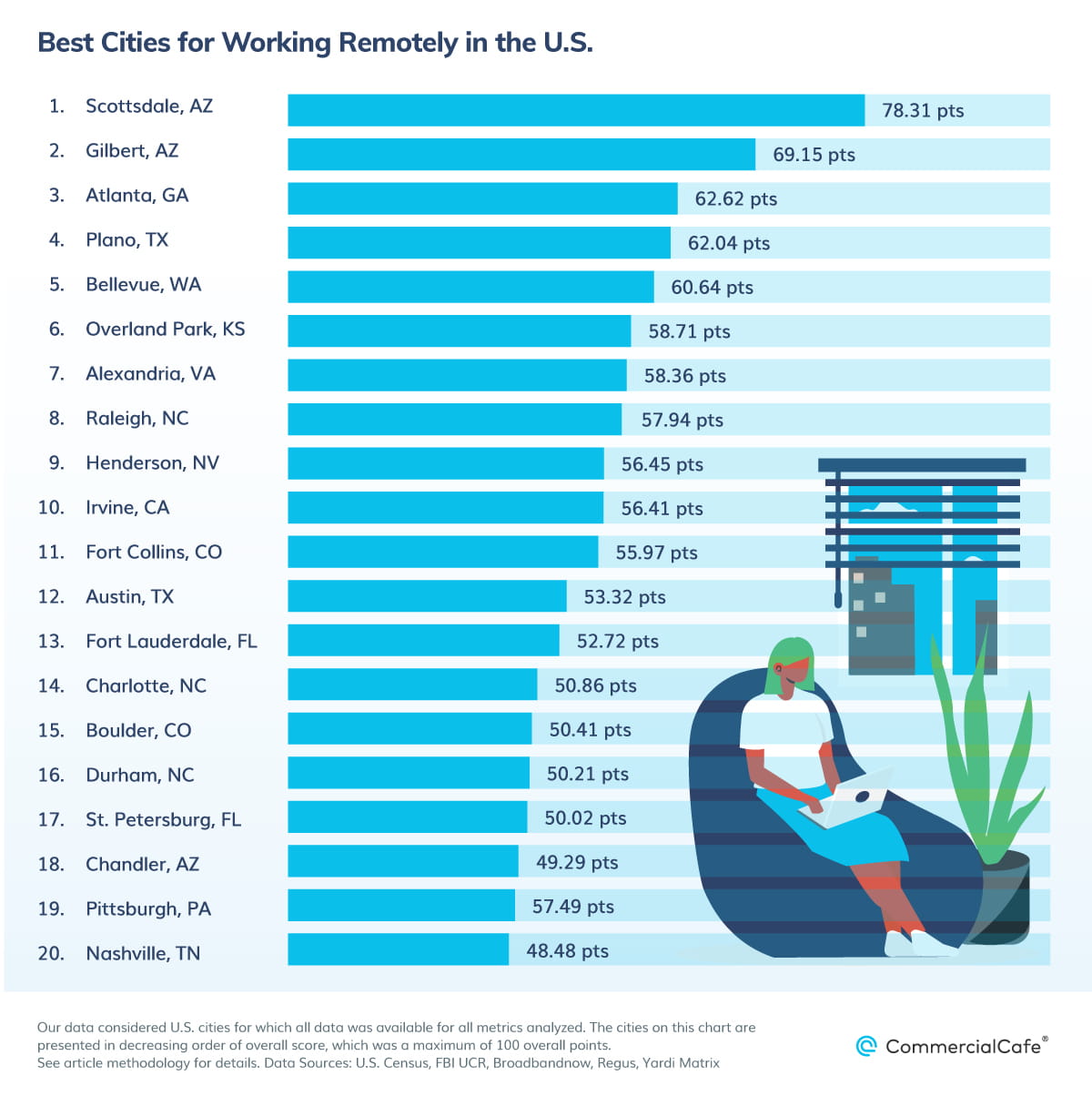 The Phoenix Valley is a top choice for those working from home. Scottsdale and Gilbert hold the first and second spots on our list, respectively, with Chandler coming it at #18. There's a lot to be desired in these cities, too – 320 days of sun per year, exceptional amenities and no humidity – add in the proximity to SoCal and Las Vegas, and you have yourself the definition of "sweet spot." Plus, it also has one of the highest median earning averages on our list at $60,600.
According to the 2019 census, more than 11% of the total workforce in Scottsdale was working from home at the time, a number that more than doubled in just four years. Meanwhile, more than 14% of Gilbert's workforce worked from home that same year, an increase of 30% between 2015 and 2019. Chandler, on the other hand, hasn't seen the growth in remote work to the same extent that its neighbors have, with just 5.8% of the city's workforce working from home regularly, up only 2% since 2015. If anything, this quiet, family-friendly Phoenix suburb is primed for future work-from-home needs.

Additionally, all three cities also scored fairly high on our Remote Work Friendliness Index, which takes into account the speed of the internet, how many professional Phoenix offices for rent are available per capita, how many restaurants are available for delivery, home size and average monthly housing costs. For this metric, Scottsdale scored 63 out of 100 points, behind only Atlanta. Gilbert came in with 55.6 points and Chandler earned 46.7 points.
Part of the reason these Arizona cities scored so high on our list overall was that they also scored high for quality of life, as well — between 85 and 90 points each. Our Life Quality Index measures aspects such as crime rate, education quality, average housing value and unemployment. Indeed, all three cities report lower crime rates overall; great schools and jobs; and housing markets that are on fire.
Working from Home with Big-City Vibes
Digital nomads are environment chameleons, and not everyone wants to work from the 'burbs or the beach (is the beach even practical long-term?). To that end, the energy of a larger city is a serious draw for many digital nomads — especially younger workers who are thirsty for opportunities to network and mingle.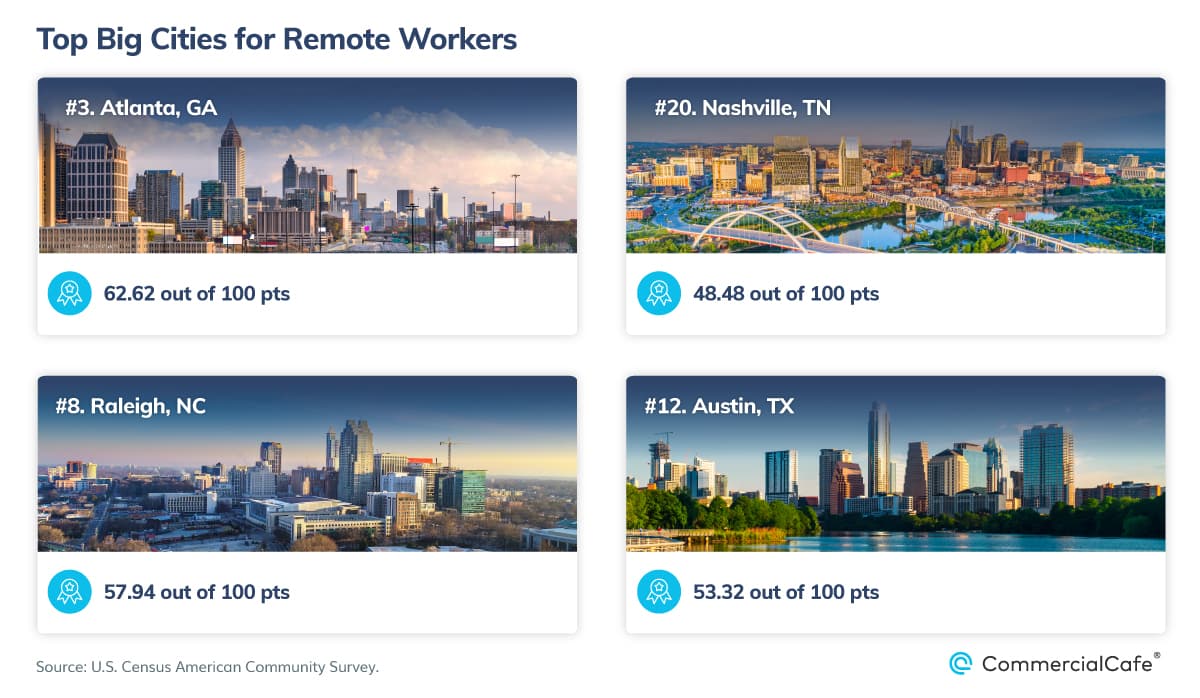 At #3 on our list overall, Atlanta is the top city for remote working in cities with more than 300,000 residents. More than 4% of Atlanta's workforce was working from home in 2019, an increase of 38% in four years. It also scored the highest in our Remote Work Friendliness Index. More precisely, the city scored 67.3 points, highlighting Atlanta's office availability, fast internet, low housing costs, and thriving social and entertainment scene.
Meanwhile, Nashville may be #20 on our list, but it likely won't be for long: In 2019, 6.2% of the city's workforce was working from home — representing a whopping 113% increase in just four years. Here, the pandemic — combined with the quality of life in Nashville — could cause the number of digital nomads (and other people working from home) to continue to skyrocket.
Further east, Raleigh, N.C. enters our list at the #8 spot with 7.7% of its workforce working remotely — up 43% in four years. It's worth noting that the city's population is nearly half a million, so those numbers are pretty impressive. The quality of life here approaches that of Scottsdale and Gilbert: Low crime, great schools and low unemployment.
Austin, Texas, comes in at #12 on our list of best cities for working remotely. Nearly 8% of Austin's 1 million residents were working from home in 2019, an increase of a whopping 51% in just four years. Currently, the city is a magnet for tech companies, with major players like Apple, Google and Tesla opening up regional offices in Austin. With that kind of clout, you know the amenities and internet speeds are legit.
Looking for more remote-friendly big cities? Check out Henderson, Nev. (#9), Charlotte, N.C. (#14) and Pittsburgh (#19).
Suburbs Naturally Draw Work-from-Home Talent
Not to be outdone, the suburbs were made for working from home — quieter than the city, but still close enough to order takeout. And, no matter the climate, prime suburban cities exist to fit everyone's preferences, from St. Petersburg, Fla., (#17) to Bellevue, Wash., (#5) and everywhere in between.
Check out the table below to see how the top 20 cities for remote workers scored by each metric.
Check out the table below to see the actual values of each metric for the top 20 cities for remote workers.
Methodology
We based scores for the following eight metrics on values made available by the 2019 U.S. Census; Census County Business Patterns Survey 2019; the FBI Uniformed Criminal Report from 2018 and 2019; Broadbandnow 2019; Regus; and Yardi Matrix.
The Remote Friendliness Index was a combination of average internet speed; private offices per 100,000 residents; number of limited- and full-service restaurants per capita; median monthly housing costs; and average multifamily unit size for properties with at least 50 units. The maximum weight awarded was 35 points.
Median earnings in the last 12 months (in 2019 inflation-adjusted dollars) for the population aged 25 years and older. The maximum weight for this metric was 20 points.
The Life Quality Index was a combination of crime rate (incidents per 100,000 people), education (residents with high school degree or higher), housing values and unemployment. The maximum weight for this metric was 20 points.
People working from home are defined as workers who are 16 years or older and do not commute. The maximum weight for this metric was 15 points.
Work-from-home growth was the difference in the "people working from home" metric from above between 2015 and 2019.
Explore top-notch shared office listings and find a coworking space that suits your needs with CommercialCafe.com!