Beyond serving the simple purpose of providing companies with office space, some office buildings also become world-famous cultural icons due to their unique design or remarkable history. From the enthusiasm of the first skyscrapers in the 1920s to the innovative futurism of today, famous office buildings have always represented an apex of modern architecture. But, which office buildings are the most popular?
To find out, we looked at the number of web visits to the Wikipedia pages of famous U.S. office buildings larger than 1 million square feet. The study is based on views since 2015, the earliest point where there is available data. So, without further ado, here are the nation's 10 most popular office buildings by Wikipedia page views.

10. 40 Wall St. (The Trump Building)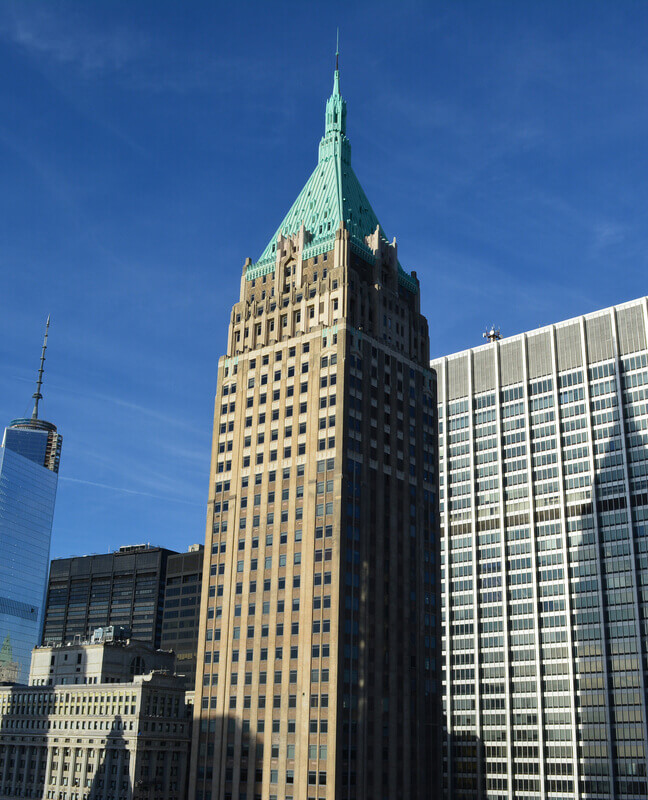 Coming in at #10 on our list is 40 Wall St. (also known today as the Trump Building and as the Bank of Manhattan Trust Building in its early days) is a testament of Manhattan's first skyscraper frenzy in the late 1920s. Combining elements of Art Deco with neo-Gothic architecture, 40 Wall St. has a distinctive look due to its buff brick façade and pyramidal roof.
This property's role in the Manhattan skyscraper race is often forgotten because it was surpassed by both the Chrysler Building and the Empire State Building in height. However, its eclectic style and relevance even in the present day earned it 915,000 Wikipedia page views in the last five years.
9. 875 N. Michigan Ave. (John Hancock Center)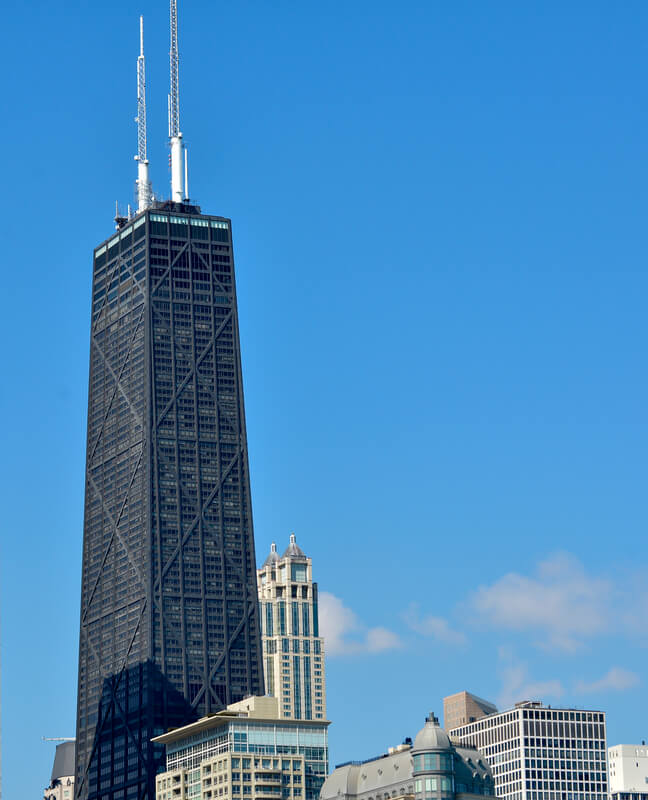 The 1,128-foot-tall 875 N. Michigan Ave., with its black steel beams and slightly tapered shape, took the ninth spot on our list with just over 1 million Wikipedia page views since 2015. The building has been officially referred to by its address since 2018, although many still know it by its previous name — the John Hancock Center.
Situated a mere two blocks from Lake Michigan, this office building epitomizes the peak of competition between the Chicago office market and Manhattan. In fact, upon its completion in 1968, it was the world's second-tallest building, following only the Empire State Building.
8. 666 Fifth Ave.
This property in Midtown Manhattan was completed in 1957, and has been viewed on Wikipedia more than 1.2 million times since 2015. The building at 666 Fifth Ave. was previously owned by Tishman Speyer until it was sold for $1.8 billion in 2007 to Kushner Properties' to become its flagship office building. At the time, it was the largest real estate deal in New York history.
Then, in 2018, Kushner signed a full leasehold agreement for the building with Brookfield Properties — with nearly a century of lease being paid in advance. And now, renovation plans are in place totaling an estimated $400 million, including renaming the building to 660 Fifth Ave.
7. Salesforce Tower
View this post on Instagram
At the heart of downtown San Francisco, the Salesforce Tower — known until 2014 as the Transbay Tower — gathered 1.2 million page views on Wikipedia. Built between 2013 and 2018, it added 1.4 million square feet of space to the San Francisco office market.
Standing at 1,070 feet, the Salesforce Tower is San Francisco's tallest building. The property features an innovative shape with rounded edges that taper toward the top, and the 5.4-acre Salesforce Park is nearby.
6. Apple Park
View this post on Instagram
The best-ranking West Coast property in our top 10 is the corporate headquarters of tech giant Apple. Apple Park is a massive, neo-futurist "groundscraper" — an office building with a large square footage that extends horizontally rather than vertically.
Opened in 2017, the facility totals 2.8 million square feet of office space in the heart of Silicon Valley. However, Apple Park feels less like an office building and more like a nature reserve. For example, it features extensive green spaces and includes thousands of trees that are present in the local Cupertino wildlife. It's also entirely powered by renewable energy.
5. 7 World Trade Center
View this post on Instagram
The rebuilt 7 World Trade Center was completed in 2006, boasting 52 stories; a total height of 743 feet; a trapezoid-shaped footprint; and a dark blue, glass façade.
Designed by Skidmore, Owings & Merrill, this hallmark of modern architecture was the first office tower to reopen in the rebuilt WTC complex. It's also an early example of green skyscraper design, as 7 WTC was the first building in all of New York City to receive a LEED Gold rating.
4. The Chrysler Building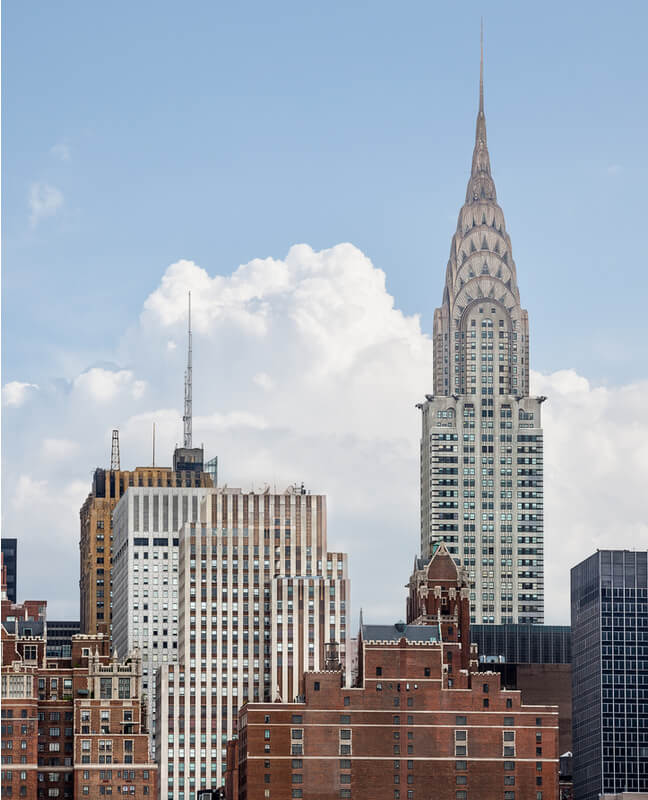 A famous Art Deco building in Manhattan, the Chrysler Building occupies the fourth spot on our list with 3.1 million Wikipedia page views since 2015.
Situated in Turtle Bay, the Chrysler Building is the product of the 1930s' New York skyscraper race. In particular, the building's unique spire brought its total height to 1,047 feet when it was completed one year prior to the completion of the Empire State Building. This made the Chrysler Building the world's tallest for 11 months and the world's first supertall building. Even today, it still holds the title for the world's tallest brick building with a steel framework.
3. Willis Tower
View this post on Instagram
An icon of the Chicago skyline, the Willis Tower's 4.6 million page views make it the third-most famous office building on Wikipedia. Formerly known as the Sears Tower until it was rebranded in 2009, it held the title of the tallest building in the world (by height of architectural elements) from 1973 until 1998. In fact, the Willis Tower is still the world's tallest steel-construction building — all buildings taller than it use concrete construction or composite materials.
Designed by Skidmore, Owings & Merrill — the architecture company that would go on to design One World Trade Center and the Burj Khalifa — it features a modernist design, and is composed of nine square tubes arranged in a three-by-three pattern that function structurally as if they were separate buildings. This gives the Willis Tower its distinctive rectangular, stepped appearance, while also allowing the potential addition of more floors in the future.
2. Empire State Building
View this post on Instagram
The Empire State Building came in second with 8.4 million Wikipedia page views — the equivalent of more than 4,500 per day. The iconic building's Art Deco façade emanates optimism and progress, encapsulating the glitz of New York City in the Roaring Twenties.
The Empire State Building was the world's tallest building for almost four decades from its completion in 1931 until 1970, when it was overtaken by the World Trade Center, but it stands as a landmark of New York City and the U.S. as a whole. And, in addition to its status as a national cultural icon and a major tourist attraction, it's also still a desirable location for office space.
1. One World Trade Center
View this post on Instagram
With more than 9.1 million views — or 4,890 per day on average — the office building with the most-visited Wikipedia page is One World Trade Center. If the Empire State Building is representative of Manhattan's early history, then One World Trade Center is the firemost symbol of modern New York City's resilience. As the main building of the rebuilt World Trade Center (WTC) complex, One WTC is the tallest building in the Western Hemisphere and the sixth-tallest in the world. At 1,776 feet, its height coincides with the year the Declaration of Independence was signed.
Final plans for the supertall office building were unveiled in 2005, and it was initially dubbed "Freedom Tower." Now, with its triangular glass facades, tapered shape and octagonal midsection, it stands as a representation of the contemporary style in skyscraper architecture. And, besides being an ideal location in Manhattan's Financial District, its state-of-the-art features — such as elevators that can go from the ground to the top floor in one minute, as well as a variety of green amenities — ensured that world-class tenants lined up to occupy its 3.1 million square feet of Manhattan office space.