Pittsburgh, PA Economic Overview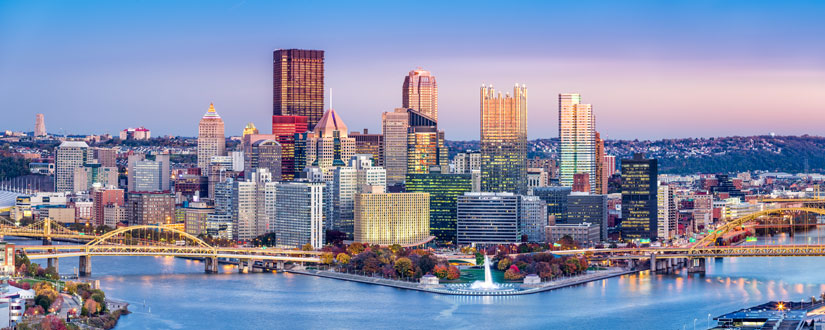 Located at the confluence of the Ohio, Monongahela, and Allegheny Rivers in western Pennsylvania, Pittsburgh is a city with strong economic foundations, a history of healthy economic competition, and a location fit for any business. With a metropolitan population of over 2 million, the city is no longer operating solely on industrial manufacturing, but has begun to diversify over the past decades. With more expansion plans in the works, and more high-tech companies setting up shop in the area, the Pittsburgh commercial real estate market is picking up steam.
Pittsburgh used to be one of the largest steel manufacturers in the world, but with the deindustrialization that occurred in the 1980s, Pittsburgh's economy moved away from manufacturing, towards other economic activities. Driven now by financial corporations, major tech and defense companies, and a large number of universities, Pittsburgh's economy is slowly becoming a leader in the economic activities that are of high importance in the twenty-first century. In fact, with the preeminence of research universities in the area—notably the University of Pittsburgh and Carnegie Mellon—Pittsburgh's economy has become driven by high tech firms, robotics, nuclear engineering, and biomedical technology. Once a city of steel, it is emerging as one of the country's most vibrant tech centers.
Pittsburgh, PA Commercial Real Estate Market
Many of Pittsburgh's factories and industrial locations that were utilized prior to the 1980s deindustrialization are now being occupied by new companies. In turn, many unused spaces are being re-developed for future use by companies looking relocate to the region. In other areas where industrial spaces weren't typically found—downtown Pittsburgh for example—vacancy for offices has become almost zero, with established companies maintaining offices in the area and new companies paying top dollar to buy up space.
Downtown Pittsburgh, a.k.a. the "Golden Triangle," or the Pittsburgh Central Business District, is home to a pretty entrenched office market. PNC Bank, U.S. Steel, Heinz, and PPG all operate large scale office buildings here, but these offices have been occupied by the same companies for a long time and they are unlikely to leave anytime soon. This has led to Downtown Pittsburgh having the second-lowest downtown vacancy rate in the U.S.
The Lawrenceville commercial real estate market encompasses some of the most high-end retail and office spaces in the city. Three neighborhoods— Upper Lawrenceville, Central Lawrenceville, and Lower Lawrenceville—make up the area. In 2009, the Children's Hospital of Pittsburgh of UPMC opened a facility in Lawrenceville that has attracted more business to the area, while retail stores have also taken up shop in the neighborhood, to serve to the younger crowd that has moved in over the past years.
The Oakland commercial real estate market is expansive. Home to the two largest universities in the area, the University of Pittsburgh and Carnegie Mellon, Oakland is also the site of major museums, hospitals, and cultural centers. Office and retail space has maintained competition for businesses aiming to open in the area to offer services to students, professionals, and tourists that flock to the area. With Oakland being comprised of four neighborhoods— North Oakland, Central Oakland, South Oaklandq, and West Oakland—there is plenty of different opportunities to choose from.
Pittsburgh, Office Sales Volume
Data provided by Yardi Matrix, for properties larger than 50K SF, which sold at over $5M.
Pittsburgh, Office Transactions
Data provided by Yardi Matrix, for properties larger than 50K SF, which sold at over $5M.
Pittsburgh, PA Commercial Inventory Breakdown
Office Spaces
Total: 50,559,227 SF
By square footage range:
50k to 100k SF: 3,984,577 SF / 7.88% of total office
100k to 500k SF: 26,330,867 SF / 52.08% of total office
500k to 1M SF: 13,396,402 SF / 26.5% of total office
&gt 1M SF: 6,847,381 SF / 13.54% of total office
By class:
Class A: 25,285,650 SF / 50.01% of total office
Class B: 17,199,880 SF / 34.02% of total office
Class C: 446,000 SF / 0.88% of total office
Industrial
Total: 6,785,002 SF
Data provided by Yardi Matrix, properties over 50k SF
By square footage range:
50k to 100k SF: 462,303 SF / 6.81% of total industrial
100k to 500k SF: 5,762,699 SF / 84.93% of total industrial
500k to 1M SF: 560,000 SF / 8.25% of total industrial
By class:
Class B: 173,000 SF / 2.55% of total industrial
Employment in Pittsburgh, PA
According to the Pennsylvania Department of Labor and Industry's 3rd Quarter Report for 2016, the largest employers in the area are health care systems, universities, corporations, and government.
By far the largest employer is the University of Pittsburgh Medical Center and its subsidiaries, which employ 60,000 people in health, insurance, and financial sectors;
Allegheny Health Network employs close to 9,000;
The universities in the area also employ a large number. The University of Pittsburgh—distinct from UPMC—employs close to 13,000 people, while Carnegie Mellon employs 4,600;
Finally, corporate offices round out the top employers in the area. PNC and Giant Eagle are the two largest employers, with PNC employing close to 10,000 and Giant Eagle employing 8,000.
Education in Pittsburgh, PA
Pittsburgh is served by Pittsburgh Public Schools, which operates 62 elementary, middle, and high schools in the region. There are a number of private schools operated by religious and private organizations, as well.
Pittsburgh is well known for its universities. The University of Pittsburgh and Carnegie Mellon are two internationally recognized research institutions, but the area is also home to Duquesne University. Universities operating throughout the Pittsburgh metropolitan area include Carlow University, Chatham University, Point Park University, the Art Institute of Pittsburgh, as well as a number of religious institutions, most notably the Pittsburgh Theological Seminary and the Reformed Presbyterian Theological Seminary.
Commuting Time in Pittsburgh, PA
Pittsburgh's geographic location and specific history have contributed to the development of one of the most unique and comprehensive transportation infrastructures in the world. A literal "city of bridges," Pittsburgh has three more than Venice. Moreover, Pittsburgh boasts several highways, major roads, a light rail system, railroads, bicycle paths, and bus lines for public transportation.
With this amount of options, Pittsburgh's traffic is less severe than other cities of its size and complexity. Morning rush hour into major commercial centers—particularly downtown—can be tough on more popular roads, but traffic is mostly mild.
Pittsburgh Demographics
Population
Total Population305,928
Male Population(48.9 %) 149,461
Female Population(51.1 %) 156,467
Median Age33.20
Income/Financial
Average Household Income$62,357
Median Household Income$40,715
Median Income Under 25$19,098
Median Income 25-44$50,177
Median Income 45-64$49,943
Median Income Over 65$27,921
CommercialCafé is your first and only stop when it comes to commercial real estate leasings in Pittsburgh, PA. Search through our extensive selection of commercial properties for lease with current space availability in the area ranging between 17617 square feet and 17617 square feet. Discover the right property from our 212 listings by using our advanced search function, which includes search by property type, space availability, management company, lease rates, and more.