The Northeast is home to the country's largest megalopolis, comprising some of the most important economic and cultural centers in the U.S. One demographic trend that characterized the Northeastern U.S. in recent years is that of smaller metro areas winning residents through relocations, thanks in part to their affordability and suburban advantages. Meanwhile, the region's larger metros are losing out in metro-to-metro migration. Using the newest data on relocations between metros provided by the U.S. Census Bureau, we wanted to see which of the region's metros are growing the fastest through metro-to-metro migration.
Currently, nationwide metro-to-metro migration trends tend to favor select areas in the Sun Belt that attract residents from both coasts. However, there are also other population centers that are drawing movers in all regions. So, using data released by the U.S. Census Bureau, we set out to highlight which Northeastern metros are winning the most residents through metro-to-metro migration.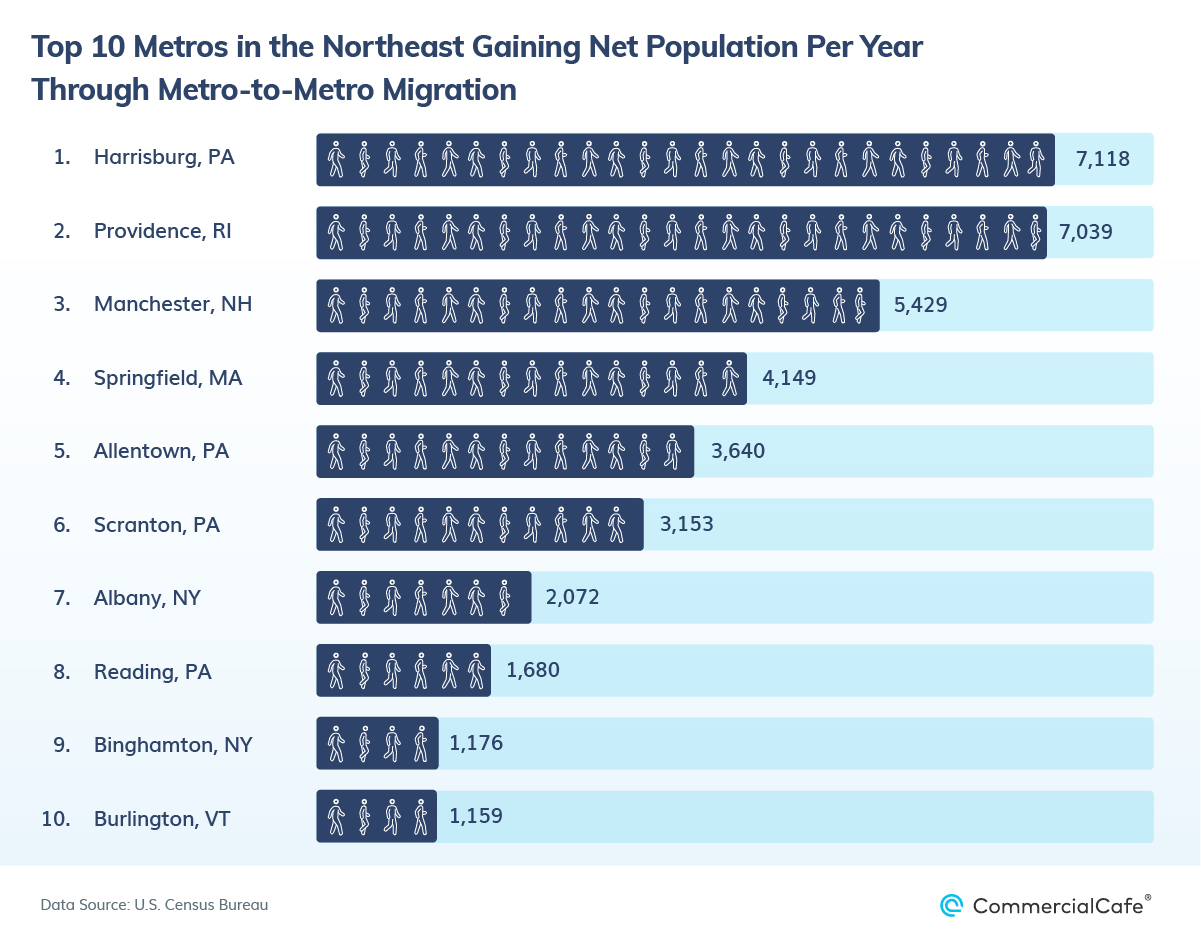 Overall, our study found that smaller-sized metro areas anchoring one of the Northeast's largest metros were the biggest winners in metro-to-metro migration trends. Such commuter towns and suburban areas attract residents from the high-density metros of which they are a satellite thanks to their lower costs of living and commuting opportunities. Of the Northeastern metros gaining the most residents from other metro areas, Providence, R.I., is the largest with 1.67 million residents as of 2020. The rest all had less than 1 million residents, highlighting smaller metros in the region as hotspots for relocations.
Furthermore, the Northeastern metros on our list are primarily drawing their influx of relocations from the large metro in their vicinity and from smaller metros in the same state — an opposite to national migration trends where the metros growing the fastest are drawing movers from several metros in different regions of the U.S.
#1 – Harrisburg, PA

The first of four Pennsylvania metros to make the list, Harrisburg inched ahead of the competition by winning out net population in exchanges with other metros in the state. In particular, the more than 2,000 yearly net residents gained from Philadelphia contributed greatly to Harrisburg's 7,118 yearly population growth from in-migration — although the growth of the metro did not primarily hinge on a single population source as is the case some of the following entries.
As Pennsylvania's state capital, the metro is enticing to prospective residents thanks to job opportunities in the state and federal government sector. But, other industries making use of office space in Harrisburg have also seen considerable growth amid the metro's push toward a more diversified economy.
#2 – Providence, RI

The largest metro area on our list and the most populous in Rhode Island, Providence made it to #2, thanks to the 7,039 yearly residents it gains from other metros.
Historically, Providence's economic background was centered around manufacturing, but it has since transitioned into a college town, and Providence office spaces are also seeing growing demand. As a result, the city enjoys a steady stream of educated young professionals to fill the workforce demand generated by the metro's robust healthcare, biomedicine and tech industries.
Here, the primary source of the influx of relocations is Boston, although New York City and neighboring Worcester, Mass., also provide the metro with new arrivals.
#3 – Manchester, NH
The #3 spot was taken up by another satellite of the Boston metro: Manchester, N.H. Manchester's population influx showcases trends similar to those of Providence, R.I. — a constant supply of Bostonians looking to relocate into a suburban area, coupled with a trickle of residents from other metros, such as NYC and Worcester, Mass. The metro gains 5,429 residents, on average, each year — or approximately 1.3% of its total population in 2020.
Notably, Manchester is attractive to movers due to its affordability — especially when compared to the metros from which it gains residents. The metro's business-friendly climate is another one of the primary reasons for its growth.
#4 – Springfield, MA

Around 100 miles southwest of Manchester, Springfield, Mass. also benefited from its proximity to Boston, reaching #4 with 4,149 residents gained per year from in-migration.
Springfield has similar advantages to the New England entries with its characteristic suburban feel and great affordability. However, the metro also boasts great walkability and bikeability. Plus, its historic spirit for innovation — granting it the moniker of "the City of Firsts" — is evident in the ongoing revitalization of the local economy and public spaces.
#5 – Allentown, PA
With a gain of 3,640 net residents yearly, Allentown, Penn., made it to the fifth spot on our list. Allentown is situated approximately 100 miles west of New York City — which is also its primary source of movers, compensating for the net population that the metro loses to nearby Philadelphia.
Besides its convenient location between NYC and Philly, Allentown's strong points include a booming service sector centered around the Center City neighborhood, as well as its picturesque — but relatively affordable — Victorian townhouses.
#6 – Scranton, PA
Keeping up with the theme of affordability in Pennsylvania, Scranton is our 6th entry in the top 10 Northeastern metros winning residents through in-migration. Situated to the north along I-476 from Allentown, Penn., Scranton won over residents from the previous entry, as well as from Philadelphia and New York City.
Here, the historic manufacturing industry still plays a big part in the city's economy, though healthcare and other jobs in the service sector are also available for residents looking to benefit from the metro's affordability and small-town atmosphere. Scranton is also experiencing a cultural boom, with younger residents being drawn to the city's walkable downtown that houses a growing number of venues and events.
#7 – Albany, NY
As the capital of the state of New York, Albany gained approximately 2,000 residents per year through in-migration, with its main contributor being the primary economic hub of the Northeast — New York City.
As a city rich in history, Albany is defined by a mix of tradition and innovation. Specifically, the metro's institutions of higher learning are highly sought-after, and its culture and nightlife are anything but stale. This — combined with its affordability and the growth of high-performance industries that make use of office space in Albany such as tech, finance and logistics — likely pushed the metro up among the possible destinations for New Yorkers who were looking to relocate.
#8 – Reading, PA

With 1,680 net residents gained per year, Reading, Penn., was an outlier on our list due to winning residents from more distant metros — such as New York City and Pittsburgh, Penn. — while also staying close to even or losing residents in population exchanges with nearby, in-state metros such as Philadelphia, Allentown and Harrisburg.
A popular hiking and biking destination thanks to its 125 miles of trails, Reading also attracts residents due to its affordability — which is especially noticeable in terms of housing costs — as well as job opportunities in manufacturing and healthcare.
#9 – Binghamton, NY

At #9, Binghamton, N.Y. gained an average of 1,176 residents per year from other metros, with the vast majority of new arrivals coming from New York City. With access to I-81, I-88, I-86 and several state routes, Binghamton is a significant logistical hub that promises suburban peace and quiet.
Moreover, the metro's innovative spirit is evident in the robust high-tech sector that drives employment and relocations into the metro alongside Binghamton University — one of the most important research universities in the Northeast.
#10 – Burlington, VT

Closing out the list was Burlington, Vt. — the only Green Mountain State entry in the top 10 — with a yearly population increase from metro-to-metro migration of 1,159.
A picturesque college town with classical architecture and a vibrant downtown, Burlington attracts residents from all over the East Coast, with Boston, NYC and Washington, D.C., being its top three sources of incoming relocations. The metro is also conscious of the environment, as the city of Burlington was one of the first in the U.S. to source all of its electricity from renewable sources.
What Metro-to-Metro Migration Trends Mean for New York City, Philadelphia and Boston
While the aforementioned metros were gaining residents, the large metros in the Northeast continued to lose population to destinations in Florida and other areas further south, but also to the metros in our top 10. In this way, the absence of the Northeast's large metros highlights the region as an outlier in metro-to-metro migration trends, because the metros winning the most residents at a national level are generally medium- or large-sized, with more than 1 million residents.
Meanwhile, New York City, Philadelphia and Boston are losing net residents to select metros in the Sun Belt or more affordable areas in their respective states. The result is that New York City loses almost 240,000 net residents per year through metro-to-metro migration, while Boston and Philadelphia are also losing 25,000 and 21,000 per year, respectively.
Yet, it should be noted that the number of net residents lost to other metros by the Northwest's largest urban centers is relatively minor in comparison to their total population — 1.2% in the case of NYC, 0.5% for Boston and 0.3% for Philadelphia. Additionally, these metros are experiencing overall population growth thanks to other factors such as birth rate and relocations from outside the U.S.
Overall, the entries in our top 10 highlight a trend of citizens already living in the Northeast relocating more affordable suburban areas, whether in the same region or in other parts of the country. And, although the effects of metro-to-metro migration alone may seem minor, they could potentially compound into long-term demographic shifts in the Northeast and the U.S. as a whole.
Methodology
We looked at migration between metropolitan statistical areas in the United States as determined by the U.S. Census Bureau, highlighting the 10 metros in the Northeastern U.S. that are gaining the most residents per year in this way. For the purposes of clarity and brevity, we used the common metro names in place of the official Census names for the metro areas.
Yearly net population gain is calculated by deducting the number of residents lost to other metros between 2015 and 2019 from the number of residents gained from other metros between 2015 and 2019.
Yearly percentage growth in residents from in-migration was calculated based on 2020 population figures.
Metro-to-metro migration estimates for 2015-2019 were released by the U.S. Census Bureau in September 2021.
Non-internal migration, as well as migration to or from places that are not part of a metropolitan area, were excluded.
For each of the top 10 metros, the top three sources for in-migration into the metro and the top three destinations for in-migration out of the metro were highlighted.