The degree to which we rely on information technology and habitual use of the internet has intensified during the coronavirus  pandemic. Specifically, one of the sectors that saw a spike in interest as a result of the pandemic is e-commerce, which was already more popular than ever thanks to innovations in supply line logistics and internet availability. Consumers were increasingly accustomed to e-commerce during the past few years, but the travel restrictions and health concerns associated with the coronavirus brought along a surge in online shopping.
The current situation is poised to force e-commerce to undergo a radical shift. So, to get a better understanding of the effects of the coronavirus outbreak on the online shopping habits of Americans, we compiled data from three different sources:
A nationwide survey that asked respondents about their online shopping habits before and after the epidemic
Spikes in online searches for certain keywords relevant to e-commerce, as observed through Google Trends.
Data on in-store and online retail sales provided by the U.S. Census Bureau.
Main Effects of Coronavirus on Online Shopping: More Frequent Purchases, Larger Budgets
For companies that offer e-commerce options, nothing could prepare them for the logistical effects of the COVID-19 outbreak. Waves of travel restrictions followed by social distancing measures have caused people to increasingly rely on the ability to order products online — therefore putting a strain on supply lines and delivery services. In particular, here are some of the key findings from our survey:
Increased demand for e-commerce: 83% of respondents said that they are now planning to purchase products online that they would normally buy in-store.
More frequent online purchases: Of the respondents who were making online purchases once a month prior to the pandemic, 56% said they were now making them once a week.
Bigger budgets for online spending: Previously, 54% of respondents spent between $100 and $500 online per month. Of those, more than 30% planned to increase their monthly online budgets to $500 to $1,000.
Notably, our survey also found that Americans are already planning to order online more often than they did before. For example, while 45% of our respondents said they shopped online once a week before the COVID-19 outbreak, that figure increased to 59% as a result of the current situation. And, while only 6% of people made daily online purchases before the pandemic, more than 10% do so now.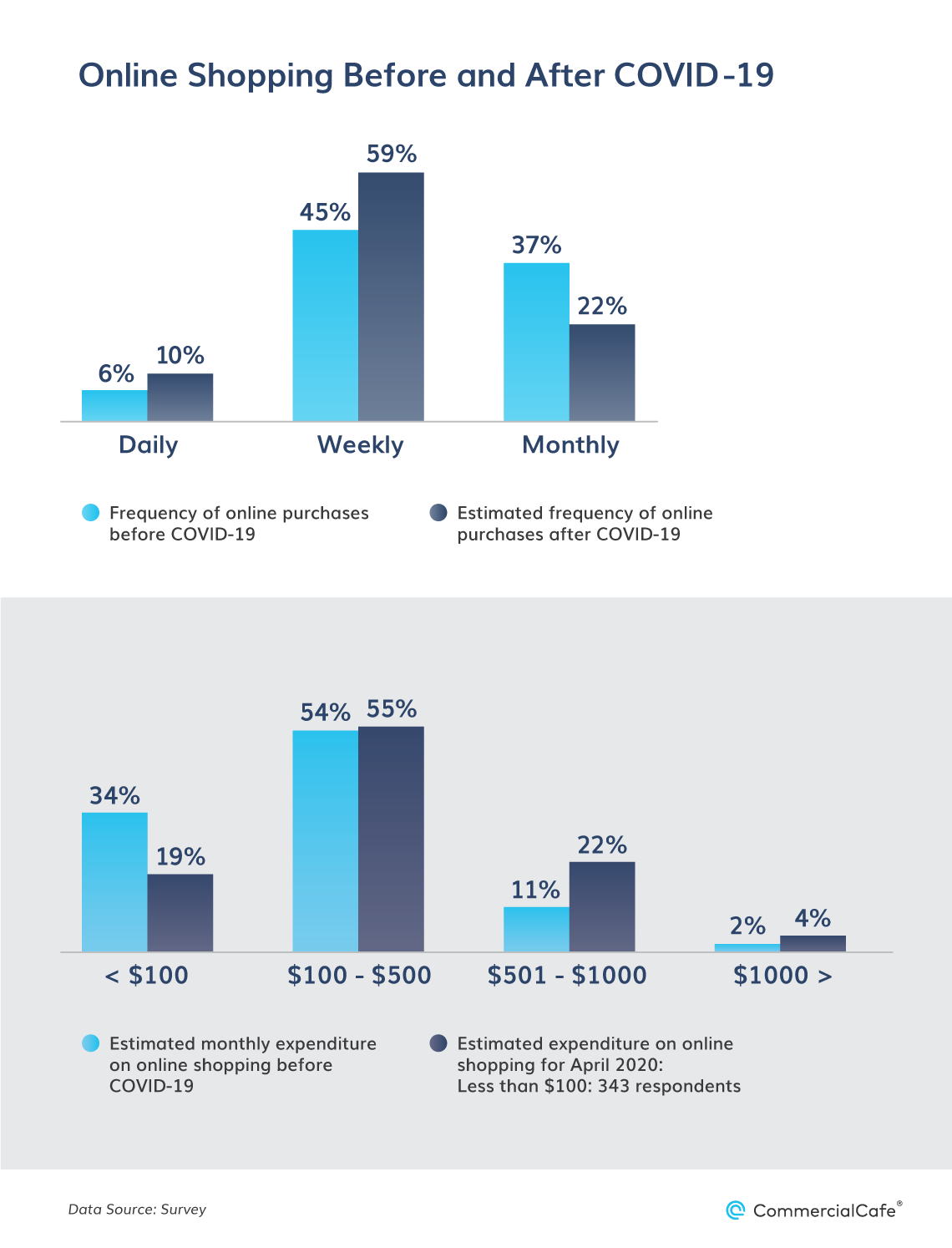 When it comes to spending habits, 34% of respondents spent less than $100 per month on online shopping prior to the coronavirus outbreak. But, as a result of social distancing measures, estimated online expenditure in April was below $100 for only 19% of respondents. At the same time, the number of people spending between $501 and $1,000 per month online doubled — from 11% to 22%.
However, the changes in online shopping behavior as a result of the coronavirus outbreak are manifesting in more than just monthly expenses and frequency of purchases. Although online shopping budgets have increased, many of our respondents reported that they were only purchasing products that they deemed essential. As such, some classes of products saw spikes in interest, while others that are considered non-essential fell down the list of priorities for most consumers.
Spike in Online Purchases of Groceries, Medication & Pet Food During Quarantine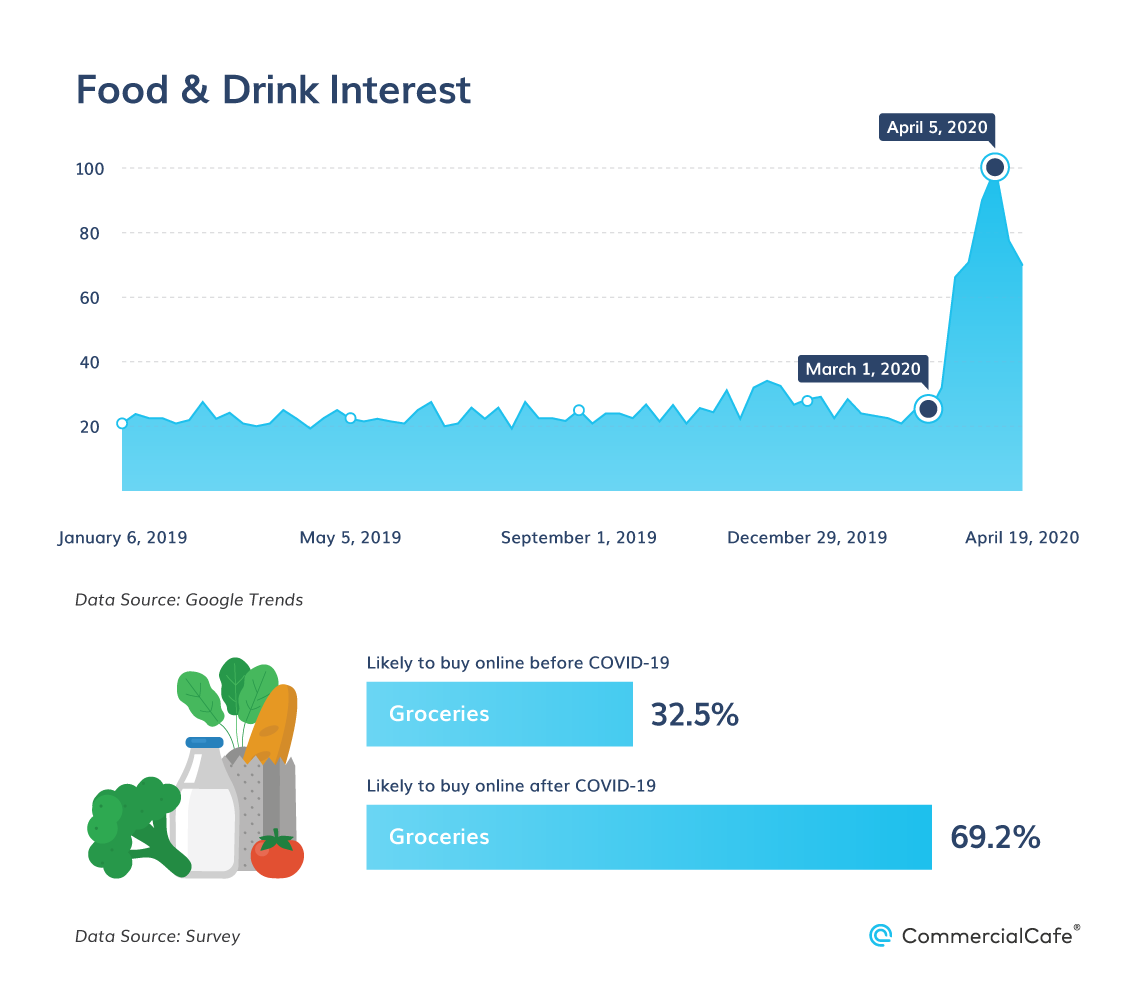 Before the coronavirus pandemic, 32% of respondents ordered their groceries online, either having them delivered to their doorstep or picking them up from the store. However, as people try to limit time spent in crowded areas, the purchase of staple foods and other necessities has increasingly moved online. Now, as many as 69% of respondents ranked groceries among the top three classes of products that they are most likely to purchase online because of coronavirus.
Likewise, Google searches for the phrase, "buy groceries online," also spiked considerably in March and April as shoppers tried to avoid in-store grocery shopping by purchasing their groceries over the internet. As a result of this surge in popularity, the main issues that our respondents ran into when trying to buy groceries online were long waiting times and supply shortages. Nevertheless, many of them still prefer this method as opposed to making their purchases directly in-store.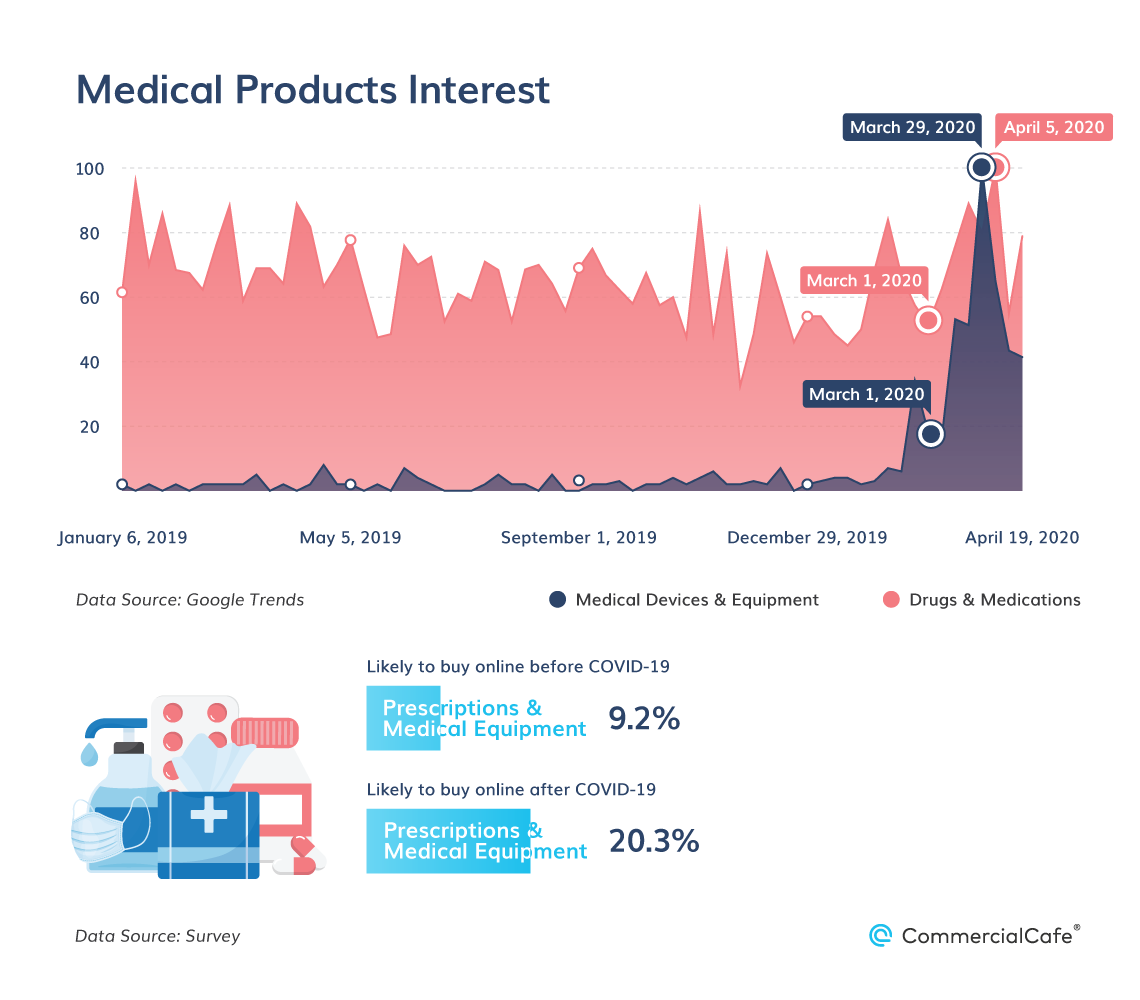 Meanwhile, before the pandemic, only 9% of respondents said they used the internet to buy prescriptions and medical supplies. Today, more than twice as many plan to do so, with 20% of respondents expressing an interest in purchasing their medications online. Along the same lines, Google searches related to buying medical devices and equipment online spiked, as well.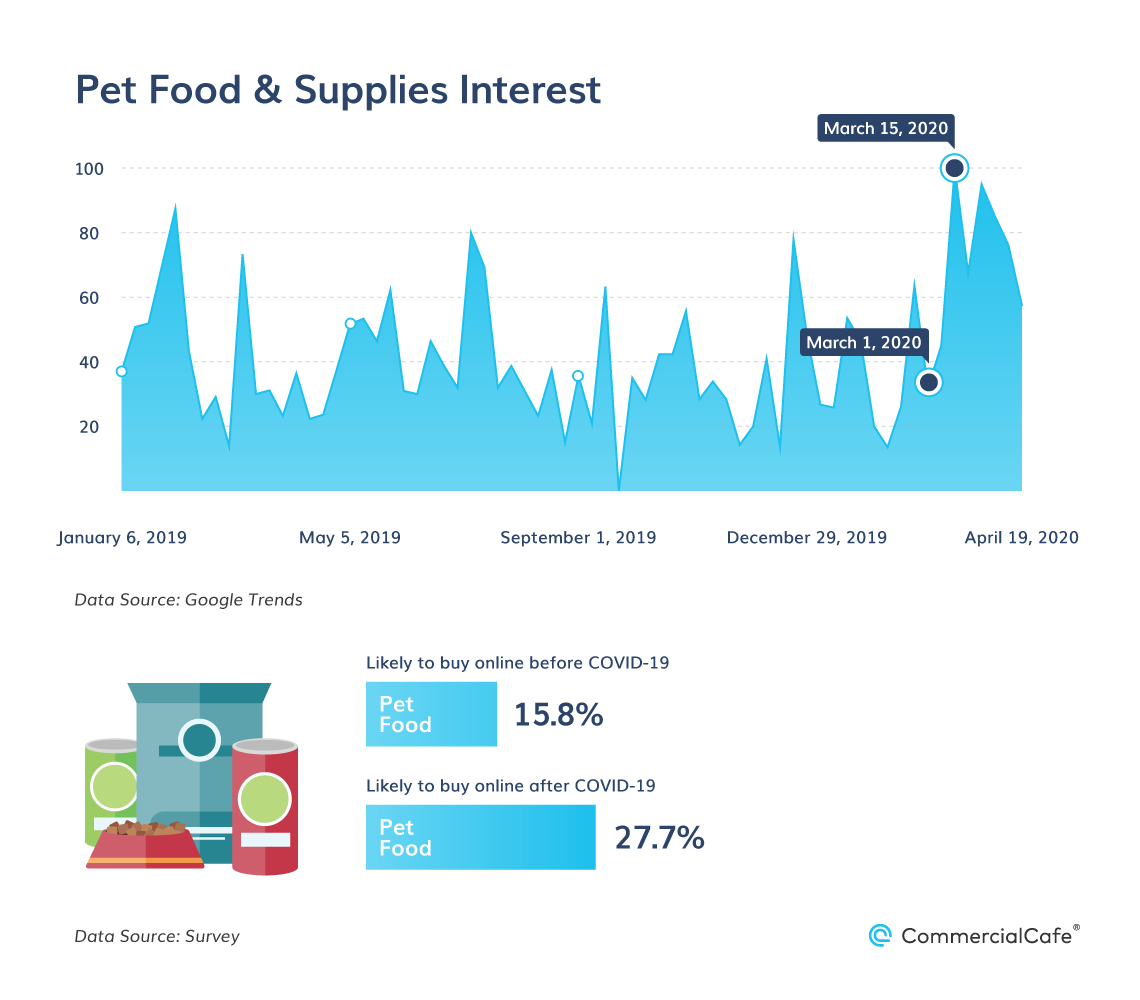 Another category of goods that consumers are increasingly buying online is pet food. Here, the reasoning is similar to groceries — to avoid going out. Specifically, more than 27% of Americans would order pet food through e-commerce to ensure the needs of their quarantine companions are met, while only about 16% did so prior to the outbreak.
Google Trends data also supports this fact. After staying more or less consistent throughout the past year, interest in buying pet food online spiked mid-March.
The last category of goods that respondents are now planning to buy online more often is beauty products. Less than 26% of respondents ranked beauty products among the three classes of goods they would most likely buy online before COVID-19. But now, given the current situation, 2% more would buy them online. While this increase may seem marginal, it's worth noting that online shopping for beauty products did not decrease in the same way as other non-essential goods, such as clothing and accessories.
Clothing, Electronics & Furniture Among Products Less Likely to Be Bought Online Due to Coronavirus
We also asked respondents to share how else COVID-19 had affected their online shopping habits. In response, many of those surveyed said they were only purchasing items that were necessary, thereby forgoing other expenses. So, while essential goods such as groceries and medical supplies saw sustained interest for online purchases, other products that were previously popular on online marketplaces have dropped in sales.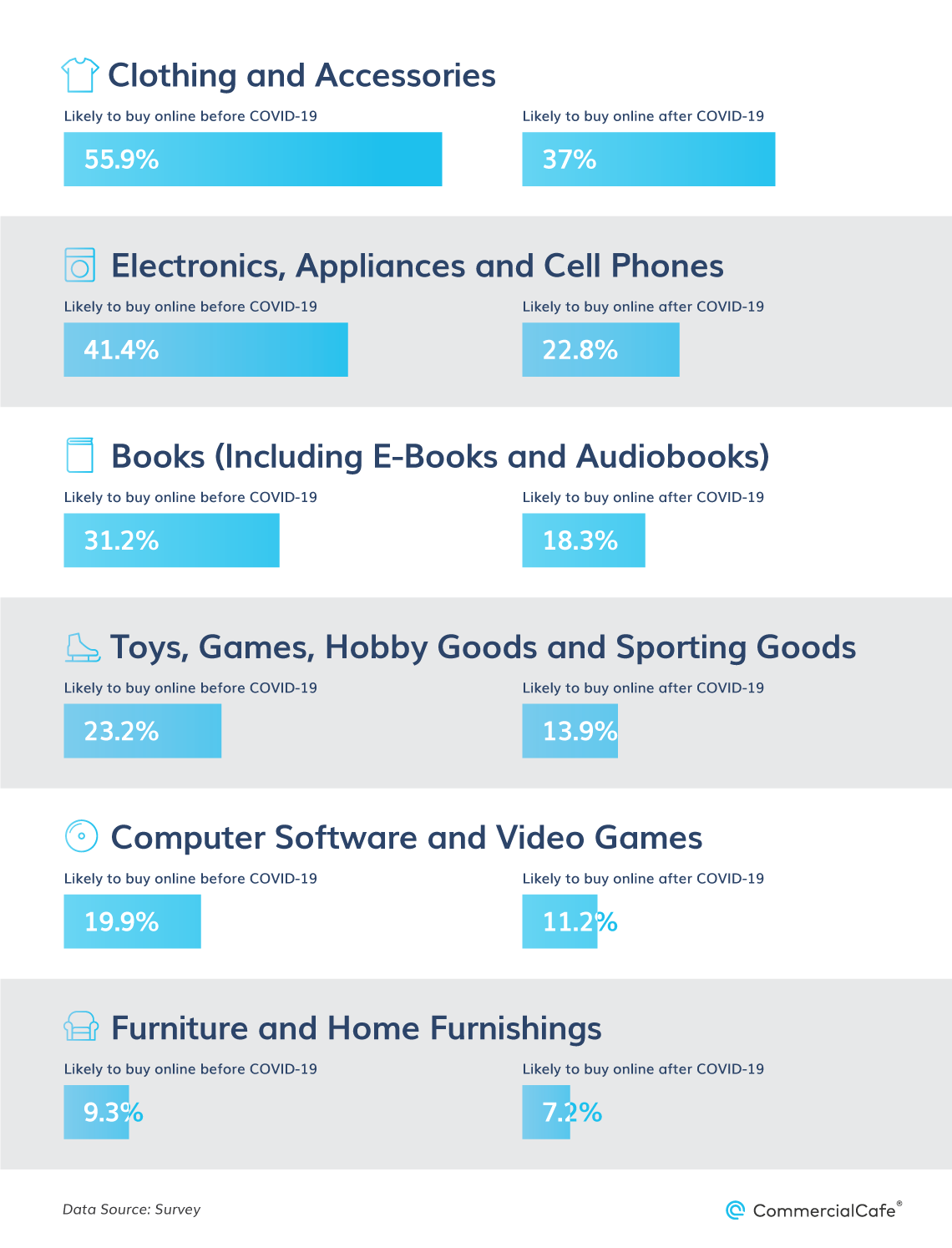 As many as 56% of respondents considered clothing and accessories to be among the three product categories they were most likely to buy online prior to the coronavirus. But now, as a result of reconsidered spending, only 37% said they were likely to buy clothes online. This is especially notable because, according to the data provided by the U.S. Census Bureau, clothing and accessories were the most important e-commerce category by total yearly sales price in 2018. That year, U.S. consumers spent $76 billion online on clothes and accessories.
Similarly, 35% of respondents said they were least likely to buy furniture online now. While the change in percentage may seem negligible, it's important to note that online furniture sales grew 525% between 2009 and 2018, reaching almost $58 billion in 2018 alone.
Finally, e-commerce involving electronics, appliances, and phones — a sector amounting to $51.5 billion in 2018 — saw a sizeable drop in interest from 41% to 23%.
Many respondents expressed dissatisfaction regarding product availability and delivery times. They said they hoped e-commerce logistics would improve during this time as more people rely on it to avoid potentially exposing themselves to the virus by venturing out in public.
How E-Commerce Became the Backbone of Social Distancing
The high demand for e-commerce created by COVID-19 comes after a period of growth in online shopping. But, the recent increased volume of orders generated difficulties in the supply chain. Consequently, as this situation unfolds, it will likely dictate consumer confidence in the convenience of e-commerce and whether they continue using it even after the end of the lockdown. But, while the effects of social distancing measures are not yet fully understood, taking a look at the history of online shopping might help us understand the current situation a little better.
The growing adoption of e-commerce in the 1990s was one of the primary agents that led to the dot-com bubble, which saw the rapid growth and then demise of many internet-based companies. In fact, year-over-year sales volume in online transactions grew 89% between 1999 and 2000, the year the bubble burst. After this wake-up call, growth of online transactions ranged between 20% and 30% per year up until 2007.
Then, online shopping reached its second major hurdle — the Great Recession, which profoundly affected all layers of the economy. In-store retail sales were no exception, contracting by 2% in 2008, followed by an additional 8% in 2009. On the other hand, online sales growth remained in the black during this period, continuing to increase in significance throughout the following decade.
Fast forward to 2019, which was the first year when online shopping amounted to more than 10% of total retail sales. Specifically, total online sales volume in 2019 reached almost $600 billion, representing a 250% increase from 2010's $170 million, and a twenty-fold increase from the year 2000.
As such, e-commerce grew remarkably fast over its short existence, even contributing to a market bubble before growing in a more stable manner. Today, e-commerce is a relatively new but widely adopted innovation in the flow of goods and services, and the novel coronavirus is testing it to its limits. At the same time, it's hard to imagine how social distancing while working from home would be feasible without the ability to buy essentials online, and online shopping received considerable attention since the coronavirus pandemic as a result. So, if issues in the supply chain are resolved, e-commerce can help flatten the curve and may even become more popular after things go back to normal, as people realize the convenience of curbside pickup or home delivery for a wider variety of products.
Methodology
We carried out a nationwide survey with a sample size of 1,013. 
Respondents were asked questions regarding their spending habits before and after the COVID-19 outbreak, including preference in shopping online or in-store, average amount spent online per month, and categories of products most commonly purchased online.
Respondents could choose up to three classes of products that they preferred to buy online before and after the COVID-19 outbreak.
To administer the survey, we used Amazon's Mechanical Turk and survey platform SurveyMonkey. 
The survey has a confidence level of 95% and a margin of error of 3%.
We also used data regarding retail and e-commerce sales provided by the U.S. Census Bureau. The data ranges between the years 1999 and 2019 (the most recent available data).
Search data obtained through Google Trends is the most recent available as of April 19, 2020. Google Trends rates interest in a given keyword or phrase, such as "buy groceries online," from 0 (no search volume) to 100 (maximum recorded search volume).
With the growth of e-commerce comes an expansion of the availability of goods, services, and other essential day-to-day amenities. If you are looking to expand your business and are looking for a commercial space for lease in a new location, check out local listings in any of the markets linked below and find your space!