Sacramento, CA Economic Overview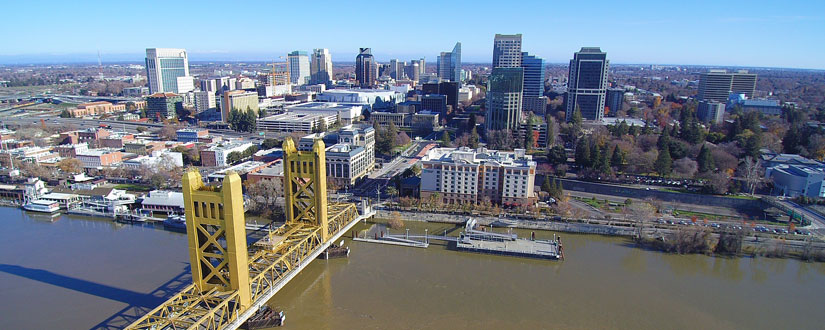 As the state capital of California, Sacramento is home to over 500,000 people, with nearly 2.5 million residing in the wider Sacramento metropolitan area. Sacramento is one of the fastest growing metro areas in the state. Public and private investors continue to seek out opportunities on the Sacramento commercial real estate market, attracted by the city's geography, skilled workforce, low cost of living, and quality of life that many say is second-to-none.
A diverse mix of businesses, combined with the Sacramento region's 2.5 million residents, its numerous world-class universities, and proximity to the law makers of California, all contribute to the continued growth of Sacramento's economy. Over the next few years, the population is expected to increase by nearly 18%, and employment by nearly 20%.
With a median household income of over $52,000 per year and an average salary of just over $53,000, Sacramento offers a distinct value proposition to a diverse variety of business and industry. Economic growth in Sacramento has increased by nearly 3% the past year and is expected to remain strong, with a rising number of both traditional and high-tech businesses attracted by the area's supportive policies, low utility rates, low labor and development costs, and the availability of shovel-ready building sites.
Sacramento, CA Commercial Real Estate Market
While government and real estate-related industries have been the traditional drivers of the Greater Sacramento commercial real estate market, other key sectors of the market are growing and expanding. The demand for both industrial and office space in Sacramento is propelled upwards by industries like clean technology and energy, life science and health care, agricultural research and development, along with advanced manufacturing, business and financial services, government, retail, and tourism.
Encompassing over 140 million square feet of industrial space and close to 19 million square feet of flex space, the industrial real estate market in Sacramento is one of the largest in the state. Conditions are tight across the board with many tenants finding it increasingly difficult to find space to lease. Due to the demand for industrial space in Sacramento, net absorption has increased by nearly 2 million square feet, with vacancy moving downward and asking rents going higher. The largest concentration of industrial inventory is currently in the West Sacramento and Power Inn submarkets.
The inland Port of West Sacramento is another driver of the demand for industrial, warehouse and flex space in the metro Sacramento market. The Port is centered in one of the richest agricultural regions in the world, is located in the center of the Sacramento MSA, and contains over 300 acres of vacant, developable land.
With roughly 44 million square feet of office space, which is mostly spread through the Sacramento suburban submarkets, it is professional business tenants and healthcare-related services that are driving demand. Because of the continued job growth in the metro region, net absorption of office space is expected to continue increasing, with vacancies moving downward and asking rents going up. Over 6 million square feet of office inventory is located in Downtown Sacramento, while most of the market's office inventory is located in suburban regions, like the Highway 50 Corridor ( Rosemont, Rancho Cordova, Folsom), and Roseville. The Sacramento market encompasses nearly 61 million square feet of retail inventory, with community neighborhood shopping centers accounting for over half of the total square footage of the retail market. Notable Sacramento retail properties include the airport-adjacent Mather Commerce Center and the Riverside Commerce Center.
Sacramento, CA Office Sales Volume
Data provided by Yardi Matrix, for properties larger than 50K SF, which sold at over $5M.
Sacramento, CA Office Transactions
Data provided by Yardi Matrix, for properties larger than 50K SF, which sold at over $5M.
Sacramento, CA Commercial Inventory Breakdown
Office Spaces
Total: 40,587,701 SF
By square footage range:
50k to 100k SF: 8,189,559 SF / 20.18% of total office
100k to 500k SF: 23,216,902 SF / 57.2% of total office
500k to 1M SF: 5,892,479 SF / 14.52% of total office
&gt 1M SF: 3,288,761 SF / 8.1% of total office
By class:
Class A+: 2,009,702 SF / 4.95% of total office
Class A: 15,355,352 SF / 37.83% of total office
Class B: 20,240,459 SF / 49.87% of total office
Class C: 828,788 SF / 2.04% of total office
Employment in Sacramento, CA
Job growth in Sacramento has increased by nearly 3% over the past year, and over the next several years, employment in Sacramento is expected to increase by nearly 20%. Over 45% of the labor force works in management, business and financial operations, education and training, administration, and sales.
Major employers in the City of Sacramento include:
State of California with nearly 70,000 employees;
Sacramento County with over 11,000 workers;
UC Davis Health System with over 7,700 employees;
Dignity Health/Catholic Healthcare West with over 7,000 workers;
Intel with over 6,600 employees;
Kaiser Permanente with over 6,300 employees;
Sutter Health with over 5,700 workers;
Elk Grove and Sacramento City Unified School Districts, each with over 5,000 employees.
Other major companies that located in the metropolitan Sacramento area include The McClatchy Company, Sutter Health, Blue Diamond Growers, Aerojet, and Teichert.
Education in Sacramento, CA
The Sacramento City Unified School District, along with the Elk Grove Unified School District, operate the 149 public primary, middle and high schools in Sacramento. There are also nearly 170 private schools in Sacramento, along with numerous independent and religious schools.
Residents of Sacramento have a myriad of higher educational choices. Along with the two major universities of Sacramento State and the University of California - UC Davis Campus, there are countless private colleges & universities, community colleges, and vocational schools, both for profit and not-for-profit.
Commuting Time in Sacramento, CA
The commute time in Sacramento is just under 25 minutes per day, with nearly 4% of the workforce having a super commute of 90 minutes or more. Carpooling in Sacramento is a popular option with nearly 9% of the week day commuters opting for this choice, while 5% of the labor pool has the option of working at home.
Sacramento is located close to all modes of transportation, and with the city's ongoing investment in transportation and utility infrastructures businesses are able to easily send and receive goods and access the global transport network:
Interstate 5 and Interstate 8 connect in Sacramento providing easy access to and from the metropolitan area.;
The Port of West Sacramento is located just 79 nautical miles from San Francisco with direct access to Suisan Bay via the 40-mile deep water ship channel.;
The Sacramento Regional Transit District operates over 270 buses and 76 light-rail vehicles and ranks as the 11th-busiest mass transit system in the country.;
Commuter rail service is provided by Amtrak, while Union Pacific provides freight rail service to the Sacramento metropolitan area.;
Sacramento International Airport is located 10 miles southwest of the Central Business District and is served by all of the major U.S. airlines including Southwest, United, and Delta.
Sacramento Demographics
Population
Total Population480,566
Male Population(48.5 %) 233,137
Female Population(51.5 %) 247,429
Median Age34.00
Income/Financial
Average Household Income$68,286
Median Household Income$50,739
Median Income Under 25$23,495
Median Income 25-44$53,648
Median Income 45-64$58,866
Median Income Over 65$40,966
News
The transactions that closed across the six California office markets we analyzed totaled nearly $5 billion in sales. The quarter marked a 36% increase compared to Q1, however, the sales volume dropped 12% year-over-year.
California Q1 2018 Office Sales: Smaller Markets Pick Up the Slack for LA, San Francisco
April 18, 2018
In terms of office sales, Los Angeles was the most active California market we analyzed, wrapping up Q1 with a $1.3 billion total. Bay Area office sales raked in $800 million in 13 transactions, which encompassed over 2 million square feet of inventory. Even though Sacramento came in third, this...
CommercialCafé is your first and only stop when it comes to commercial real estate leasings in Sacramento, CA. Search through our extensive selection of commercial properties for lease with current space availability in the area ranging between 3344 square feet and 461494 square feet. Discover the right property from our 257 listings by using our advanced search function, which includes search by property type, space availability, management company, lease rates, and more.