San Diego, CA Economic Overview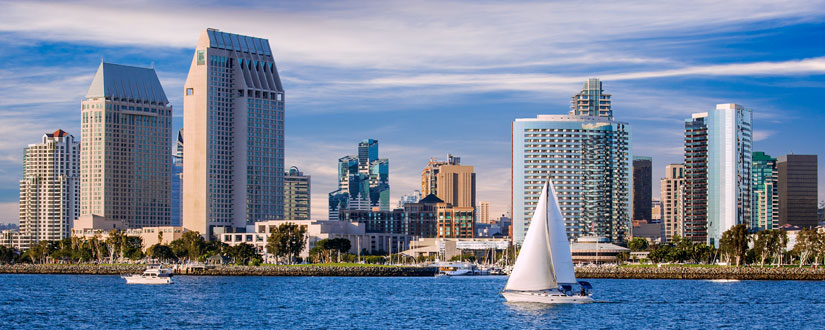 Located along the California coast, San Diego is as famous for its sunshine and beaches as it is for its vast military installations. The fact that it's just miles away from the Mexican border greatly contributes to San Diego's culture, tourism industry and economy.
San Diego's economy revolves around a combination of industries: military and defense, international trade, education, healthcare, medical and academic research, technology and tourism. The city is home to the largest naval fleet in the world, while also attracting over 30 million visitors each year, with tourism injecting roughly $17 billion annually into the local economy.
The combination of its coastline and proximity to Mexico also makes it one of the most important trade hubs in the region and to the rich and vibrant San Diego commercial real estate market.
San Diego, CA Commercial Real Estate Market
While San Diego's economy is heavily reliant on military and defense, it's also home to a burgeoning office market, encompassing over 74 million square feet of office space throughout San Diego County.
Downtown San Diego, also known as Centre City, serves as the city's financial, business, and cultural center. The Downtown San Diego office market is home to over 4,000 businesses, which stretch across the area's nine districts.
Coronado office market relies heavily on both the military and tourism industries. The city's highly-regarded beaches and famous resorts, like the historic Hotel del Coronado, attract visitors by the millions. But you'll also find thousands of sailors at its U.S. Navy installations, which include the Naval Special Warfare Center–training ground of the Navy SEALs.
Point Loma, San Diego is also dominated by the defense and tourism sectors, with the Navy occupying roughly 1,800 acres and employing nearly 50,000. The center of the Point Loma, San Diego office market is Liberty Station, which consists of 361 acres of mixed-use space. The San Diego Airport is also located in Point Loma.
La Jolla office market is an important center for education, healthcare, biomedical and scientific research, as well as technology. It's home to the University of California, San Diego, the Scripps Research Institute, and the Scripps Institute of Oceanography, just to name a few.
San Diego, CA Office Sales Volume
Data provided by Yardi Matrix, for properties larger than 50K SF, which sold at over $5M.
San Diego, CA Office Transactions
Data provided by Yardi Matrix, for properties larger than 50K SF, which sold at over $5M.
San Diego, CA Commercial Inventory Breakdown
Office Spaces
Total: 75,192,583 SF
By square footage range:
50k to 100k SF: 19,363,740 SF / 25.75% of total office
100k to 500k SF: 48,985,610 SF / 65.15% of total office
500k to 1M SF: 6,843,233 SF / 9.1% of total office
By class:
Class A+: 2,756,165 SF / 3.67% of total office
Class A: 39,419,550 SF / 52.42% of total office
Class B: 27,017,013 SF / 35.93% of total office
Class C: 275,945 SF / 0.37% of total office
Employment in San Diego, CA
San Diego's workforce is one of the most educated in the world, with employment split between the city's huge defense presence and highly-specialized fields like healthcare, education, and technology.
Military/Defense Employment in San Diego revolves around the military. In fact, roughly 5% of all civilian jobs are military-related, and 15,000 area businesses have contracts with the Department of Defense. San Diego is home to the largest naval fleet in the world, and the U.S. Navy alone employs nearly 30,000 people, making it the city's biggest employer;
Healthcare Healthcare is another major employment sector in San Diego, with Kaiser Permanente, Sharp HealthCare, and Scripps Health ranking among the city's largest employers. The county also has 140 contract research organizations, or CROs, making it an important hub of medical research;
Education The University of California, San Diego is one of the city's largest employers, providing jobs for nearly 30,000 residents. San Diego State University employs roughly 7,000 and the San Diego Unified School District employs another 14,000. This is one of the area's key employment sectors;
Technology & Telecommunications The Fortune 500 telecommunications company Qualcomm was founded in San Diego, and it remains headquartered here to this day. It's also one of the area's largest employers, with roughly 14,000 employees.
There are several other tech and telecom firms operating in San Diego, as well.
Public Sector Between the military and the City and County of San Diego, which employ over 35,000, government jobs remain a crucial part of San Diego's local economy;
Agriculture San Diego county is one of the top 20 overall agricultural producers in the country, and ranks #1 in avocado and nursery crop production. The farming industry injects $1.85 billion into the local economy and creates thousands of jobs.
Although manufacturing businesses don't rank among San Diego's biggest employers, the manufacturing industry as a whole remains an important part of the region's economy.
Education in San Diego, CA
The majority of San Diego's public schools fall under the San Diego Independent School District, which is the second-largest in the state.
More than one third of San Diegans over the age of 25 have bachelor's degrees or higher, making it one of the most educated cities in the U.S. Some of its more important colleges and universities include the University of San Diego, San Diego State University, and the University of California, San Diego. The San Diego Community College District also has a large presence.
Commuting Time in San Diego, CA
In 2016, San Diego was ranked as having the 9th shortest commute time in the U.S., with an average of 23 minutes. Though roughly 80% of residents use automobiles as their sole method of transportation, the city does provide trolley, bus, and commuter rail service.
San Diego Demographics
Population
Total Population1,359,791
Male Population(50.2 %) 682,040
Female Population(49.8 %) 677,751
Median Age34.00
Income/Financial
Average Household Income$90,052
Median Household Income$66,116
Median Income Under 25$31,263
Median Income 25-44$71,144
Median Income 45-64$78,569
Median Income Over 65$49,185
News
California Q1 2018 Office Sales: Smaller Markets Pick Up the Slack for LA, San Francisco
April 18, 2018
In terms of office sales, Los Angeles was the most active California market we analyzed, wrapping up Q1 with a $1.3 billion total. Bay Area office sales raked in $800 million in 13 transactions, which encompassed over 2 million square feet of inventory. Even though Sacramento came in third, this...
Chicago RE Firm Snatches San Diego Medical Asset
March 13, 2018
Excel Centre, a medical office building in San Diego, Calif., has recently been acquired by a Chicago-based real estate firm. MBRE Healthcare bought the 82,157-square-foot property from institutional investor ShopCore Properties, in a $37.1 million transaction.
20+ Reasons Not to Buy a $91M Sky-High Manhattan Condo
February 22, 2018
The "14th Annual Curbed Awards" kicked off this year with a list of the most expensive homes sold in New York in 2017.  Manhattan's new slender skyline icon, 432 Park Ave, took up seven spots on the list, including the entire top three. The most expensive New York home of the year was a package-...
CommercialCafé is your first and only stop when it comes to commercial real estate leasings in San Diego, CA. Search through our extensive selection of commercial properties for lease with current space availability in the area ranging between 1890 square feet and 271405 square feet. Discover the right property from our 4295 listings by using our advanced search function, which includes search by property type, space availability, management company, lease rates, and more.