Chula Vista, CA Economic Overview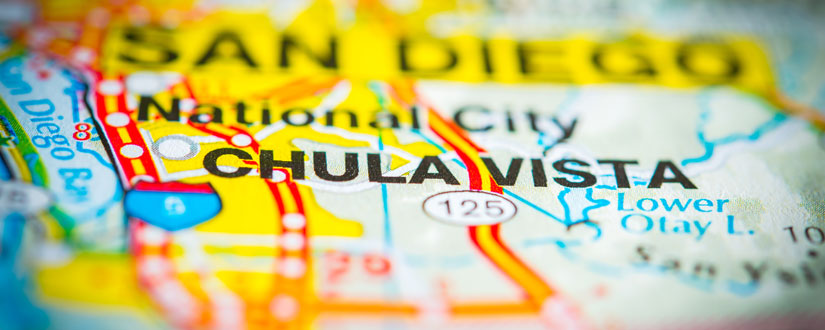 Chula Vista is the second-largest city in the San Diego metropolitan area and lies equidistant between San Diego and the border of Mexico, 7.5 miles in either direction. This South Bay city is home to nearly 266,000 residents and is in the center of one of the richest economic and culturally diverse regions in the U.S. The commercial real estate market in Chula Vista is driven by its location between San Diego and Mexico, its access to transportation, and the dynamic development projects that are underway and in the planning stages.
Located in South San Diego County, Chula Vista is part of the five-city South County Region of Coronado, Imperial Beach, National City, and San Diego. The area is strategically located along the Pacific Rim and the Mexican border, and is well known for its thriving businesses, skilled workforce, international ports of entry into Mexico, as well as for its amazing beaches.
With a median household income of nearly $67,000/year and an unemployment rate of just 6.4%, the economy of Chula Vista is growing. Last year alone, the city's labor force increased by nearly 6%, to 119,500 people employed in Chula Vista.
Chula Vista, CA Commercial Real Estate Market
Investors, business owners, and tenants of the Chula Vista commercial real estate market enjoy the easy access to the interstate freeway system of Southern California, area airports, and the major shipping ports in nearby National City and San Diego. Firms operating in Chula Vista can take advantage of the labor pool on both sides of the international border, and the unique benefits of twin plant maquiladora facilities in nearby Mexico.
Small business in Chula Vista accounts for a large portion of the city's growth and serves as a stable base for the Chula Vista office market. The City is committed to maintaining a business-friendly environment that encourages the development and success of both small and large business. The City is involved in numerous programs to attract, retain and help business expansion in Chula Vista.
There are numerous redevelopment and development projects in Chula Vista and the South County Region, including Brown Field, Chula Vista Bayfront, Chula Vista University, the Cross Border Terminal, Eastern Chula Vista Development, National City Project, Pond 20, and the San Ysidro Port of Entry.
One of the most dynamic projects is the Eastern Chula Vista Development, a massive mixed-use project centered along State Route 125. The project consists of eight clusters:
Freeway Commercial, 35 acres with 600 housing units and 300 hotel rooms;
Millenia, 207 acres with nearly 3,000 housing units and 3.5 million square feet of office and retail space;
University Park, an 85-acre innovation district;
Village 10, a 363-acre area with 1,740 housing units;
Village 9, a 323-acre area with 4,000 housing units and 1.5 million square feet of office and retail space;
Village 8 East, 576 acres with 3,560 housing units and 20,000 square feet of office and retail space;
Village 8 West, 300 acres with over 2,000 housing units and 300,000 square feet of office and retail space;
Village 3 with 368 acres and nearly 1,600 housing units, 11.3 acres of office and retail space, and 40 acres of industrial product.
Chula Vista, CA Office Sales Volume
Data provided by Yardi Matrix, for properties larger than 50K SF, which sold at over $5M.
Chula Vista, CA Office Transactions
Data provided by Yardi Matrix, for properties larger than 50K SF, which sold at over $5M.
Chula Vista, CA Commercial Inventory Breakdown
Office Spaces
Total: 2,959,660 SF
By square footage range:
50k to 100k SF: 650,495 SF / 21.98% of total office
100k to 500k SF: 1,609,160 SF / 54.37% of total office
500k to 1M SF: 700,005 SF / 23.65% of total office
By class:
Class A: 740,877 SF / 25.03% of total office
Class B: 873,178 SF / 29.5% of total office
Employment in Chula Vista, CA
Job growth in Chula Vista has increased by nearly 6% over the past year, with a current labor force in the city of nearly 120,000 workers. Over 44% of the workforce is employed in management, education & training, administration, and sales.
Top employers in Chula Vista include:
Sweetwater Union High School District with over 4,000 employees;
Chula Vista Elementary School District with over 2,800 workers;
United Technologies Aerospace Systems with nearly 2,500 people;
Sharp Chula Vista Medical Center with over 1,800 workers;
Southwestern College with nearly 1,700 employees;
Walmart with over 1,200 associates;
The City of Chula Vista with over 1,100 people;
Scripps Mercy Hospital Chula Vista with over 1,100 employees.
Education in Chula Vista, CA
The public school system in Chula Vista is operated by the Chula Vista Elementary School District, which is the largest K-6 District in the State of California, and the Sweetwater Union High School District. The Elementary School District alone operates 44 campuses.
Southwestern College in Chula Vista is a community college that serves approximately 19,000 students each year. Students in Chula Vista also have easy access to the colleges and universities of Southern California including San Diego City College, San Diego State University, the University of San Diego, and San Diego Christian College.
Commuting Time in Chula Vista, CA
The average commuting time in Chula Vista is just over 28 minutes per day, with over 3% of the workforce having a super commute of 90 minutes or more. In addition, nearly 9% of the work week commuters carpool and over 5% have the ability to work from home.
Both residents and businesses in Chula Vista have access to the highly-developed transportation network of the region:
Interstates 5, 15, 805 and State Routes 54, 75, 94, 163, 905, and the Southbay Expressway all provide access to Chula Vista.;
Two international ports of entry from Mexico are located in the South County Region - San Ysidro and Otay Mesa that together handle over 24 million passenger vehicles and 725,000 trucks each year.;
The Port of San Diego near Chula Vista is a hub for international importing and exporting.;
Amtrak provides commuter rail service while freight rail service in Chula Vista is provided by BNSF railway.;
San Diego International Airport is the closest airport to Chula Vista, while there are also 16 airports in the South County Region.
Chula Vista Demographics
Population
Total Population257,296
Male Population(49.1 %) 126,400
Female Population(50.9 %) 130,896
Median Age34.00
Income/Financial
Average Household Income$79,046
Median Household Income$65,185
Median Income Under 25$35,392
Median Income 25-44$67,881
Median Income 45-64$76,762
Median Income Over 65$38,264
CommercialCafé is your first and only stop when it comes to commercial real estate leasings in Chula Vista, CA. Search through our extensive selection of commercial properties for lease with current space availability in the area ranging between 7458 square feet and 80519 square feet. Discover the right property from our 448 listings by using our advanced search function, which includes search by property type, space availability, management company, lease rates, and more.