There is no shortage of examples of how artificial intelligence (AI) has become integrated into our everyday lives from organizing our days to finding the best routes to work or school; selecting items to buy; and getting reminders of upcoming appointments. Similarly, AI increasingly poses challenges in terms of its ethical and responsible use. So, as the debate continues as to whether to momentarily hit the brakes on the AI train — while still supporting the highly promising research and development in this field — we looked at AI and machine-learning (ML) patent activity in the U.S. to determine which companies have been the most innovative contributors so far, as well as to map where the most innovation had taken place in the country. See the methodology section below for details on our analysis and read on for our findings on artificial intelligence innovation in the U.S.
Top 10 Artificial Intelligence & Machine Learning Innovators in the U.S. Since 2010
This year, the U.S. Open had a new collaborator — the USTA enlisted watsonx, IBM's new AI and data platform — to create audio and text commentary in near real-time, which would enable the organization to provide coverage for every singles match, not just the ones on the show courts. Meanwhile, in medicine, employing deep-learning algorithms in drug discovery has shown how much AI can speed up the process of researching, creating and making new treatments available to those in need. And, in federal government, the IRS is turning to the advanced processing capability of artificial intelligence to better address the agency's most complex cases.
But, who has been hard at work developing these technologies? According to USPTO data, 4,980 entities had obtained at least one AI and ML patent in the U.S. by the end of 2022. Looking at available data on AI innovation in the U.S., we noted that the number of patents granted began increasing significantly after 2010 before shooting up from 2019 through 2021.
In 2010, Microsoft was in the lead in terms of patented artificial intelligence and machine learning innovation. However, that soon changed as IBM blazed ahead to take first place in 2011 — a lead the company still holds today with nearly 4,580 AI and ML patents in its portfolio.
By 2015, Google had also caught up to Microsoft, and the two juggernauts raced neck and neck for the following two years until Microsoft kicked AI innovation into high gear and secured a comfortable lead for second place, where it rested with 2,345 patents at the close of 2022.
Next, NVIDIA had the third-most AI and ML patents in 2010. Although the company dropped out of the top 10 patent-holders (by number of patents) in 2020, it remains one of the most highly valuated contributors to the field as it dominates the market for high-processing power chips used in artificial intelligence systems. In fact, according to recent reporting by CB Insights, NVIDIA has roughly 95% of the graphics processing units market for machine learning.
Intel ranked ninth in 2010 with six AI and ML patents. Yet, in 2022, the legacy chipmaker had nearly 1,500 patents and closed the year in fourth place behind Google (1,950 patents).
With five AI and ML patents, Apple was 10th in 2010. Twelve years later, the company had amassed 851 patents and was seventh behind Amazon (1,054 patents by the end of 2022) and ahead of QUALCOMM (636 patents).
Facebook entered the top 10 in 2018 with 128 AI and ML patents. Even so, by the end of 2022, the company was in fifth place with nearly 1,120 patents under its belt.
New York, San Francisco & Seattle MSAs Trail Silicon Valley in AI & ML Patents
Home to some of the world's leading research universities, such as Stanford and MIT, as well as an enduring entrepreneurial spirit, the country has so far built a robust foundation in AI talent. This — along with a strong basis in research and development and a historically vibrant startup ecosystem — has positioned the U.S. as a global leader in AI innovation.
While metros in regions like the Midwest have been growing into some of the best U.S. hubs for tech development, AI activity remains mostly concentrated in a select short list of established innovation hubs — mainly in coastal gateway cities, as noted in a recent Brookings report. Below, we include the 25 U.S. metros with the most patents issued for artificial intelligence and machine learning inventions.
Silicon Valley Remains Uncontested Leader in U.S. Tech Innovation
The San Jose, Calif., metro area (MSA), which is arguably the world's leading center for entrepreneurship, has been the most fertile ground for AI and ML innovation. More precisely, by 2023,  nearly 9,800 patents had been issued for technology advancement here — the highest number among the metro areas we analyzed. This Bay Area metro is highly valued for its unique research culture — working for years on improving technology without a specific product in mind — which has led to the development of some of the most transformative technologies of our time.
Notably, the San Jose metro also stood out for incorporating seven of the country's most innovative cities: For instance, AI research by companies based in Mountain View, Calif., has resulted in roughly 2,960 patents issued. Likewise, Santa Clara, Calif. — home to major AI technology innovators NVIDIA, Intel and AMD — boasted nearly 2,350 patents granted. At the same time, San Jose, Calif.'s city proper is home to AI innovators that have so far amassed more than 1,900 patents in the field. One such company is Adobe, which has its global headquarters here and ranked ninth-most innovative by number of patents last year. The other four cities in the metro to make the top 50 list were Cupertino, Calif., (home to the headquarters of Apple, Inc.); Palo Alto, Calif., (home to Hewlett-Packard Enterprise); Sunnyvale, Calif., (arguably the birthplace of the U.S. video game industry); and Los Altos, Calif., (home to a suite of AI startups).

IBM Dominance in AI & ML Patents Lifts New York Metro Area to 2nd Place
Home to premier research universities such as SUNY, the New York Institute of Technology, and Cornell Tech — and drawing on the uniquely diverse local talent pool — artificial intelligence research in the New York–Newark–Jersey City MSA had resulted in nearly 6,300 patents issued through 2022, which ranked the metro as the second-most innovative in the country in terms of AI and ML patent grants.
This is, in great part, due to the metro being home to the IBM corporate headquarters, which is located in Armonk, N.Y. The hamlet, located less than 40 miles north of New York City, was the most innovative locality in the U.S. for its total of more than 4,500 AI and ML patents — accounting for almost all of the AI patents held by IBM in 2022.
In an effort to put guardrails on the speed of innovation, Manhattan Borough President, Mark Levine, held a summit earlier this year with state legislators, academics, advocates and tech policymakers to discuss what roles AI technology could take in a variety of arenas, as well as which possible harms to keep from disrupting New Yorkers' lives. One such protective initiative led to the implementation of a law that requires employers and employment agencies to disclose whether automated employment decision tools are used to evaluate candidates or employees, as well as to subject these tools to regular bias audits.
San Francisco Looks to AI Innovation for Renewed Growth
Back on the West Coast, the San Francisco–Oakland–Berkeley metropolitan area in California landed third on the list with nearly 5,000 AI and ML patents issued through 2022. Despite the main city's markedly slow recovery in some sectors since the onset of the COVID-19 pandemic, AI innovation here calls for optimism. According to The Washington Post, venture capitalists had invested almost $2 billion in San Francisco-based artificial intelligence start-ups during the first six months of this year alone, fueling hopes that this technology would create the city's next big growth ecosystem.
Notably, the San Francisco metro includes six of the 50 most innovative cities in the U.S. in terms of AI patents. San Francisco proper took first place in the metro with nearly 1,900 patents issued to local AI and ML innovators. In this case, companies in Menlo Park, Calif. — home to the global headquarters of Facebook parent company, Meta — had close to 1,350 AI patents in 2022, which was more than the next four top innovative cities in the metro, combined: Redwood City, Calif., (323 patents); San Mateo, Calif., (319 patents); Redwood Shores, Calif., (188 patents); and Foster City, Calif., (186 patents).
Microsoft & Amazon Account for 90% of AI Patents in Seattle MSA
In the Pacific Northwest entrepreneurial scene, Seattle metro AI research resulted in a total of roughly 3,780 patents issued by the end of last year, which placed the Seattle-Tacoma-Bellevue MSA fourth among the country's most innovative AI hubs. As a matter of fact, Seattle reportedly boasts one of the highest densities of AI talent in the country, which has long been a highly attractive advantage for tech companies. To that end, cloud computing giants Microsoft and Amazon (both headquartered in this metropolitan area) hold a combined total of 3,400 AI and ML patents, which represent roughly 90% of the patents issued to Seattle MSA innovators in this field.
Three Seattle MSA cities made the list of 50 most innovative in the U.S. First was Redmond, Wash. — home to the global headquarters of the Microsoft Corporation — where nearly 2,370 AI patents were granted. Next was Seattle proper (home to Amazon), where AI and ML innovators amassed close to 1,100 patents. Third was Bellevue, Wash., with more than 250 patents issued to local AI and ML innovation contributors.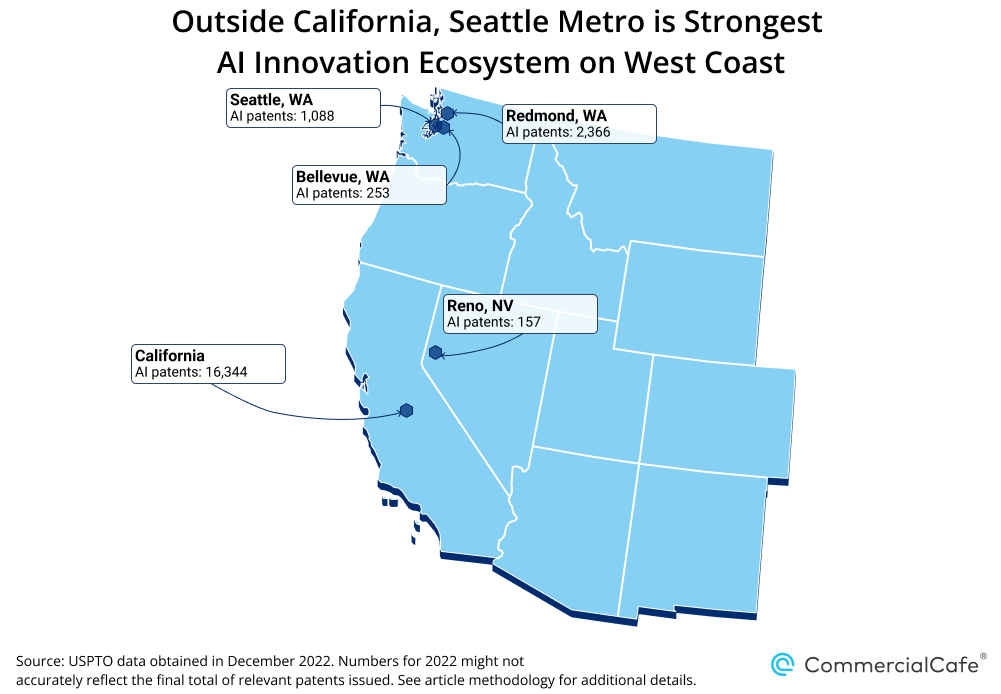 Innovation Across the LA Metro Area Earns 5th-Most AI Patents
California's largest metropolitan area landed fifth on the list of most innovative metros: Artificial intelligence and machine-learning technology developed in the Los Angeles MSA earned nearly 2,100 patents by the close of 2022. Of the top 50 most innovative cities in the country, six are located in the Los Angeles metropolitan area: Burbank, Calif., (358 AI and ML patents) — home to the headquarters of The Walt Disney Company, which recently launched an AI taskforce to explore cost-cutting applications across its various entertainment segments; Santa Monica, Calif., (324 patents); Los Angeles proper (270 patents; Irvine, Calif., (219 patents); Culver City, Calif., (199 patents); and Malibu, Calif., (148 patents).
Here, Los Angeles metro area innovators explore applications of AI in a great variety of arenas from lifestyle to medicine and academia. For instance, Cedars-Sinai's Artificial Intelligence Council has launched an initiative that brings together frontline clinical and administrative leaders with AI experts for "idea-thons" that aim to explore ways in which AI can be used to enhance patient care, administrative systems and employee wellbeing.
At the same time, private LA research university USC announced the creation of the Center for Generative AI and Society — a $10 million investment that intends to seed research, assemble experts, and cement the university's national leadership with a special focus on the ethical use and innovation of generative AI technology.
Strong Cambridge Tech Presence Shines in Boston Metro AI Innovation
Boston is not only the best metro for tech in the northeastern U.S., but also among the country's best hot spots for AI innovation. With nearly 1,800 AI and ML patents granted to inventors in the area, the Boston MSA ranked as the sixth-most innovative metro in the country. What's more, four Boston metro cities ranked among the 50 most innovative in the U.S.: First, Cambridge, Mass. — home to the Massachusetts Institute of Technology and the Boston Dynamics AI Institute — raked in 326 patents in the field by the close of 2022.
Meanwhile, research and development carried out by inventors in Boston proper earned 307 patents. Similarly, Hopkinton, Mass. (which is home to a sizeable Dell EMC presence) had 230 patents. Last, but not least, Burlington, Mass. — a long-term fertile ecosystem for the life sciences and pharmaceutical industries — had 175 AI and ML patents issued to local innovators.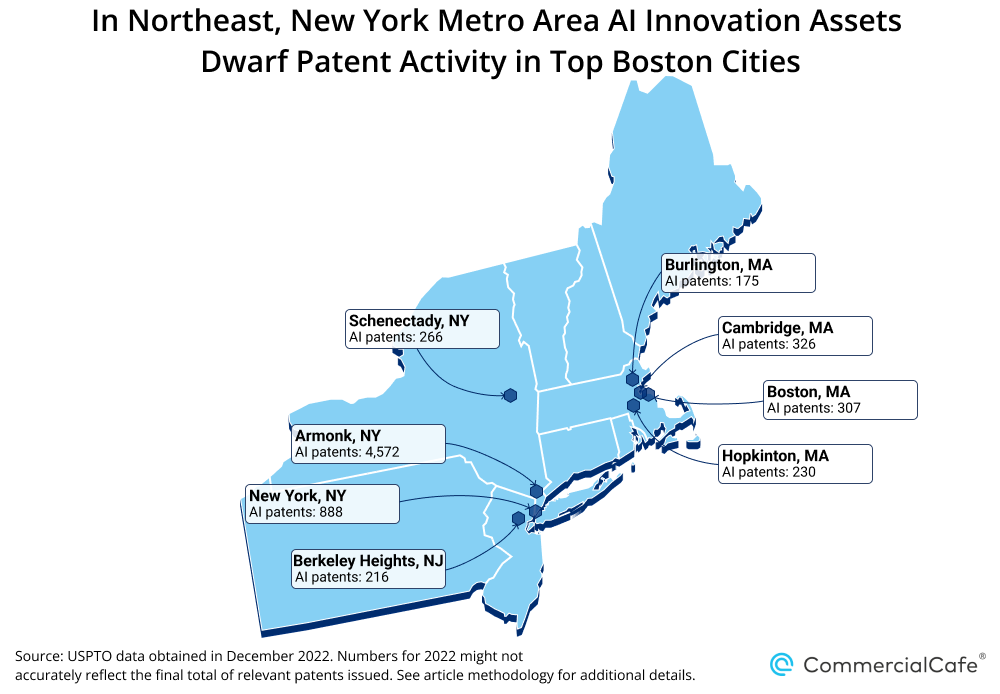 D.C. Metro Area Home to Top Fintech AI Patent Holder in U.S.
The Washington metropolitan area — which incorporates Washington, D.C., along with portions of Maryland and Virginia — landed seventh among the most innovative metros in the U.S. with a total of nearly 1,490 artificial intelligence and machine-learning patents issued to inventors based here. Stars among cities in this metro were McLean, Va., (626 patents) and Washington, D.C. proper (221 AI and ML patents), both of which ranked among the 50 most innovative cities in the U.S.
In this case, McLean is home to the headquarters of Capital One Financial Corporation. Accounting for 570 patents out of the city's total, Capital One was 10th among the country's top AI innovators at the end of 2022 and the only fintech patent holder in the top 10. The two most recent AI explorations that the financial corporation has embarked on are: 1) using large language models to enhance customer experience (reportedly still in the design and internal experimentation phase), and 2) the introduction of its Federated Model Aggregation (FMA) — an innovative approach to democratizing AI model training to expedite learning adoption.
San Diego-based QUALCOMM Drives AI Innovation Across MSA
San Diego was the last of the four California entries to rank among the 25 most innovative metros in the U.S. With nearly 1,200 patents issued to AI and ML inventors based here, the San Diego MSA landed eighth. One major contributor to this achievement is semiconductor and wireless communications technology manufacturer Qualcomm Technologies, Inc., which is headquartered in San Diego. With 636 AI and ML patents under its belt, the company was eighth among the top U.S. innovators in the field last year.
The self-declared leader in on-device intelligence, QUALCOMM has intensely developed and integrated AI across its extensive semiconductor line with the stated purpose to create the capability for generative AI to be run completely on-device. Also among the company's most recent research endeavors is a partnership with the U.S. Navy's Naval Postgraduate School that aims to explore how the manufacturer's 5G, artificial intelligence, and cloud computing technologies could create innovative solutions to the complex challenges that the Navy and Marine Corps face.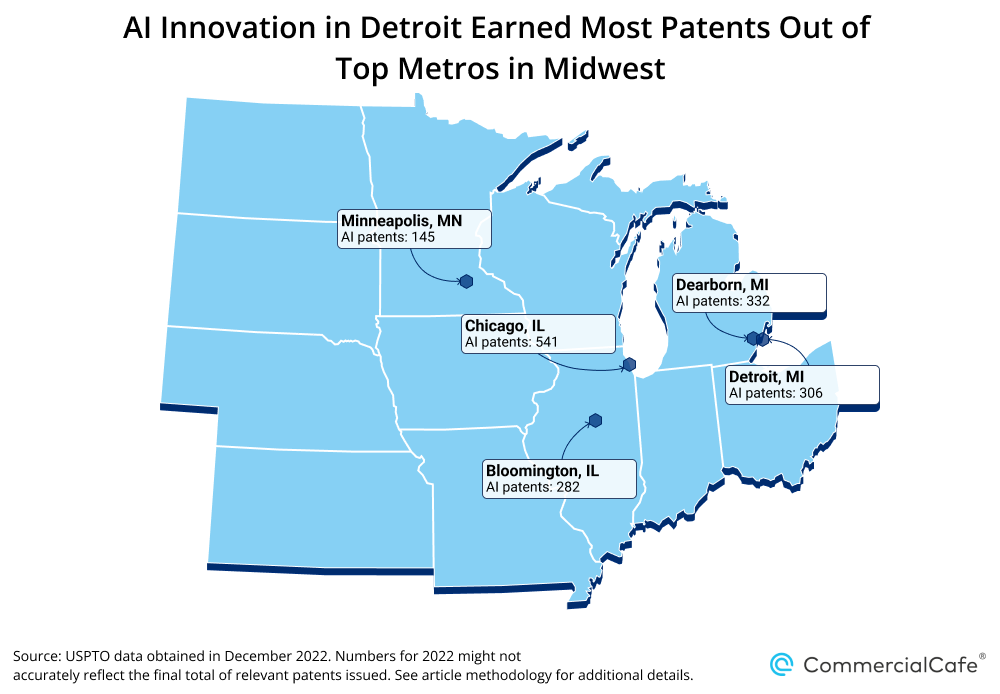 Detroit MSA Gearing Up to Be Premier Automotive AI Innovation Hub in U.S.
Because the U.S. is home to several global leaders in both automotive and key automation technologies, markets like the Detroit metro area are intriguing to both investors and innovators worldwide. With nearly 900 AI and ML patents at the close of 2022, the Detroit MSA ranked as the ninth-most innovative metro in the U.S. — and continues to show that the Motor City inventive spirit remains strong.
For instance, last year, Google and Ford announced a partnership with the city and state governments of Detroit and Michigan that would convert the historic, 105-year-old Michigan Central train station and surrounding neighborhood into the Michigan Central Innovation District — a hub for mobility innovation and entrepreneurship. As part of the mobility-focused, smart-city project, Google agreed to provide cloud technology, as well as workforce development training to high school students and job-seekers in the Detroit metro area.
In addition to Ford, General Motors and Stellantis have also established mobility and software engineering projects in Michigan in recent years, bringing Silicon Valley closer to home.
Georgia Tech Convenes AI Conference to Kick Off Month-Long Celebration of Atlanta Innovation
In addition to earning seventh place among the top metros for tech in the southern U.S. region, the Atlanta MSA ranked as the 10th-most innovative metro in the country for AI, with inventors here having amassed 812 AI and ML patents by the end of 2022. Building on the diversity of local founders and industries, as well as the local wealth of creative and academic potential, the Metro Atlanta Chamber recently launched InnovATL — a brand designed to bring together Atlanta's unique innovation ecosystem and strengthen its global reach.
As part of InnovATL this year, the theme of Georgia Tech University's Avant South centered on AI and responsible stewardship. In particular, the gathering of innovators, experts, and thought leaders aimed to touch on the technology's potential in education, health care, arts, culture, and industry, as well as the role of regulatory oversight in its development. The event marked the start of a month-long celebration of Atlanta ingenuity, which includes Venture Atlanta — one of the largest venture capital conferences in the country — and the AC3 Festival, which celebrates the city's influence in music, technology, and entertainment.

Methodology
For the purposes of this ranking, we turned to United States Patent and Trademark Office (USPTO) data to analyze artificial intelligence and machine-learning patent activity in the U.S. since 2010. Patent data was used as it was available in December 2022. As such, numbers referring to patent activity in 2022 might not accurately reflect the final total number of patents issued with the relevant codes for that year.
In order to best filter the patent data down to records referring to artificial intelligence and machine-learning technologies, we used a list of patent CPC group codes made available under the World Intellectual Property Organization (WIPO) "PATENTSCOPE Artificial Intelligence Index." Patents that had multiple AI CPC group codes were listed only once.
While there are differences in how each location is classified administratively, we employed "city" as an umbrella term to encapsulate all of the localities listed in USPTO data as the place associated with the patent issued.