Newark, NJ Economic Overview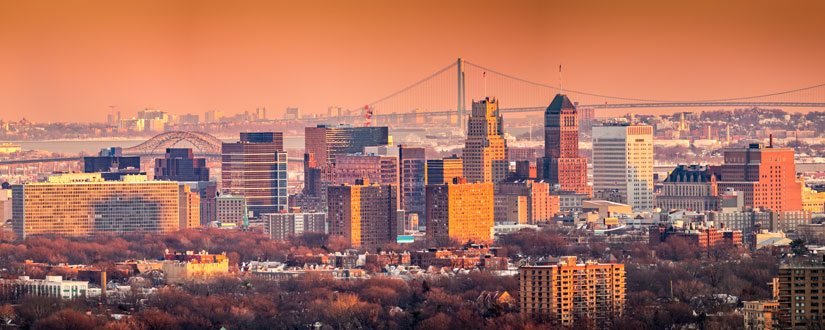 The most populous city in New Jersey and one of the nation's largest air, shipping, and rail stations, Newark is a city connected to well-established economic networks that make it a great fit for businesses. Home to numerous corporations, businesses both large and small, universities, and cultural attractions, Newark is one of the lower-cost business environments on the NYC metropolitan area. With these benefits, and an economy still looking to grow after the 2008 economic downturn, the Newark commercial real estate market is and will be picking up speed.
Newark's economy is largely diversified, having progressed from its past as an industrial center of the east coast. Daily, 100,000 white collars come to the city to work, with jobs in insurance, finance, government, and others. Newark is also a major university city, with upwards of 50,000 students living and studying in the city. The economy is also boosted by the legal sector, due to the large number of courthouses in the area. On top of these white-collar jobs, Newark is also home to the busiest trans-shipment port in the Eastern United States. This is largely due to the connections between the Newark Port, the airport, and the rail and highway routes that run into and out of the city. At the same time, though it is no longer an industrial powerhouse, it is still home to many manufacturing factories that help boost the economy.
Newark, NJ Commercial Real Estate Market
With its connections to New York City, the country's largest retail market, Newark has also grown to be a major U.S. retail, office, and industrial market. Its transportation infrastructure from the port, to the Newark airport, to the highways and railroads make it a location where any business can thrive.
Downtown Newark real estate accommodates legal, financial, and insurance offices, as well as retail space. Downtown Newark currently has thousands of square feet of commercial space that is being re-developed.
Port Newark-Elizabeth Marine Terminal port and rail facilities, as well as industrial space, is a great location to take part in the booming regionaltrade sector. For companies involved in trade, transportation, and logistics, the Port is a prime location to set up a business.
South Ironbound and North Ironbound commercial, retail, and industrial real estate market is growing in demand. Once home to the brunt of Newark's industrial manufacturing, it is now a shopping, dining, and nightlife destination. Industry is still operating in the area as well, though it has come to be known for its large-scale Portuguese population, which has imparted its culture on the neighborhood. Together with the Portuguese and other immigrant groupsand a superfund established in the 1980s to clean up chemicals associated with the production of Agent Orange, Ironbound is on the rebound.
Newark, Office Sales Volume
Data provided by Yardi Matrix, for properties larger than 50K SF, which sold at over $5M.
Newark, Office Transactions
Data provided by Yardi Matrix, for properties larger than 50K SF, which sold at over $5M.
Newark, NJ Commercial Inventory Breakdown
Office Spaces
Total: 18,962,029 SF
By square footage range:
50k to 100k SF: 381,606 SF / 2.01% of total office
100k to 500k SF: 7,266,726 SF / 38.32% of total office
500k to 1M SF: 7,913,647 SF / 41.73% of total office
&gt 1M SF: 3,400,050 SF / 17.93% of total office
By class:
Class A: 8,629,695 SF / 45.51% of total office
Class B: 6,532,284 SF / 34.45% of total office
Industrial
Total: 6,068,436 SF
Data provided by Yardi Matrix, properties over 50k SF
By square footage range:
50k to 100k SF: 90,186 SF / 1.49% of total industrial
100k to 500k SF: 3,397,365 SF / 55.98% of total industrial
500k to 1M SF: 1,510,793 SF / 24.9% of total industrial
&gt 1M SF: 1,070,092 SF / 17.63% of total industrial
By class:
Class A: 748,304 SF / 12.33% of total industrial
Class B: 4,345,126 SF / 71.6% of total industrial
Class C: 975,006 SF / 16.07% of total industrial
Employment in Newark, NJ
While exact numbers are difficult to find on Newark's employment, statistics are well known for the industries that are the largest in Newark. By far, the insurance industry is the largest in the area, with numerous Fortune 500 insurance companies—notably Prudential—headquartered here. The second-largest employing industry is education, particularly universities. Newark is home to multiple large universities, including Rutgers University-Newark, New Jersey Institute of Technology, the Newark Campus of Rutgers Biomedical and Health Sciences, and Seton Hall University School of Law.
Education in Newark, NJ
The largest school system in the area is the Newark Public School District, which is a state-operated school district. Responsible for 80 schools, Newark Public Schools was the recipient of numerous grants (including one given by Mark Zuckerberg for $100 million) and also contains Science Park High School, which was ranked as one of the best high schools in the state.
Moreover, several charter and private schools operate in the area. The largest and most well-known of the former is the Robert Treat Academy Charter School, a National Blue Ribbon recipient. The Archdiocese of Newark operates three Catholic high schools in the area.
Commuting Time in Newark, NJ
Newark, like every other part of the New York metropolitan area, can have nasty traffic jams. On average, commute time is 30 minutes. Newark is serviced by a light rail that helps decongest traffic, while the New Jersey Turnpike (I-95), I-280, I-78, and the Garden State Parkway, amongst others, keep traffic moving at a rapid pace.
Newark Demographics
Population
Total Population279,793
Male Population(49.8 %) 139,247
Female Population(50.2 %) 140,546
Median Age32.60
Income/Financial
Average Household Income$45,925
Median Household Income$33,139
Median Income Under 25$16,957
Median Income 25-44$34,108
Median Income 45-64$40,823
Median Income Over 65$21,905
CommercialCafé is your first and only stop when it comes to commercial real estate leasings in Newark, NJ. Search through our extensive selection of commercial properties for lease with current space availability in the area ranging between 2100 square feet and 5500 square feet. Discover the right property from our 51 listings by using our advanced search function, which includes search by property type, space availability, management company, lease rates, and more.
Newark, NJ zip codes
Neighborhoods