Woodland Hills, CA Economic Overview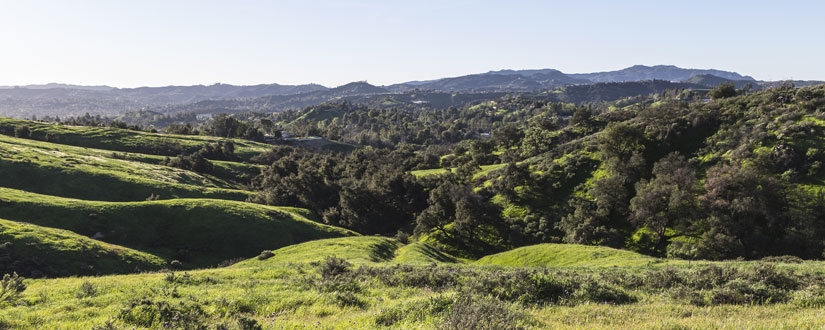 Woodland Hills is an affluent neighborhood bordering the Santa Monica Mountains, in the San Fernando Valley region of Los Angeles. Just a short hop from the famous beaches of Malibu, the area is bordered by Calabasas, Tarzana, and Topanga. Woodland Hills is home to just over 63,000 residents, and is one of the least dense neighborhoods in Los Angeles at roughly 14.8 square feet. The neighborhood is well-known for beinh home to many celebrities during their retirement, due to its proximity to the Motion Picture & Television Country House and Hospital–a private retirement, nursing care and acute-care hospital facility founded in the 1940s. The area is lush and green, perfect for those interested in hiking, biking, and other outdoor activities. The Upper Las Virgenes Open Space Reserve spans nearly 3,000 acres with several hiking trails, and the Orcutt Ranch Horticultural Center is famous for its lush citrus groves and beautiful rose garden. The Woodland Hills commercial real estate market is distinguished by breathtaking landscapes, proximity to Greater Los Angeles, and the bustling Ventura Boulevard and Westfield Topanga mall.
As part of the San Fernando Valley, Woodland Hills is located near numerous companies, the most well-known of which work in motion pictures, music recording, and television production. The valley was previously known for advances in aerospace technology and nuclear research conducted by companies such as Lockheed, Rocketdyne and its Santa Susana Field Laboratory, Atomics International, Litton Industries, Marquardt, and TRW's predecessor Thompson Ramo Wooldridge. While less dense than other Los Angeles neighborhoods, Woodland Hills boasts premium shopping and retail selections, at its well-known Westfield Topanga Mall and Village. With more visitors than Disneyland, the mall and village is a must see on any shopaholic's list. From luxury fashion, to LA's finest food to its one-of-a-kind boutiques, Westfield Topanga & The Village captures the LA essence like no other shopping destination. Woodland Hills is a relatively wealthy neighborhood with an average median household income of $94,000, compared to $69,000 in surrounding areas.
Woodland Hills, CA Commercial Real Estate Market
The San Fernando Valley has planned numerous urban development projects in the valley, concentrated in the neighborhoods of North Hollywood, Panorama City, and Woodland Hills. Rents continue to rise throughout the West Los Angeles office market, poised to add just under 2.1 million more square feet of office space in the near future, as construction and creative conversions deliver. Compared to the rest of the Metropolitan Los Angeles market, the Woodland Hills office market has slightly higher rates.
Ventura Boulevard is one of the primary east-west thoroughfares and oldest routes in the San Fernando Valley, originally part of the El Camino Real. Running 18 miles, Ventura Boulevard is the world's longest avenue of contiguous businesses. Woodland Hills Ventura Boulevard real estate includes office space directly off Ventura Freeway and Topanga Canyon Boulevard, and networking options among its accompanying restaurants, entertainment, and nightlife. Gateway Plaza, a retail shopping center located nearby, is situated on the northeast corner, just a few short miles from Warner Center Park, which is known for its free concerts in the park during the summer months.
Woodland Hills, CA Office Sales Volume
Data provided by Yardi Matrix, for properties larger than 50K SF, which sold at over $5M.
Woodland Hills, CA Office Transactions
Data provided by Yardi Matrix, for properties larger than 50K SF, which sold at over $5M.
Woodland Hills, Los Angeles, CA Commercial Inventory Breakdown
Office Spaces
Total: 10,487,241 SF
By square footage range:
50k to 100k SF: 1,873,221 SF / 17.86% of total office
100k to 500k SF: 5,415,575 SF / 51.64% of total office
500k to 1M SF: 1,718,445 SF / 16.39% of total office
&gt 1M SF: 1,480,000 SF / 14.11% of total office
By class:
Class A: 4,097,933 SF / 39.08% of total office
Class B: 3,781,179 SF / 36.06% of total office
Class C: 199,397 SF / 1.9% of total office
Industrial
Total: 184,000 SF
Data provided by Yardi Matrix, properties over 50k SF
By square footage range:
100k to 500k SF: 184,000 SF / 100% of total industrial
By class:
Class B: 184,000 SF / 100% of total industrial
Employment in Woodland Hills, CA
As part of the Los Angeles County's labor force of over 5.1 million, Woodland Hills has a relatively low unemployment rate, averaging at 4.5%. The occupations with the fastest job growth in the area include Mathematicians, Statisticians, Personal Care Aides, and other Personal Care and Service Workers. The occupations with the highest wages include Psychiatrists, Surgeons, and Physicians.
According to the BLS, the industries in the Los Angeles-Long Beach-Glendale, CA area with the highest employment numbers include:
Trade, Transportation, and Utilities — currently employs 819,000, reducing at -0.4%/yr;
Education and health services — currently employs 797,100, growing at 3.3%/year;
Professional and business services — currently employs 614,300, growing at 2.7%/year.
Education in Woodland Hills, CA
Public schools serving Woodland Hills are under the jurisdiction of the Los Angeles Unified School District. Woodland Hills also has numerous private and chartered schools.
For higher education, the neighborhood is home to West Valley Occupational Center, as well as Los Angeles Pierce College, which is the largest in the Los Angeles area, serving over 23,000 students in the northern Chalk Hills of Woodland Hills. Pierce College combines state-of-the-art technology and learning with the picturesque beauty of its rolling hills. The campus' setting among 2,000 trees, thousands of rose bushes, a nature preserve, botanical garden and a forest area boasting giant redwoods, makes it unique in the Los Angeles metropolitan area.
Commuting Time in Woodland Hills, CA
The major freeway in Woodland Hills includes the Ventura Freeway/Hollywood Freeway, and the most notable street in the area is Ventura Boulevard. Subway, dedicated transitway, and express and local buses, provided by many agencies, serve the San Fernando Valley. The Los Angeles County Metropolitan Transportation Authority operates two Metro Red Line subway stations in the Valley, which are located at Universal City and North Hollywood, and connect it directly to Hollywood and Downtown Los Angeles. Metrolink commuter rail has two Valley lines, the Antelope Valley Line and Ventura County Line, which connect the Valley and beyond to downtown Los Angeles and south, becoming one line at the Burbank station.
Employees in the Greater Los Angeles area have a longer average commute time of 27.6 minutes than the national average of 24.8 minutes. The largest share of workers drive alone to work, followed by those who carpool or work at home.
Woodland Hills Demographics
Population
Total Population66,821
Male Population(49.2 %) 32,847
Female Population(50.8 %) 33,974
Median Age42.00
Income/Financial
Average Household Income$112,336
Median Household Income$86,456
Median Income Under 25$41,285
Median Income 25-44$95,502
Median Income 45-64$100,284
Median Income Over 65$63,633
News
LA Office Sales Volume Drops 36% in Q1 2017
April 19, 2017
Following its most active year in a decade, the Los Angeles office market recorded a rather slow first quarter in 2017, in terms of both sales volume and average price per square foot. However, with an unemployment rate of 4.8% as of February and solid job gains driving demand across all asset c...
LA County Office Report – Sales Volume Hits 10-Year High in 2016
February 22, 2017
For the Los Angeles office real estate market, 2016 was the most active year of the past decade. Solid job gains are driving demand across all asset classes, as L.A. County unemployment dropped to 4.7% in December 2016, its lowest post-recession rate. High demand and increased leasing activity i...
CommercialCafé is your first and only stop when it comes to commercial real estate leasings in Woodland Hills, Los Angeles, CA. Search through our extensive selection of commercial properties for lease with current space availability in the area ranging between 622 square feet and 199608 square feet. Discover the right property from our 217 listings by using our advanced search function, which includes search by property type, space availability, management company, lease rates, and more.