Cambridge, MA Economic Overview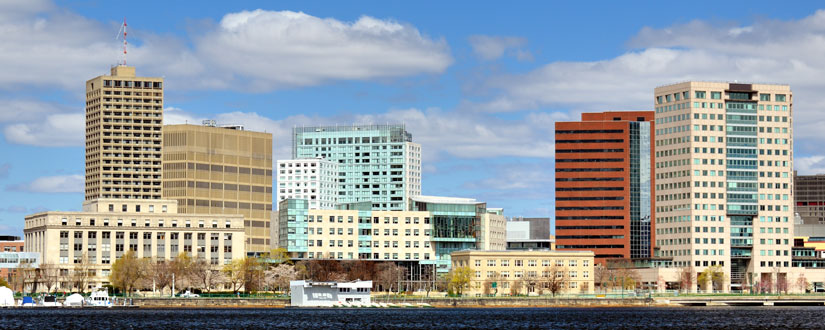 Cambridge lies across the Charles River from Boston and is home to two of the world's most prestigious universities - Harvard University and the Massachusetts Institute of Technology (MIT). The city also houses Kendall Square, which has been referred to as "the most innovative square mile on the planet," due to the high concentration of entrepreneurial startups that emerged here since 2010. Its location on the iconic coastline close to the Boston Harbor and its unique history make Cambridge commercial real estate a prime market for innovators and history enthusiasts alike.
Cambridge was a manufacturing powerhouse in the late 19th and early 20th century, but has given way to educational prominence, as the city's universities are now the biggest employers today. Harvard and MIT together employ about 20,000 people. Cambridge has also grown to be a cradle of technological innovation and is now home to many well-known technology firms. Google, IBM Research, Microsoft Research, and Amazon all maintain offices in Cambridge. The proximity to universities has made the city a center for nonprofit groups and think tanks, such as the National Bureau for Economic Research. Healthcare and biotechnology firms like Genzyme and Pitzer also maintain a significant presence in the city.
Cambridge, MA Commercial Real Estate Market
Cambridge's compact geography and high population density give its vibrant commercial districts a diverse retail and office space mix, for both residents and visitors. Cambridge has often been called the "City of Squares," with its many commercial districts located on major street intersections. Cambridge's commercial market has always had a strong appeal to high tech firms looking for placements near prestigious universities. The Cambridge office market encompasses over 11 million square feet and is still very much a startup hub renting out incubator and small suite spaces of under 5,000 square feet.
Central Square serves as the downtown core for Cambridge, serving many roles in a vibrant, mixed-use district. It is located midway between Harvard to the west and MIT to the east and is at the confluence of four dense neighborhoods: Mid-Cambridge, Area 4, Cambridgeport and Riverside. To the east, the block between Prospect and Pearl streets contains Central Square Station, one of the busiest transport hubs on the Red Line. Altogether, the Square features a colorful arts and culture atmosphere dotted by restaurants, shops, and office space. The Central Square office market is home to a mix of life science, technology and professional services.
Harvard Square is an international destination that mixes history and learning with contemporary arts and entertainment and, most notably, home to Harvard University. The Harvard square commercial market includes roughly 900,000 square feet of retail space that bring a unique blend of restaurants, shops, and cultural establishments. The character of the Harvard Square office market reflects three and a half centuries of growth and functions as a regional center for shopping, in an urban pedestrian-friendly atmosphere.
North Cambridge, also known as Area 11, is the northern area bounded by Porter Square and the Fitchburg Line railroad tracks on the south. The focus of the North Cambridge office market is Massachusetts Avenue and Porter Square.
Massachusetts Avenue is a well-known 16-mile road that extends through multiple MA cities, industrial zones, college campuses, and bustling commercial strips. For most of its length, Massachusetts Avenue is bustling with commercial activity, filled with shops, restaurants and office space on both sides.
East Cambridge is an area of Cambridge bound by the Charles River and railroad tracks to the west, sometimes referred to as Area 1. The East Cambridge office market encompasses over 2.6 million square feet of office space, joined by significant retail centers like the Twin Cities Plaza strip mall and the CambridgeSide Galleria.
The southern half of the grid is mostly office and laboratory space for dot-com companies, research labs and startups, drawn by the proximity to the MIT campus. Notably, East Cambridge includes Kendall Square, a concentration of 4.2 million square-feet of innovative businesses and startups, a mixed-use "live, work, play" community that has won numerous design awards.
Cambridge, MA Office Sales Volume
Data provided by Yardi Matrix, for properties larger than 50K SF, which sold at over $5M.
Cambridge, MA Office Transactions
Data provided by Yardi Matrix, for properties larger than 50K SF, which sold at over $5M.
Cambridge, MA Commercial Inventory Breakdown
Office Spaces
Total: 21,540,783 SF
By square footage range:
50k to 100k SF: 1,940,958 SF / 9.01% of total office
100k to 500k SF: 17,124,115 SF / 79.5% of total office
500k to 1M SF: 2,475,710 SF / 11.49% of total office
By class:
Class A: 16,827,162 SF / 78.12% of total office
Class B: 3,186,178 SF / 14.79% of total office
Class C: 126,140 SF / 0.59% of total office
Employment in Cambridge, MA
Employment in Cambridge is largely dominated by its world renowned higher educational institutions—Harvard and MIT combined employ 20,000 people. High tech and professional services sectors are also major players for economic growth in the area. Cambridge has a particularly low unemployment rate of 2.4%, one of the lowest in the eastern region.
Highest-employing sectors include:
Education and health services currently employs 591.900, growing at a yearly rate of 2.6%;
Professional and business services currently employs 481.200, growing at a yearly rate of 3.3%;
Trade, transportation, and utilities currently employs 418.800, growing at a yearly rate of 0.4%.
Education in Cambridge, MA
Cambridge is best known as an academic and intellectual center, due to its ten well-known colleges and universities. Cambridge is administered by the Cambridge Public School system. Outside the main public schools, there are numerous charter schools and private schools to choose from.
Commuting Time in Cambridge, MA
Several major roads lead to Cambridge, including Route 2, Route 16 and the McGrath Highway. The Charles River forms the southern border of Cambridge and is crossed by 11 bridges which connect Cambridge to Boston. Cambridge's irregular street network is due to the many roads that date back to the colonial era, when they connected various village settlements and nearby towns.
Public transport options include:
A well serving MBTA, with transport hubs at Porter Square, Harvard Square, Central Square, and Kendall Square/MIT stations;
Several bike paths, including one along the Charles River;
Intercity bus and train stations, including the Fitchburg Line rail service from Porter Square.
Cambridge Demographics
Population
Total Population107,916
Male Population(48.4 %) 52,208
Female Population(51.6 %) 55,708
Median Age30.50
Income/Financial
Average Household Income$115,608
Median Household Income$79,416
Median Income Under 25$40,711
Median Income 25-44$93,160
Median Income 45-64$86,039
Median Income Over 65$51,053
CommercialCafé is your first and only stop when it comes to commercial real estate leasings in Cambridge, MA. Search through our extensive selection of commercial properties for lease with current space availability in the area ranging between 3222 square feet and 219885 square feet. Discover the right property from our 505 listings by using our advanced search function, which includes search by property type, space availability, management company, lease rates, and more.