Norwalk, CA Economic Overview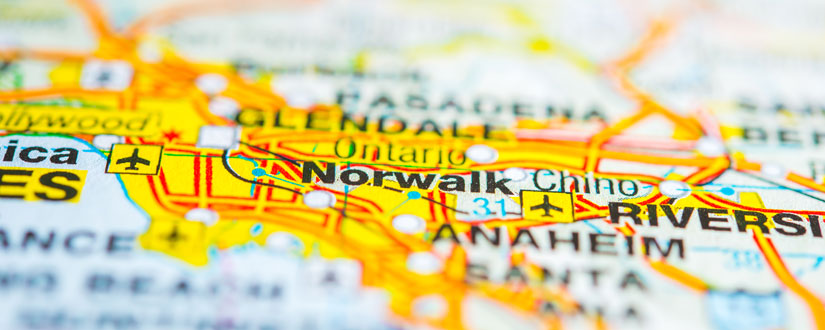 Norwalk is part of the Los Angeles County area and is only 17 miles southeast of Downtown Los Angeles. Home to over 109,000 residents, this 9.75 square mile city is bordered by the neighboring cities of Downey, Bellflower, Cerritos, Artesia, and Santa Fe Springs. The commercial real estate market in Norwalk is driven by the city's proximity to Los Angeles, and its access to the integrated transportation systems of the County.
Transportation plays a key role in the economy of Norwalk. The city sits at the heart of an expanding regional transportation network providing service to both residents and business throughout Los Angeles and Orange County.
As part of Los Angeles County, Norwalk benefits from the huge consumer market with 10 million people, the County conducts more than $400 billion in annual two-way trade, and the city has easy access to the Ports of Long Beach and Los Angeles, and Los Angeles International Airport, the country's third-most active international cargo airport.
With a median household income of nearly $60,000 and a growing job base of nearly 47,000 employees, the economy in Norwalk continues to be strong. Income growth in Norwalk is consistent, as industry is attracted by rapid development, with growth outpacing many of the other cities in the state.
Norwalk, CA Commercial Real Estate Market
Although the city is fully built out, the ongoing success of the Norwalk commercial real estate market is due to the city's focused revitalization efforts.
San Antonio Village, the geographic center of Norwalk, is adjacent to the I-5 freeway, and has the highest concentration of commercial properties in town. With older buildings on smaller lots, the city plans to establish the intersection of San Antonio Drive and Firestone Boulevard as a bustling place of commerce and a vibrant center of the Norwalk office market. In areas of the city where demolition of older structures is needed, the city is willing to assist with acquisition negotiation and to absorb the demolition expenses.
Norwalk is proactively seeking ways to spur new development, acting as a liaison between property owners, developers, and tenants. The city understands that commercial real estate development is dynamic, with industries, trends and companies constantly emerging and evolving.
Norwalk is part of the Mid-Counties industrial submarket of Los Angeles, home to nearly 104 million square feet of industrial inventory at a vacancy rate of less than 1%. In the office category, the Greater Los Angeles Basin has nearly 305 million square feet of inventory, with a total vacancy rate of less than 14%, while retail inventory boasts an overall vacancy rate of less than 6% with over 474 million square feet of inventory in the market.
Norwalk, CA Commercial Inventory Breakdown
Office Spaces
Total: 680,216 SF
By square footage range:
100k to 500k SF: 680,216 SF / 100% of total office
By class:
Class B: 680,216 SF / 100% of total office
Industrial
Total: 1,233,955 SF
Data provided by Yardi Matrix, properties over 50k SF
By square footage range:
50k to 100k SF: 93,926 SF / 7.61% of total industrial
100k to 500k SF: 1,140,029 SF / 92.39% of total industrial
By class:
Class A: 392,062 SF / 31.77% of total industrial
Class B: 841,893 SF / 68.23% of total industrial
Employment in Norwalk, CA
Job growth in Norwalk has increased over 1%, with an unemployment rate of just over 5%, approximately the same as the U.S. average. Over 55% of the labor force works in the areas of administration, sales, production, transportation, materials moving, and construction & extraction.
Major employers in Norwalk include:
Norwalk-La Mirada Unified School District with nearly 2,000 employees;
Metropolitan State Hospital with 1,450 people;
Cerritos College with over 1,100 workers;
L.A. County Registrar-Recorder with nearly 700 people;
California Youth Authority with over 450 employees;
Target with over 400 workers;
All California Beverage and the City of Norwalk, each with over 400 employees.
Costco, Doty Brother's Construction, Los Angeles Community Hospital, Little Lake School District, Los Angeles County Sheriff's Department, Wal Mart, Kerber Brothers, and Southland Care Center are other significant employers in Norwalk.
Education in Norwalk, CA
ABC Unified School District, Little Lake City School District, and Norwalk Unified School District operate the one pre-school, 16 primary schools, six middle schools, and two secondary schools. Norwalk is also home to numerous parochial schools, pre-schools and child care centers.
Cerritos College in Norwalk is one of the largest community colleges in the State of California. Due to the city's central location students can also easily commute to both Fullerton and Long Beach State Universities.
Commuting Time in Norwalk, CA
The commute time in Norwalk is just over 29 minutes, with over 4% of the workforce having a super commute of 90 minutes or more. Over 8% of the work-day commuters carpool and just under 3% use some form of public transit.
Commuters in Norwalk have access to the integrated transportation systems of Los Angeles County, which are a boon to both residents and business alike.
The I-5 Santa Ana Freeway, the I-605 San Gabriel River Freeway, and the Century Freeway all pass through Norwalk.;
Bus service in Norwalk is provided by Norwalk Transit.;
Long Beach Transit provides service to the Metro Green Line rail station.;
Los Angeles MTA provides both rail service and additional bus service in Norwalk.;
Metrolink trains connect Norwalk with Orange County, Riverside County, and Downtown Los Angeles.;
Norwalk is directly north of the major shipping ports of Los Angeles and Long Beach.;
Los Angeles International Airport, Bob Hope Airport, and Ontario International Airport all provide air travel from Norwalk.
Norwalk Demographics
Population
Total Population106,659
Male Population(50.1 %) 53,410
Female Population(49.9 %) 53,249
Median Age34.00
Income/Financial
Average Household Income$70,046
Median Household Income$59,756
Median Income Under 25$40,536
Median Income 25-44$65,916
Median Income 45-64$67,429
Median Income Over 65$37,415
News
Rexford Industrial Realty has recently acquired an industrial property in Cerritos, Calif., in the low-vacancy Los Angeles Mid-Counties submarket.
Looking to Relocate Your Business? Phoenix is Your Best Bet
November 01, 2017
We enlisted the help of Yardi Matrix data, alongside other data providers and public sources, to find the best city in which to start up or to relocate your business. We compared U.S. cities with a population of over 100,000, and came up with a list of six major metrics to be taken into account ...
New England Medical Office Building Commands $23M
September 13, 2017
The 69,131-square-foot building is one of Fairfield County's premier multi-tenant medical office properties, with over 100 physicians practicing on the premises, and major tenants including Norwalk Surgery Center/Norwalk Hospital, St. Vincent's MultiSpecialty Group, WestMed (formerly Norwalk Med...
CommercialCafé is your first and only stop when it comes to commercial real estate leasings in Norwalk, CA. Search through our extensive selection of commercial properties for lease with current space availability in the area ranging between 7532 square feet and 27626 square feet. Discover the right property from our 146 listings by using our advanced search function, which includes search by property type, space availability, management company, lease rates, and more.