Culver City, CA Economic Overview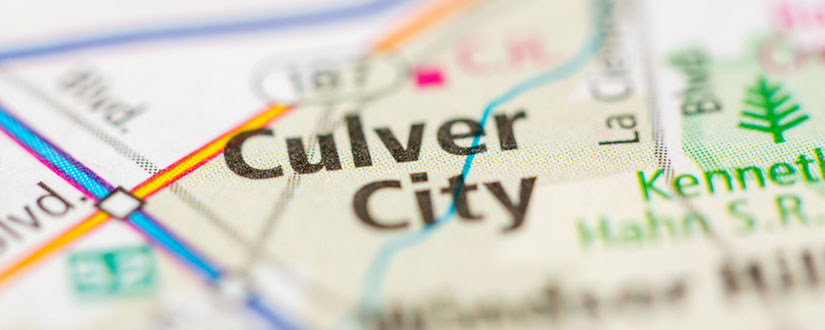 Culver City is home to over 40,000 residents and is nicknamed "The Heart of Screenland," due to its major involvement in both motion picture and television production. Located in West Los Angeles, part of the southwest region of Los Angeles County, Culver City's neighbors include Beverly Hills, Santa Monica, West Hollywood and the City of Los Angeles itself. The many well-known universities, access to both freeway and mass transit systems, and its central location in 'Silicon Beach' attract traditional and new-tech businesses of all types and are major drivers to the commercial real estate market in Culver City. The entertainment, healthcare, high-tech and new-tech industries play a major role in the economy of Culver City. Boasting a median household income of over $81,000 annually, households here earn more money than those in the City of Los Angeles and the Los Angeles-Long Beach-Anaheim metropolitan area. Last year alone, the median income rose nearly 5%.
The tourism and retail industries are also strong contributors to the economic performance of Culver City, with both national and international tourists drawn to The Getty Center, Los Angeles County Museum of Art, Downtown Culver City, and the neighboring Rodeo Drive in Beverly Hills, Venice and Marina Del Rey.
Culver City, CA Commercial Real Estate Market
Silicon Beach, along with the Culver City Arts District, Culver Village, Downtown Culver City and the Washington West Business District all contribute to the dynamic demand for commercial real estate in Culver City.
Silicon Beach originally blossomed in the neighboring city of Santa Monica as a mixture of start-up and new-technology businesses and has since grown to include Culver City within its borders. Home to over 500 high-tech companies such as Google, Yahoo!, Facebook, and Electronic Arts, commercial tenants are attracted to Culver City's relatively affordable rents, compared to other cities that make up Silicon Beach.
Culver City is known for partnering with prominent developers to bring outstanding commercial projects to the area. Ivy Station in Culver City is a 5.5-acre mixed-use transit-oriented development project consisting of residential, office, retail, and a hotel. The Culver Steps in Downtown Culver City is a 115,000-square-foot retail and office project, and the 12803 West Washington Apartments is a mixed-use project of ground level retail combined with 37 residential apartments.
Located mainly in the Central Los Angeles submarket, the industrial market in Culver City is characterized by increasing rents and a vacancy rate of less than 2%. There are currently nearly 250 million square feet of industrial space in the submarket, with about 500,000 square feet more in the pipeline.
The Culver City office market rents continue to rise and vacancies to decline. There are over 56 million square feet of office space available and 2.1 million square feet coming on to the market, nearly 10% of which is already pre-leased.
As with both the industrial and office markets, the retail market in Culver City has seen rents increase, net absorption increase and vacancies decline.
Culver City Office Rental Rates ($/SF/year)
Data provided by Yardi Matrix, for properties larger than 50K SF.
Culver City Office Sales
Data provided by Yardi Matrix, for properties larger than 50K SF, which sold at over $5M.
Employment in Culver City, CA
Job growth in Culver City has increased by 2% year over year, with over 50% of the labor force working in the areas of business and finance, legal, administrative, arts and recreation, management, and health care. Major employers in Culver City include Sony Pictures Entertainment with over 3,200 employees; Southern California Hospital at Culver City with 1,000 workers; Symantec with 900; and the Culver City Unified School District, City of Culver City, Goldrich and Kest Industries, West Los Angeles College and NFL media.
As part of the West Los Angeles market, the entertainment, technology, legal and financial, engineering, architecture, real estate, and media industries all have a significant impact on the employment in Culver City. In addition to Sony Pictures Studios, some of the other major entertainment companies in the market include 20th Century Fox, Creative Artists Agency, Universal Music Group, and Lions Gate Entertainment.
Education in Culver City, CA
The Culver City Unified School District has five elementary schools, one middle school and two high schools, along with several private schools including the STAR Prep Academy, the Willows Community School, the Turning Point School, and the Kayne Eras Center. The Culver City High School's Academy of Visual and Performing arts offers a specialized secondary program curriculum in music, theater, visual arts, film and dance that receives significant funding from Sony Pictures Entertainment.
Universities and colleges in West Los Angeles include the University of California, Los Angeles University, Pepperdine University, and West Los Angeles College which is part of the Los Angeles Community College District.
Commuting Time in Culver City, CA
As part of West Los Angeles, commute times in Culver City can vary significantly, with the average commute time coming in at just under 24 minutes and with less than 1% of the work force in Culver City having a super commute of 90 minutes or more.
Interstate 10 and Interstate 405 provide freeway access throughout West Los Angeles and Santa Monica.;
Light rail service between Culver City, Downtown Los Angeles and Downtown Santa Monica is provided by the Los Angeles Metro Expo Line.;
Culver City is served by the Los Angeles International Airport located approximately seven miles south of the city.
Culver City Demographics
Population
Total Population

45,480

Male Population

(48.6 %) 22,104

Female Population

(51.4 %) 23,376

Median Age

40.00
Income/Financial
Average Household Income

$96,045

Median Household Income

$75,914

Median Income Under 25

$51,840

Median Income 25-44

$85,527

Median Income 45-64

$80,568

Median Income Over 65

$54,944
CommercialCafé is your first and only stop when it comes to commercial real estate leasings in Culver City, CA. Search through our extensive selection of commercial properties for lease with current space availability in the area ranging between 3027 square feet and 338695 square feet. Discover the right property from our 35 listings by using our advanced search function, which includes search by property type, space availability, management company, lease rates, and more.