El Monte, CA Economic Overview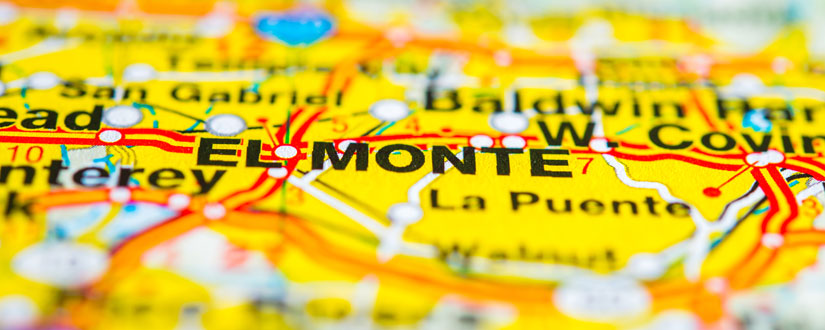 El Monte is located in the San Gabriel Valley region of Los Angeles County and is just 12 miles east of Downtown Los Angeles. Home to over 120,000 residents, this 9.5-square-mile city is bordered by Montebello, South San Gabriel, Rosemead, Temple City, Mayflower Village, Baldwin Park, and West Covina. The commercial real estate market in El Monte is propelled by the city's prime location in the San Gabriel Valley, its balanced mix of residents and business, and its ethnically diverse population.
The economy in El Monte is driven by a combination of its establishment of new business centers, industrial parks, high-quality housing developments, and its centralized location in Los Angeles County. The area is a huge consumer market, with 10 million people. The County conducts more than $400 billion in annual two-way trade, and El Monte has easy access to the Ports of Long Beach and Los Angeles, and Los Angeles International Airport, the country's third most active international cargo airport.
With a median household income of just over $43,200/year and a stable job base of over 47,000 employees, the economy of El Monte remains strong and stable. Income growth in El Monte remains stable, as industry is attracted by the city's business friendly attitude, along with its success in attracting new businesses and quality housing for its residents.
El Monte, CA Commercial Real Estate Market
The success of the El Monte office market is due to the city's strong commerce base and its reputation as one of the top locations for business in Southern California, and has grown to become the 9th-largest city in the County of Los Angeles. The city has a dynamic mix of both commercial, industrial, and retail businesses along with the presence of several international corporations. The city is also home to several trade and professional colleges that provide the educated work force needed to support local business and industry in El Monte.
Over the past 50 years, the business and commercial real estate market in El Monte has developed into a world-class commercial and manufacturing base. While maintaining its core growth industries, the city is focusing on its retail and residential development to support the quality of life that its citizens have come to expect.
El Monte has maintained its well-deserved reputation for having a business-friendly attitude, by attracting and retaining not only international corporations but national, regional and local commercial and retail businesses through its Foreign Trade Zone.
Within its small 9.5 square miles, El Monte development features a well-balanced mix of uses, including 58% residential, 11% retail, 10% industrial, and 7% office and retail.
El Monte office space is home to several auto dealerships, including Longo Toyota, the #1 auto dealer in the United States, measured by both sales and volume. Other major retail businesses in El Monte include Home Depot and Sam's Club. Major industries include Von's Distribution Warehouse, Wells Fargo Operations Center, and the regional offices for East West and for Cathay Banks.
El Monte is the transportation hub of the San Gabriel Valley region and is only 12 miles from Downtown Los Angeles. Via I-605 San Gabriel River Freeway has direct access to the major international shipping ports of the Port of Los Angeles and the Port of Long Beach. The city also has direct access to the I-10 San Bernadino Freeway, the I-60 Pomona Freeway, local and international airports, and commuter rail.
El Monte Office Rental Rates ($/SF/year)
Data provided by Yardi Matrix, for properties larger than 50K SF.
El Monte Office Sales
Data provided by Yardi Matrix, for properties larger than 50K SF, which sold at over $5M.
Employment in El Monte, CA
Job growth in El Monte has remained steady, with an unemployment rate of just 6%. Over 53% of the labor force works in the areas of production, material moving, transportation, administration, sales, and construction & extraction.
Major employers in El Monte include International Medication Systems, Plastic Dress Up, Lawrence Equipment, Vacco Industries, the El Monte City School District, the El Monte Union High School district, the Mountain View Elementary School District, Longo Toyota-Lexus, the City of El Monte, Driftwood Dairy, San Gabriel Transit, and the California Air Resources Board.
The city also encourages quality housing developments that feature intelligent architectural designs, the use of high-quality materials, and enhanced landscaping. Affordable housing in El Monte is key to maintaining its quality of life and job growth and the city also offers home buyer assistance programs for eligible residents.
Education in El Monte, CA
The El Monte City School District, the Mountain View School District, and the El Monte Union High School District are responsible for operating the over 27 primary schools, middle schools, and secondary schools in the city. Private schools in El Monte include the Nativity Church Catholic school and two Montessori Childcare centers.
Universities and colleges near El Monte include the Everest College - City of Industry, the University of the West, the East San Gabriel Valley Regional Occupational Program, ITT Technical Institute - West Covina, and the California Institute of Technology.
Commuting Time in El Monte, CA
The commute time in El Monte is just over 30 minutes, about 20% higher than the national average and longer than the average travel times for the County, Metropolitan Area, or the State of California. In addition, over 2% of the workforce has a super commute of 90 minutes or more. Carpoolers make up 13% of the work day commuters, while nearly 6% use some form of public transit to get to work.
Access to the integrated transportation systems of Los Angeles County are a boon to both residents and business alike in El Monte.
The I-10 San Bernadino Freeway, the I-60 Pomona Freeway, and the I-605 San Gabriel River Freeway all provide links from El Monte to the entire San Gabriel Valley, Pomona Valley, the City of Los Angeles and destinations beyond.;
The El Monte Station is a bustling hub of transportation options in the city, with services provided by the Los Angeles County Metro Rail, Foothill Transit, and the LAX FlyAway airport shuttle.;
El Monte is directly north of the major shipping ports of Los Angeles and Long Beach.;
The El Monte Airport is one of the 100 busiest small airports in the country, while Los Angeles International Airport, Bob Hope Airport, Ontario International Airport provide both commuter and air freight services.
El Monte Demographics
Population
Total Population

115,711

Male Population

(49.8 %) 57,609

Female Population

(50.2 %) 58,102

Median Age

35.50
Income/Financial
Average Household Income

$52,276

Median Household Income

$38,085

Median Income Under 25

$27,227

Median Income 25-44

$37,684

Median Income 45-64

$45,180

Median Income Over 65

$25,853
CommercialCafé is your first and only stop when it comes to commercial real estate leasings in El Monte, CA. Search through our extensive selection of commercial properties for lease with current space availability in the area ranging between 1878 square feet and 15358 square feet. Discover the right property from our 25 listings by using our advanced search function, which includes search by property type, space availability, management company, lease rates, and more.