Long Beach, CA Economic Overview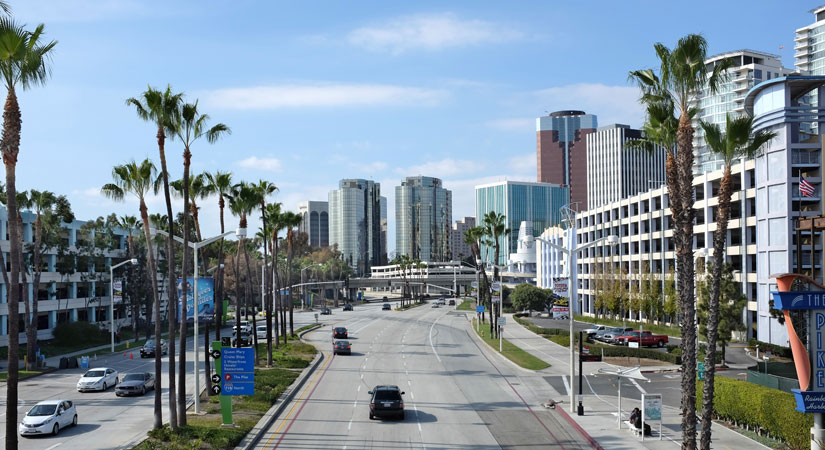 Long Beach is located along the Pacific Ocean and is the second-largest city in the Los Angeles metropolitan area. Along with its nearly 475,000 residents, Long Beach is also home to over 15,000 diverse businesses in the aerospace, manufacturing, natural resources extraction, shipping & transportation, and high-technology industries. The commercial real estate market in Long Beach is driven by the city's commanding location between Los Angeles and Orange County, providing business and industry in Long Beach with unmatched access to the area's consumer base.
Technology start-ups, e-commerce, health care, manufacturing, and shipping and transportation all contribute heavily to the economy in Long Beach. The Port of Long Beach is the second-busiest seaport in the United States. With over $140 billion in annual trade moving through the Port, it is a major economic force not only for Long Beach, but for all of Southern California.
While the median household income in Long Beach is nearly $55,000 annually, over 35% of the households in the city have an income of $75,000 or more. Income growth in Long Beach has remained steady, while both the population and job market have gained about 2% each year.
Long Beach, CA Commercial Real Estate Market
As the seventh-largest city in California, and the second-largest in the Los Angeles-Long Beach-Santa Ana metropolitan area, Long Beach is centrally located between L.A. and Orange County. Businesses of all types greatly benefit by being right in the middle of the second-largest metro area in the U.S. For industries which need global reach, the Port of Long Beach provides access to international trade anywhere in the Pacific and around the world.
Because of its proximity to the L.A. metro area and location along the Pacific Ocean, industrial real estate is a key component of the Long Beach commercial real estate market. As one of Los Angeles' industrial submarkets, Long Beach has nearly 21 million square feet of inventory with a total availability rate of just over 4%. The industrial market in Long Beach boasts one of the highest industrial rents per square foot, nearly 60% higher than the average for Los Angeles and all of its other submarkets.
The Port of Long Beach is also a major contributor to the demand for industrial space in Long Beach. Businesses in the Port alone employ nearly 30,000 workers with about one out of every eight jobs in the city being at the Port, and generates nearly $16 billion in annual trade-related employment throughout the State of California.
As part of the Los Angeles South Bay submarket, the 10.2 million square feet of office inventory in Long Beach accounts for nearly 30% of the submarket's total with the lowest direct vacancies in the area. Epson American, Pioneer Electronics, SCAN Health Plan, and Molina Healthcare are all headquartered in Long Beach and demonstrate the diverse demand for office space in the market.
Leasing activity in the Long Beach retail market continues to be strong, with investment in the retail asset class being driven by both traditional institutional investors and private investors alike. While the overall vacancy rate tops 11% for the area as a whole, the Downtown and Suburban submarkets of Long Beach each boast vacancy rates of under 4%, even in today's traditionally tough retail leasing market.
Long Beach, CA Office Rental Rates ($/SF/year)
Data provided by Yardi Matrix, for properties larger than 50K SF.
Long Beach, CA Office Sales
Data provided by Yardi Matrix, for properties larger than 50K SF, which sold at over $5M.
Long Beach, CA Commercial Inventory Breakdown
Office Spaces
Total: 10,372,598 SF
By square footage range:
50k to 100k SF: 2,040,457 SF / 19.67% of total office
100k to 500k SF: 7,747,630 SF / 74.69% of total office
500k to 1M SF: 584,511 SF / 5.64% of total office
By class:
Class A: 4,755,049 SF / 45.84% of total office
Class B: 5,207,724 SF / 50.21% of total office
Class C: 119,698 SF / 1.15% of total office
Industrial
Total: 8,020,323 SF
Data provided by Yardi Matrix, properties over 50k SF
By square footage range:
50k to 100k SF: 474,646 SF / 5.92% of total industrial
100k to 500k SF: 5,917,532 SF / 73.78% of total industrial
500k to 1M SF: 563,530 SF / 7.03% of total industrial
&gt 1M SF: 1,064,615 SF / 13.27% of total industrial
By class:
Class A: 3,643,235 SF / 45.43% of total industrial
Class B: 2,979,425 SF / 37.15% of total industrial
Class C: 505,413 SF / 6.3% of total industrial
Employment in Long Beach, CA
Job growth in Long Beach has increased by nearly 2% and unemployment is at 5%. Nearly 25% of the labor force works in production, material moving, transportation, construction & extraction, and sales, demonstrating the demand for industrial trade in the market place.
Major employers in Long Beach include:
Long Beach Unified School District with over 12,000 employees;
Long Beach Memorial Medical Center with over 5,000 workers;
City of Long Beach with over 5,000 workers;
Boeing with over 4,200 employees;
California State University at Long Beach with nearly 2,900 employees;
VA Long Beach Healthcare System with nearly 2,500 workers;
Long Beach City College with nearly 2,500 employees.
Education in Long Beach, CA
The Long Beach Unified School District operates the 84 public schools in the city. There are also numerous private primary and secondary schools in Long Beach, including Accelerated Christian Academy, Pacific Baptist School, St. Anthony High School, Bethany Lutheran School, and Oakwood Academy.
With over 35,000 students enrolled, California State University at Long Beach is one of the largest in the state. Long Beach City College has two campuses, one in the Lakewood Village area of Long Beach for liberal arts studies, and a second in Central Long Beach for general studies. DeVry University and Pacific Coast University School of Law are also located in Long Beach, California.
Commuting Time in Long Beach, CA
Commute times in Long Beach average over 28 minutes, giving work day drivers one of the longest commutes in all of California. In addition, nearly 4% have a super commute of 90 minutes or more. Due to the increasing amount of congestion, nearly 9% of the labor force carpools to work each day, while nearly 6% use some form of public transit.
Several freeways run through Long Beach, connecting the area with the Los Angeles metro area, Orange County, and San Diego to the south.;
The Blue Line light rail service runs between Downtown Long Beach and the 7th Street/Metro Center Station in Los Angeles, providing ongoing connections to Hollywood, Pasadena, and East Los Angeles.;
Long Beach Transit provides bus and shuttle service throughout the Long Beach area.;
The Port of Long Beach is the second-busiest seaport in the U.S., and when combined with the operations of the nearby Port of Los Angeles, is the busiest in the entire country.;
Freight rail service in Long Beach is provided by Union Pacific Railroad and BNSF Railway.;
Long Beach Airport serves the immediate area and is a hub for JetBlue Airways and is also the site of a major Boeing aircraft production facility.;
Los Angeles International Airport is the nearest airport to Long Beach providing international service.
Long Beach Demographics
Population
Total Population470,237
Male Population(49.4 %) 232,395
Female Population(50.6 %) 237,842
Median Age34.10
Income/Financial
Average Household Income$74,232
Median Household Income$52,783
Median Income Under 25$27,746
Median Income 25-44$53,457
Median Income 45-64$62,460
Median Income Over 65$40,716
CommercialCafé is your first and only stop when it comes to commercial real estate leasings in Long Beach, CA. Search through our extensive selection of commercial properties for lease with current space availability in the area ranging between 1743 square feet and 238306 square feet. Discover the right property from our 1001 listings by using our advanced search function, which includes search by property type, space availability, management company, lease rates, and more.