City of Industry, CA Economic Overview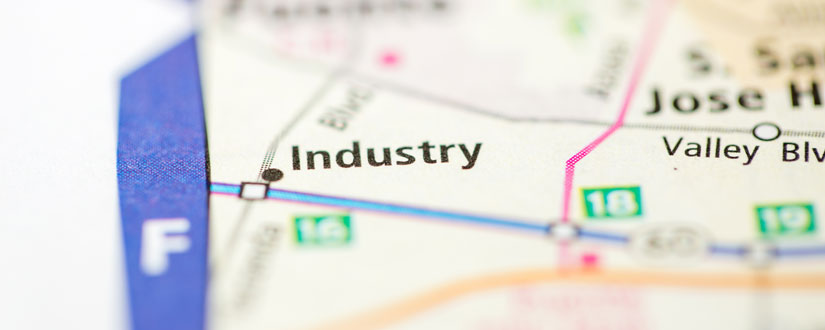 City of Industry is an industrial neighborhood of Los Angeles, with only 219 residents and declining. The city is almost entirely industrial with 2,500 businesses that account for 80,000 jobs. Sprawling 22 miles from Downtown Los Angeles, its city zoning is 92% industrial and 8% other commercial, which makes City of Industry commercial real estate a highly sought-after commodity and business is the heart of daily life here.
City of Industry is 100% pro-business with no city business license fees, no wholesale or retail fees, and no manufacturing fees. Moreover, there are no professional and utility taxes. Top brands in the manufacturing (Sunrider, Viewsonic, and Teledyne), non-manufacturing (Sysco Food Service of Los Angeles and Unit Distribution of California), and retail industries (Newegg.com and Hot Topic) call it home.
City of Industry, CA Commercial Real Estate Market
City of Industry occupies a total area of 12.1 square miles and is located at the core of a 40-mile radius that includes major markets like Los Angeles, Inland Empire, and Orange County. The few residences that are located within the city were there before the business-oriented incorporation of the area.
City of Industry commercial real estate is almost 10% of Los Angeles County's aggregated industrial acreage. City of Industry office space accommodates the specialized needs of the businesses which call it home–distribution, warehousing, light industrial use, as well as retail and office suites for corporate office/administration uses.
Four major areas of commercial activity stand out in industry, CA:
Puente Hills Mall, Southern California's largest, with over 200 retail stores;
The Plaza at Puente Hills, a 66-acre office and retail complex that accommodates over 600,000 square feet of retail stores and restaurants;
The Puente Hills Business Center, one of Industry's Class A office campus developments;
The Crossroads Business Park office campus is 110 acres of conveniently located space that is set to house 1.2 million square feet of modern facilities devoted to research and development, when completed.
Industry, CA also includes 500 acres designated as a Foreign Trade Zone, an area within the United States that is regulated as if it were outside U.S. customs jurisdiction. Therefore, businesses who call Industry home can take advantage of numerous benefits, such as no U.S. Customs duties, fees, and other taxes.
All in all, the City of Industry leads industrial development in the Southern California region thanks to the availability of major industrial real estate in Los Angeles County.
City of Industry Office Sales Volume
Data provided by Yardi Matrix, for properties larger than 50K SF, which sold at over $5M.
City of Industry Office Transactions
Data provided by Yardi Matrix, for properties larger than 50K SF, which sold at over $5M.
Employment in City of Industry, CA
Workers in City of Industry don't actually live there. Jobs include manufacturing, transportation, retail, trade, construction, insurance, real estate, education, and city government. In terms of manufacturing, while the City of Industry only claims about 3% of the total land in San Gabriel Valley, 37% of basic manufacturing jobs in the area are in the city (roughly 80,000 jobs).
Education in City of Industry, CA
Although there are no actual schools here, it is served by 4 separate school districts as well as near some of the finest educational and research institutions nationwide like world-renowned California Institute of Technology (Caltech), where some of the world's top scientists and engineers graduated, California Polytechnic University (Cal Poly Pomona), and Azusa Pacific University, among others. Meanwhile, nearby DeVry Institute of Technology is a post-secondary educational institution that offers baccalaureate degrees in electronics engineering, information technology, telecommunications, and even an electronics technician associate degree.
Commuting Time in City of Industry, CA
Four major freeways surround the City of Industry and provide it access to Orange County, Los Angeles, Long Beach, and Inland Empire. Since most workers in the City of Industry live outside it, that would account for a majority of them. Commute time is the nationwide average of 30 minutes one way by car.
Furthermore, since Industry is so central, commuters have a variety of transportation choices, including local and Los Angeles bus service courtesy of the Metropolitan Transit Authority (MTA) and Foothill Transit. These routes are further linked throughout the state and country by Greyhound and Continental Trailways. The Metrolink community rail line also has a station in the city and services communities in close proximity to the city.
Industry Demographics
Population
Total Population

433

Male Population

(51.5 %) 223

Female Population

(48.5 %) 210

Median Age

30.70
Income/Financial
Average Household Income

$74,761

Median Household Income

$51,835

Median Income Under 25

$0

Median Income 25-44

$0

Median Income 45-64

$0

Median Income Over 65

$0
CommercialCafé is your first and only stop when it comes to commercial real estate leasings in Industry, CA. Search through our extensive selection of commercial properties for lease with current space availability in the area ranging between 4227 square feet and 16175 square feet. Discover the right property from our 173 listings by using our advanced search function, which includes search by property type, space availability, management company, lease rates, and more.