Corona, CA Economic Overview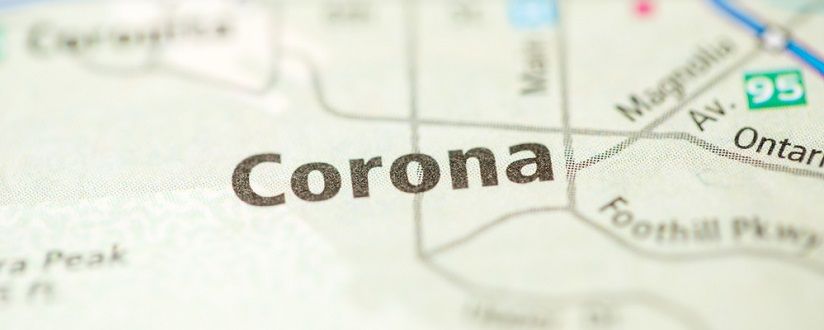 Located in Riverside County, Corona is home to more than 164,000 residents and is the third largest city in the county. Neighboring cities include Norco, Riverside, Chino Hills, and Yorba Linda.
Over the past 10 years, the population of Corona has increased by nearly 8% as more residents and businesses find Corona to be an affordable place to relocate and a more cost-effective market in which to do business. Corona businesses benefit from the area's efficient infrastructure system, skilled workforce, and the rich local economic development.
With a median household income of over $74,000 and an unemployment rate of just 5.2%, the economy in Corona continues to grow year after year. Last year, the median household income in Corona remained steady, while the employment base increased by 3.5% with nearly 74,000 people employed in the city.
Corona, CA Commercial Real Estate Market
The increasing development of commercial real estate in Corona is largely due to the city's location at the junction of State Route 91 and Interstate 15, which provides convenient transportation corridors for goods and services throughout the region. Businesses are relocating and expanding in Corona from the higher priced areas of Orange County, Los Angeles, and the larger, more expensive cities in the Inland Empire.
Industrial, warehouse, and logistics companies in Corona are attracted to the city by its outstanding transportation options. There are FedEx and UPS hubs within 15 miles of Corona, the State Routes and Interstates surrounding the city have only moderate congestion, there are three international airports within 60 miles of the city, and the international shipping Port of Los Angeles and the Port of Long Beach are also within 60 miles of Corona.
While the real estate market in Corona was once dominated by agriculture, including citrus orchards, ranches and dairy farms, over time the business mix in Corona has become much more diverse, with businesses such as Monster Beverage, the high- performance sports car manufacturer Saleen, and the manufacturer of automotive additive products Lucas Oil Products all being headquartered in Corona.
Within this 40-square- mile city, the industrial market in Corona plays an important role in the growth of both the commercial real estate market and the employment base. There is more than 34 million square feet of industrial inventory in Corona and 3 million square feet of Corona office space, while the retail and commercial service segments in the city continue to expand to meet the needs of both businesses and residents.
The demand for industrial property in Corona remains strong, with asking sales prices in the metro area having increased by nearly 16% over the past year. Prices for office buildings in Corona have increased by more than 6% year-over- year, while retail sales prices have remained steady.
Corona, CA Office Sales Volume
Data provided by Yardi Matrix, for properties larger than 50K SF, which sold at over $5M.
Corona, CA Office Transactions
Data provided by Yardi Matrix, for properties larger than 50K SF, which sold at over $5M.
Corona, CA Commercial Inventory Breakdown
Office Spaces
Total: 1,793,490 SF
By square footage range:
50k to 100k SF: 731,708 SF / 40.8% of total office
100k to 500k SF: 1,061,782 SF / 59.2% of total office
By class:
Class A: 1,076,944 SF / 60.05% of total office
Class B: 569,761 SF / 31.77% of total office
Industrial
Total: 13,317,709 SF
Data provided by Yardi Matrix, properties over 50k SF
By square footage range:
50k to 100k SF: 469,028 SF / 3.52% of total industrial
100k to 500k SF: 12,233,123 SF / 91.86% of total industrial
500k to 1M SF: 615,558 SF / 4.62% of total industrial
By class:
Class A: 10,556,350 SF / 79.27% of total industrial
Class B: 2,761,359 SF / 20.73% of total industrial
Employment in Corona, CA
Job growth in Corona has increased by nearly 3.5% this past year, with a current labor force in the city of nearly 74,000 people. Nearly 45% of the workforce is employed in management, administration, sales, and production. Over 24,000 people are employed in the manufacturing & construction industry sectors in Corona alone.
Top employers in Corona include:
Corona-Norco Unified School District with over 5,000 employees;
Corona Regional Medical Center with over 1,100;
Kaiser Permanente with nearly 1,000;
All American Asphalt with over 800 workers;
the City of Corona with nearly 750;
Fender USA and TWR Framing, both with 600 people;
Monster Energy Drinks with over 500 employees;
Thermal Structures with 500 workers;
CoreMark International and Dart Container Corporation, both with over 400 employees in Corona.
Education in Corona, CA
Public schools in Corona are operated by the Corona-Norco Unified School District, with 31 elementary schools, seven middle schools, and eight public high schools in the city. Private schools in Corona include St. Edwards Catholic School and Crossroads Christian School. With a student to teacher ratio of 25:1 and an average SAT score of 1471, the secondary school graduation rate in Corona is 94%.
There are 38 colleges and universities near Corona, within a 40-mile radius, including the #6 nationally ranked engineering university of Cal-Poly Pomona and Cal-State Fullerton, the 5 th -largest business school in the U.S. Other higher education institutions near Corona include Anaheim University, Biola University, California State University Long Beach, National University, and Chaffey Community College.
Commuting Time in Corona, CA
The average commuting time in Corona is nearly 34 minutes, which is significantly longer than the national average of 24.8 minutes. In addition, over 5% of the workforce has a super commute of 90 minutes or more each day. More than 13% of the work- week commuters in Corona choose to carpool, while 6% have the option of working from home.
Both residents and business in Corona benefit from the wide variety of transportation options the area has to offer:
The SR-71 Chino Valley freeway, the I-15 Ontario freeway, and the SR-91 Riverside freeway all pass through Corona,
Bus service in Corona is provided by the Riverside Transit Agency,
Metrolink and Amtrak provide commuter rail service in the city,
Freight rail service in Corona is provided by the BNSF Railroad,
The international shipping ports of Los Angeles and Long Beach are near the city,
There are five small commercial airports near Corona including Corona Municipal Airport and Riverside Municipal Airport,
Ontario International Airport provides both commercial and cargo services.
Corona Demographics
Population
Total Population221,993
Male Population(49.5 %) 109,780
Female Population(50.5 %) 112,213
Median Age34.00
Income/Financial
Average Household Income$99,435
Median Household Income$90,262
Median Income Under 25$35,622
Median Income 25-44$82,090
Median Income 45-64$90,220
Median Income Over 65$45,124
CommercialCafé is your first and only stop when it comes to commercial real estate leasings in Corona, CA. Search through our extensive selection of commercial properties for lease with current space availability in the area ranging between 1241 square feet and 244123 square feet. Discover the right property from our 98 listings by using our advanced search function, which includes search by property type, space availability, management company, lease rates, and more.