Fontana, CA Economic Overview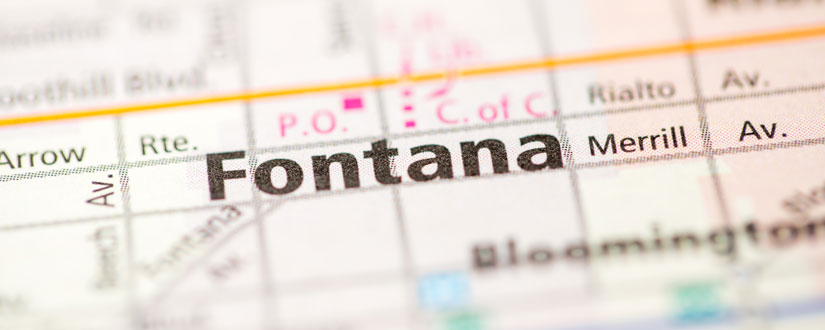 Located in San Bernardino County, Fontana is a city of over 200,000 residents. It is a modern, thriving city and the second-largest in San Bernardino. Fontana has been voted 24th-Best Place to Raise a Family in the U.S. and ranked 2nd on the list of Financially Strongest Cities.
Once a rural area, it later became a manufacturing center and is now home to thriving industrial and transportation businesses. Fontana commercial real estate is prime for development, especially with its convenient location at the intersection of several Southern California trade routes – the I-10, I-15, and I-210, as well as its proximity to the Port of Los Angeles.
Fontana's economy is largely based on the transportation/trucking industry, home to numerous truck dealerships and industrial equipment sales centers, mostly concentrated in Southwest Industrial Park. There is a strong manufacturing sector here, producing building materials and other related products, primarily for local use.
Motels, hotels, restaurants, and auto service stations also benefit from nearby Auto Club Speedway, which draws tens of thousands of racing fans each year.
Fontana is upping its logistics industry capacity, to meet the growing need generated by increasing volume in imports/exports processed by the Port of Los Angeles. Large-scale construction in North Fontana includes almost 800,000 square feet of new warehouse space, along with office and mezzanine space, sprawling over 34 acres.
Fontana, CA Commercial Real Estate Market
Due to its large scale transportation/trucking industry, Fontana commercial real estate accommodates numerous auto dealerships and salvage yards.
The Fontana office market serves a large number of product distribution centers such as Target, Sears, Home Shopping Network, Toyota, and Mercedes Benz.
Regional shopping centers serve master-planned residential communities, like Summit Heights Gateway, Falcon Ridge Town Center and Palm Court Shopping Center serve the 316-acre master-planned Summit Heights.
Along the 210 freeway, Miracle Mile is home to Fontana Auto Center, which accommodates as many as 12 major car dealerships.
In future Fontana real estate projects, the " Fontana Promenade" will be a 100-acre "lifestyle" center that is pedestrian-friendly and provides a central gathering place for the community at large. It will include commercial and retail spaces, as well as residential areas.
Ventana at Duncan Canyon in northwestern Fontana will also include 632,930 square feet of office/business park space, 30,400 square feet of restaurant space, and 73,620 square feet of hotel space for business visitors.
Fontana, CA Commercial Inventory Breakdown
Office Spaces
Total: 668,534 SF
By square footage range:
50k to 100k SF: 115,774 SF / 17.32% of total office
100k to 500k SF: 552,760 SF / 82.68% of total office
By class:
Class A: 115,774 SF / 17.32% of total office
Class B: 552,760 SF / 82.68% of total office
Industrial
Total: 50,997,482 SF
Data provided by Yardi Matrix, properties over 50k SF
By square footage range:
50k to 100k SF: 381,284 SF / 0.75% of total industrial
100k to 500k SF: 25,340,604 SF / 49.69% of total industrial
500k to 1M SF: 17,249,487 SF / 33.82% of total industrial
&gt 1M SF: 8,026,107 SF / 15.74% of total industrial
By class:
Class A: 43,845,580 SF / 85.98% of total industrial
Class B: 2,049,185 SF / 4.02% of total industrial
Employment in Fontana, CA
Fontana residents predominantly work in sales and office support, business management, manufacturing, and transportation. The city's top employer is Kaiser Permanente, followed by Fontana Unified School District, and the City of Fontana itself. Other notable major employers include automobile auction company Manheim Auction and Reddaway (YRC Worldwide), which has a branch in Fontana, offering shipping services for commercial, industrial, and retail goods.
Education in Fontana, CA
Fontana is primarily served by the Fontana School District, which operates numerous elementary schools, middle schools, high schools, and postsecondary education institutions.
While there are no colleges and universities in the city of Fontana, Argosy University Inland Empire is in nearby Ontario and offers programs that vary from Arts & Sciences to Law. Other notable higher education institutions accessible to Fontana are San Joaquin Valley College in Rancho Cucamonga, California State University San Bernardino, and Riverside City College.
Commuting Time in Fontana, CA
Residents of Fontana have an average commute of 31.7 minutes which is above the national average of 24.8 minutes. There are four busy freeways that cross Fontana: 16 San Bernardino Freeway, 15 Ontario Freeway, 66 Foothill Boulevard, and 210 Foothill Freeway.
Public transport is also available – the Omnitrans bus service runs through the city, as well as the Metrolink rail service, which has one stop in Fontana.
Fontana Demographics
Population
Total Population203,677
Male Population(49.5 %) 100,749
Female Population(50.5 %) 102,928
Median Age29.90
Income/Financial
Average Household Income$75,315
Median Household Income$64,824
Median Income Under 25$40,625
Median Income 25-44$65,830
Median Income 45-64$72,665
Median Income Over 65$35,868
CommercialCafé is your first and only stop when it comes to commercial real estate leasings in Fontana, CA. Search through our extensive selection of commercial properties for lease. Discover the right property from our 303 listings by using our advanced search function, which includes search by property type, space availability, management company, lease rates, and more.